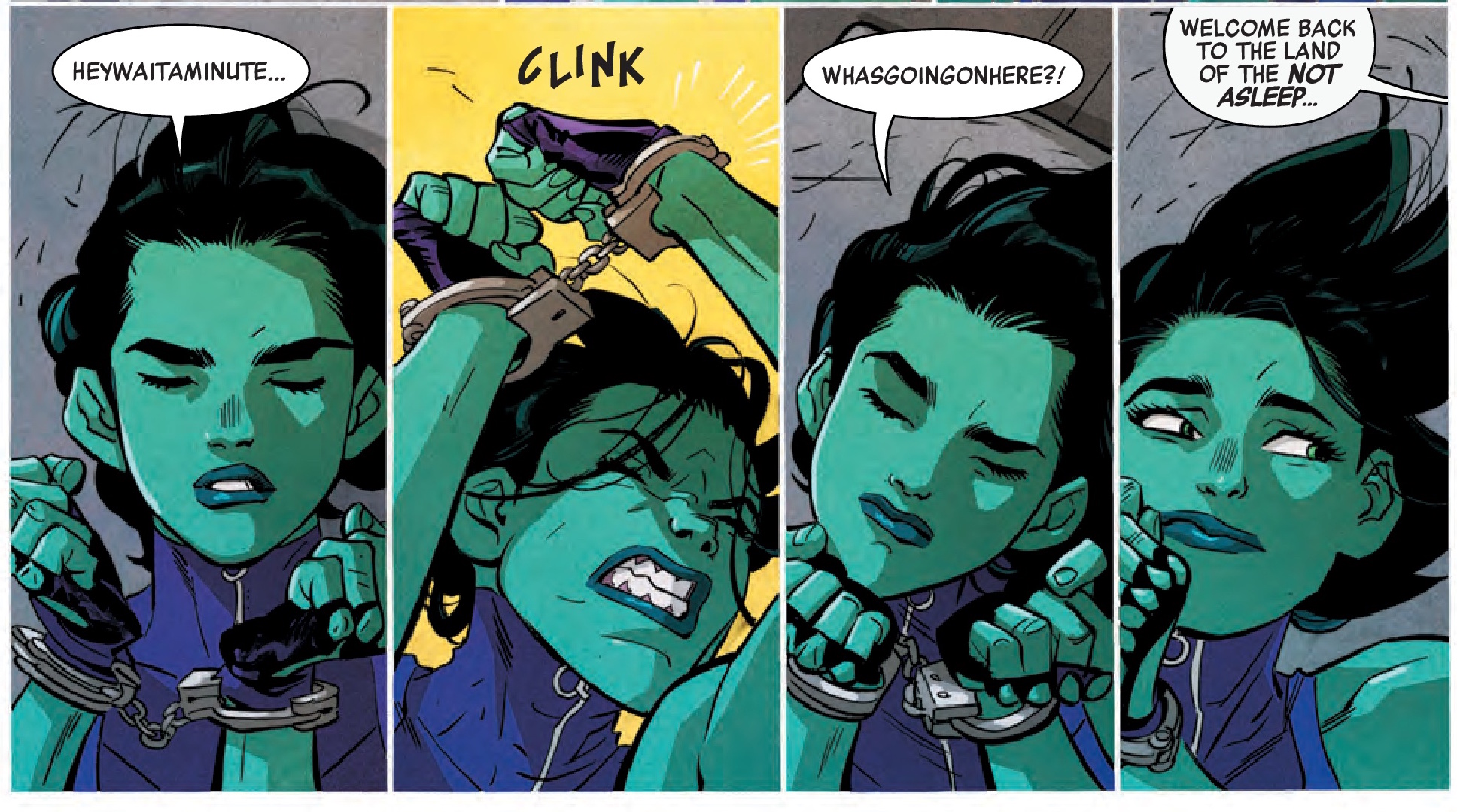 A-Force #6
Marvel Comics
Cover by: Ben Caldwell
Writer: Kelly Thompson
Artist: Ben Caldwell
Colorist: Ian Herring
Inks & Finishes: Scott Hanna
Letters: VC's Cory Petit
Review by Insha Fitzpatrick
Uh oh, the girls are in trouble.
A-Force #6 starts exactly where A-Force #5 left off, well… okay… not exactly. Back from their epic night with Thor!Dazzler, the girls find themselves in jail. Depowered and down to their human form, no one knows why or how, but two of their members are gone and they're getting worried.. In #5, our new villain Countess has taken over our favorite witch Nico and plans to do some work to make everything hers. It's an uphill battle for the girls as they find themselves in an awkward position while they figure out a course of action.
There's so much action in this issue that I was honestly wanting more. Every A-Force issue comes with an epic amount of humor, one-liners and a non-stop female force and this one is definitely no exception.
There's something about this issue that just felt so good. Even though it was a short issue, there was something about it that just felt right. The action packed episode featured two of my favorite things. One thing getting the full smug plan from Countess herself (you have to love her snarkiness). The second one is getting to see something that I've personally been waiting to see and that is… Hulk Smash. Seeing the girls depowered and possibly on the verge of being destroyed because of this is probably the funniest and most dangerous thing Kelly Thompson can do with this story for a short while and it works so well.
Kelly, Ben Caldwell and the epic team behind A-Force continue to guide the direction of A-Force beautifully. They give it, again, the wit and humor that comes with the characters even in the face of the situations they find themselves in. In #6, it's exciting to see them facing some danger when someone is coming into their circle with the ability to take over their own.

Verdict:
BUY IT. This series will only get so much better. I'm epically awaiting what's going to happen with Nico and that epic cliffhanger at the end. You'll find yourself running back for issue #7 as soon as it hits your LCS or digital grounds. I know I will!