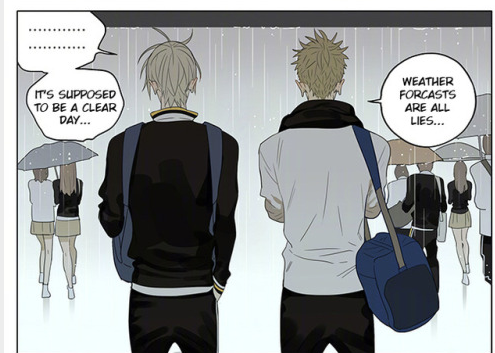 After being spoilt with two Christmas specials we're back to the original plot with a new chapter of 19 Days. Over the Christmas period we saw the boys all grown up but now they're back in their middle school attire getting up to all kinds of shenanigans!! What are they up to in this new chapter? Let's find out…
Plot
The boys have just finished school and they're heading to the egg tart sale (egg tarts sound disgusting). Unofrtunately is pouring down and neither Zhang of Jian Yi have an umbrella, but Mo Guanshan has one…
Opinion
What a cute chapter!!! Look how cute they all are!! The faces on each panel is perfect and really sets the mood for the whole chapter. My favourite has to be He Tian's face when he spots them all under Mo Guanshan's umbrella. He looks like he's pouting and it's adorable!!
The way he holds him in from the rain and the fact that Mo Guanshan does not push him away either!! I know their relationship is not going to be plain sailing but I do hope Mo Guanshan softens to him a tiny bit more soon.
Zhang looks like a fed up housewife in this chapter. He looks like he's about to throw in the towel and give up. Jian Yi is clearly wearing him down! Jian Yi is also clearly excited about this egg tart sale, I do hope they make it.
Next Chapter: I'm predicting that all four of them will head over to the egg tart sale. I feel that He Tian and Jian Yi will be having the time of their life while Zhang and Mo Guanshan will try to find ways of escaping. A bit of me is hoping that's what's going to happen in the next chapter. I've been enjoying these chapters with all four of them in. I also hope the storyline moves on a little bit quicker. By the time they'll eventually get together I'll be in my 30s and definitely too old to be reading the manhua!