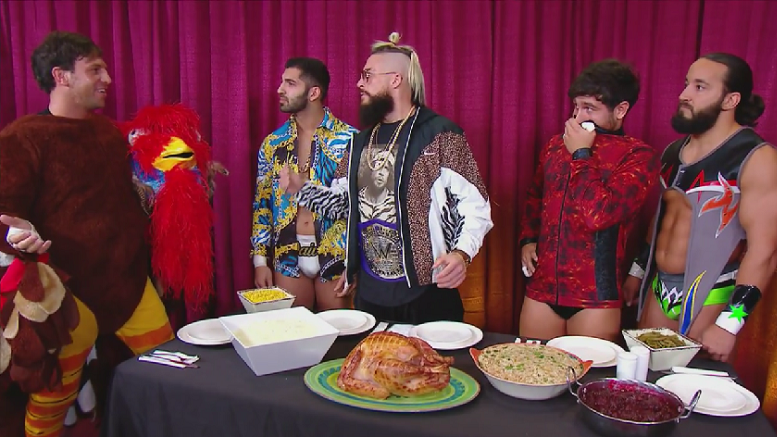 Makes me lonely. Enzo Amore is still the Cruiserweight champion. The Zo train went off the rails on Raw in eight-man tag action. Drew Gulak is going to face Akira Tozawa in a street fight, and I'm going to cheer for the wrong person. Welcome to this week's edition of 205 Live.
Give Thanks for the Gobbledy-Gulaker
Tony Nese is forced to stare at carbs while Enzo lets Ariya Daivari, Noam Dar, and also Tony know he's got matches for them against the same wrestlers who beat them soundly on Raw. Drew Gulak appears out of nowhere as the Gobbledy-Gulaker. The fact that Enzo doesn't appreciate Drew's efforts to loosen up is really what cements him as a heel for me.
Drew Gulak is amazing.
Street Fight by Proxy: Akira Tozawa (W) vs. Drew Gulak
The Enzo-adjacent Drew Gulak continues to be the number one Cruiserweight, in my personal opinion. Drew doesn't even get to show them a single slide in his PowerPoint presentation before Akira Tozawa's music hits. Aside from the world's most boring commentary, this match rules. Tozawa and Gulak are charismatic and talented. Drew makes the most of the street fight, hitting some devastating throws right on the ramp. The PowerPoint is fun and Gulak makes a great goofy politician but tonight was a much-needed reminder that he can be just as mean and nasty as Kendrick or Gallagher. Akira Tozawa gets the win, but hopefully, this isn't their last match. This is the best feud on 205 Live. @ me.
Coming Soon: Hideo Itami
Hideo Itami is finally being set free from NXT, bless his heart. It's hard not to see him taking on Enzo Amore pretty quickly. Hopefully, he fares better than Kalisto.
Tony Nese vs. An Entire Turkey Leg
Tony's loading up on protein. He also takes a moment to talk smack about Hideo Itami, saying he doesn't care if he's a great champion. If he's smart, he'll get on the Zo Train. Enzo lets Tony know he shouldn't be too confident in his own seat on the train. After a short confrontation with Mustafa Ali, Rich Swann, and Cedric Alexander, Tony gets sent out to face Mustafa on his own.
Tony Nese vs. Mustafa Ali
Tony Nese is very handsome, but his body shaming makes me extremely uncomfortable. Confidence in yourself is important. Don't put other people down! This match is fun — neither of these dudes takes themselves too seriously, but they do leave it all on the mat. Mustafa hits a sick flip off the top rope that Nese catches all by his lonesome before the two duel right by the barricade. It seems like 205 Live has done a solid job of consistently building up the crowd over the last few shows. Thanks in large part to giving the wrestlers more freedom to be themselves and engage with the crowd on their own terms. Tony Nese gets the win with a nasty knee to the face and puts the Zo Train on the board.
Drew Gulak Gets Put In Time Out
Enjoy.
https://twitter.com/totaldivaseps/status/933179059030212608
Rich Swann and Cedric Alexander vs. Ariya Daivari and Noam Dar
Ariya and Noam need to get off at the next Zo Train stop so they can get their own entrances again. They don't even have matching gear! Rich and Cedric don't even have Amore money, and they got matching gear. Enzo lurks on the outside for this match, to its detriment: the worst part is watching the entire front row visibly turn to watch Enzo in the corner while Cedric hits some incredible aerial maneuvers. Enzo course corrects quickly and turns his attention back to the action in the ring though, and so does the crowd. These four put on a main event match worthy of the crowd's undivided attention. While they have it, Enzo sneaks in to attack Rich on the top rope to steal a win. Despite the interference, it's Rich who gets the win with a phoenix splash.
They don't get to celebrate for long though: the Zo train attacks Cedric and Rich after the match. The rest of the locker room piles out in short order to join the fray (including a very nasty run in between Mustafa Ali and the outside of a turnbuckle).
With Neville still absent and Kalisto out of luck, is there anyone left to knock the Zo train off the tracks? Tune in to next week's Rogues Portal Wrestling recap of 205 Live to find out.