If you watch any show from the '90s the weirdest part is always seeing actors who went on to become famous. Unless you're watching Star Trek: The Next Generation, then the weirdest part is that episode where they all get horny. Anyway, Buffy the Vampire Slayer and Angel are loaded with fresh-faced actors who eventually went on to varying levels of success: Seth Green, Amy Adams, Jeremy Renner, Wentworth Miller and Kal Penn among others.
That's all super interesting, but what is less interesting but fairly untrodden ground for a listicle are the writers and directors behind the scenes and what they've gone on to accomplish.
---
Joss Whedon
The creator of the Buffy Universe has had a steady career before and after the series. His cult-classic series Firefly led to his first big-screen directorial gig with Serenity. He also went on to create the TV series Dollhouse and the web series Dr. Horrible's Sing-Along Blog. His biggest success since Buffy the Vampire Slayer has been with the Marvel Cinematic Universe, writing and directing both The Avengers and The Avengers: Age of Ultron.
---
Jane Espenson
Jane Espenson was an important voice on Buffy and it shows in her work after the series ended. She's written and produced for many popular or important television series, including Battlestar Galactica, Game of Thrones, The O.C. and Gilmore Girls. My personal favourite credit of hers is writing for the criminally underseen Andy Richter series called Andy Barker, P.I. Espenson is currently a writer and producer on Once Upon a Time.
---
Drew Goddard
Drew Goddard has had an extremely successful post-Buffy career. He started out as a staff writer on the show before moving on to other hit series like Lost and Alias. His big breakout was his film work. He wrote the screenplay for Cloverfield, produced by J.J. Abrams. He directed Cabin in the Woods, co-writing it with Joss Whedon. He also wrote and produced Ridley Scott's The Martian and is writing the upcoming Deadpool sequel.
---
Tim Minear
Tim Minear has worked steadily in television since the '90s, working on episodes of The X-Files and Lois and Clark: The New Adventures of Superman before joining the Angel crew for several seasons. His biggest street cred comes from working on short-lived cult classics like Firefly, Drive, Terriers and Wonderfalls. Minear has more recently worked on several seasons of American Horror Story and is currently a writer and executive producer for Ryan Murphy's Feud.
---
David Greenwalt
Dipping his toes into both Buffyverse series, Greenwalt wrote and directed a number of Buffy and Angel episodes. He eventually moved on to similar supernatural procedurals with one season series like Surface and Moonlight before co-creating the stealthily successful Grimm.
---
Steven S. DeKnight
Steven S. DeKnight was a teen show stalwart, working on Buffy, Angel and Smallville before moving on to become an extremely in-demand writer, producer and creator. He was the driving force behind the underrated Spartacus TV show and was the showrunner for the first season of Marvel's Daredevil. He's currently directing Pacific Rim: Uprising, the sequel to Guillermo Del Toro's Pacific Rim.
---
Doug Petrie
Clearly a man who loves his genre television, Doug Petrie's resume post-Buffy is filled with them. He's written for The 4400, Tru Calling and Pushing Daisies. Petrie also worked on popular series like CSI: Crime Scene Investigation and American Horror Story. His latest work is a writer and producer for Marvel's Daredevil and the upcoming "Netflix Avengers" series, The Defenders.
---
Drew Z. Greenberg
Post-Buffy the Vampire Slayer work for Drew Z. Greenberg includes episodes of Smallville, The O.C., Warehouse 13, Dexter and even an episode of Joss Whedon's Firefly. His highest profile work so far has been as a writer and producer on Arrow and the Whedon-approved Marvel's Agents of S.H.I.E.L.D.
---
Shawn Ryan
Shawn Ryan is probably known more now for fantastic, prestige cop shows rather than genre fare. Which is understandable. He created and ran the series The Shield, one of the best shows of all time, as well as Terriers, one of the most egregious "cancelled-too-soon" series of all time. But Ryan definitely lets his genre roots show in the one-season series The Last Resort and the current, time-traveling procedural, Timeless.
---
Ben Edlund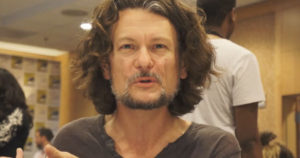 A cult icon well before Buffy the Vampire Slayer thanks to creating The Tick, Ben Edlund has written and produced a wide number of television shows. He worked on Firefly, The Venture Bros., Supernatural, Star Wars: The Clone Wars and Gotham. Currently he's getting another shot at a live action Tick series courtesy of Amazon's streaming service.
---
Sean Astin
So apparently Sean Astin AKA Mikey from The Goonies AKA Samwise Gamgee directed an episode of Angel. That's weird.