YES!! FINALLY!! I HAVE MY VEGETA TATTOO!!
I've been waiting to have a Dragon Ball Z themed tattoo for a while and I finally got one at the Cardiff Tattoo and Comic Convention!! I'm absolutely in love with my Vegeta tattoo and I cannot stop showing it off!!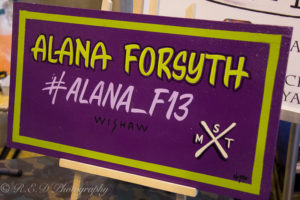 I love tattoos, and I have one on my back, but I tend to psyche myself out of having them done because, well you know, sometimes they hurt, but Alana (the artist) really put me at ease and was absolutely superb and made me feel so calm.
I was recommended Alana by another tattoo artist in the convention, I headed straight over there and had a look at her portfolio when I fell in love with this gorgeous design! I was going to have a Dragon Ball but since it's an original design I know not many people have it tattooed and therefore makes it special! I had a two hour wait before my appointment, I couldn't stop smiling and yet I was shitting myself. Once the needle went into my skin for the first time I was absolutely fine, to be honest I built it up so, so badly in my head that it didn't hurt as much as I thought it did. It took (roughly) between 30-40 minutes.
I absolutely love my tattoo! Miss Forsyth did a fantastic job and I cannot recommend her enough!! She had some amazing designs including Pokemon, Gene from Bob's Burgers and a Bulma pin-up which was really really cute. I do regret not having the Goku design on my other arm, that would've been awesome!! My left arm looks really bare and left out. It'll mean I'll have to make a trip to Scotland to have it done!!
Alana Forsyth has been tattooing since 2011 and won an award for best small colour at Tatcon in Blackpool in 2015. She works at Main Street Tattoo, Wishy, and is one of the nicest people you'll ever meet!!
Thank you for my perfect tattoo and thank you for making my first (sober) tattoo an awesome memory for me!!
You can visit Alana's Forsyth' Instagram here
For booking slots visit her Facebook here