Much like its counterpart the Marvel Collectors Corps, DC's Legion of Collectors is another bi-monthly subscription box service featuring primarily Funko products, though this one caters to those of the DC Comics persuasion. From the official LoC website:
DC LEGION OF COLLECTORS IS A SUBSCRIPTION BOX SERVICE DESIGNED IN PARTNERSHIP BY DC AND FUNKO. CURATED ESPECIALLY FOR AVID DC COLLECTORS, EACH BOX DELIVERS 100% EXCLUSIVE PREMIUM COLLECTIBLES, APPAREL, AND ACCESSORIES CREATED BY FUNKO. EACH BOX IS THEMED SPECIFICALLY AROUND DC COMICS, DC MOVIES, DC CHARACTERS AND DC STORIES WITH A FOCUS ON COLLECTORS. DC LEGION OF COLLECTORS IS THE OFFICIAL DC SUBSCRIPTION BOX AND THE ONLY BOX CREATED DIRECTLY BY DC AND FUNKO. OUR BOX IS DEDICATED TO DC FANS IN WAYS NO OTHER BOX OR SUBSCRIPTION SERVICE CAN – JOIN THE LEGION OF COLLECTORS TODAY!
For May, the theme is "DC TV." Not exactly an electric title and one that's also slightly vague, I know, but considering how good of shows The Flash and Supergirl are right now, there's a lot of potential inside this very box:
There's nothing really notable about the box itself except that anyone thinking about storing these suckers should know they are pretty beefy. Unfortunately unlike LootCrate, these boxes don't have any functionality other than to hold all the goodies inside. Speaking of which…
SUPERGIRL PATCH AND ATOM PIN
Just like last box, the DC Legion of Collectors box opens directly to a pin and patch set. Starting the theme off right is an eye-catching Supergirl patch and a surprise choice of character in the Atom pin. I only say surprising because I expected this box to be primarily Supergirl, Flash, and Green Arrow based. It's certainly a welcome surprise to see Ray Palmer represented in this box since his portrayal in Arrow and Legends of Tomorrow is extremely entertaining.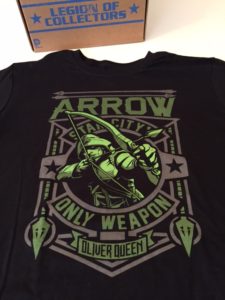 ARROW T-SHIRT
One of the only things I dread in any of these subscription boxes is the T-shirt. I'm kind of particular about the kind of geek wear I have and size is always an issue when getting any kind of cotton something. Luckily, I do think the Legion of Collectors nailed it on this one. While I loathe the color (to be fair I live in the desert so I have my reasons), this is definitely a Green Arrow shirt I wouldn't mind wearing. I'm not sure I necessarily understand what it is referencing with the "Only Weapon" text–if anything at all–but the design is up my alley for sure. It also fits perfectly and actually runs a bit bigger than similarly sized shirts (obviously I haven't washed it yet though). When signing up for the Legion of Collectors, keep that in mind.
FLASH #123 COMIC
Typically these monthly boxes contain comic books and more often than not they are recent releases, a #1 of a new series perhaps or the latest issue of a relevant series. This, however, is quite impressive as it is a comic from 1961, obviously reprinted for release in this box. I've never read this infamous "Flash of Two Worlds" issue and I look forward to doing so. However, this alternate cover is so generic it hurts. One of the only things I know about Flash #123 is its iconic cover depicting both Barry Allen and Jay Garrick; this scene was even recreated within The Flash television show, and a promotional image for that episode mimicked this iconic cover. Why, oh why, then did THAT image not make it onto this reprint instead of the one we got? Seriously. Putting something that looks like a tossed together promotional image for the show atop an issue with such a memorable original cover feels like disservice to the story inside. Thankfully, when you open the book, the original cover is intact.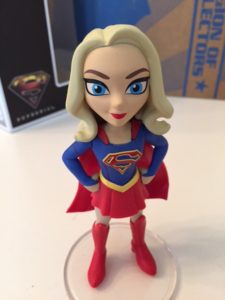 SUPERGIRL ROCK CANDY FIGURE
I've only recently begun to explore the world of Funko outside of their wildly popular POP! line of figures, so these new vinyl figures are a complete mystery to me. This Supergirl Rock Candy figure appears to be an exclusive to this box, however, as it depicts her in her TV show appearance (versus the classic Supergirl that appears in the regular version of this vinyl). While this collectable is not entirely up my alley, it's great to see an item that is skewed more toward young girls. DC has been doing a stellar job as of late marketing their female superheroes at young girls and I think anyone that loves that recent trend should find a way to get these Rock Candy figures.
JAY GARRICK FUNKO POP
Here's the part where I just slam my hands on the keyboard in excitement. Yes, most of the reason I subscribe to these boxes is for the exclusive Funko POP! figure inside. I have a problem. I realize this. However, come on! Look how awesome this is! This exclusive is of Jay Garrick, sadly not of his classic form, but still a fantastic figure in his Earth-2 costume from the most recent season of The Flash. The DC Legion of Collectors Twitter account sort of spoiled this one for me, but for once I was excited despite having a strong idea of what was coming. From what I can tell the Legion of Collectors box is going to be the only way to get Jay, for now at least.
That's it! Well, color me impressed. The "DC TV" DC Legion of Collectors box is certainly a win, at least for anyone that currently enjoys the DC television series. Well, I should say, anyone that enjoys the shows run by Greg Berlanti. It was a bit odd to not see Gotham represented, or maybe a throwback to something like Smallville, but none of the promotional material leading up to this box led me to believe this wasn't going to be products just within the Berlantiverse of shows. Not that that's a bad thing, but somewhat limiting nonetheless.
If you liked what was in this box but held off on buying it, you can always order past boxes when signing up for a new account. The DC Legion of Collectors has already announced the theme for July's box and it is: SUICIDE SQUAD. Have thoughts on the next theme or the current one? Leave me a comment below! Tell me what you liked or didn't like about this box or what you're looking forward to next time.