Twisted Romance #4
Writers: "Treasured": Alex de Campi; "Unbound": Naomi Salman; "Legacies": Sarah Winifred Searle
Artists: "Treasured": Trungles; "Legacies": Sarah Winifred Searle
Publisher: Image Comics
Review by Brooke Ali
"Treasured" in Twisted Romance #4 is one of my favourite Alex de Campi stories in this series. It's a heartbreaking and hopeful allegory of domestic abuse. The fairy tale format, presented beautifully by Trungles (Vampire Buddy), really highlights the realness of the story. After all, aren't fairy tales where we all learn our first truths?
The princess in this tale believes herself to be pretty average and is not very satisfied with her life. So she kisses a snake (you know, as you do) and the snake turns into a powerful dragon. The dragon calls her his treasure and tells her that she is charming and beautiful beyond compare, at least at first. Then he locks her away in a cage for many years. At least he doesn't hit her (if she behaves); she just needs to try harder so that he'll love her again. A gentle spider befriends her and gives her the key to unlock her cage. Can she bring herself to use it?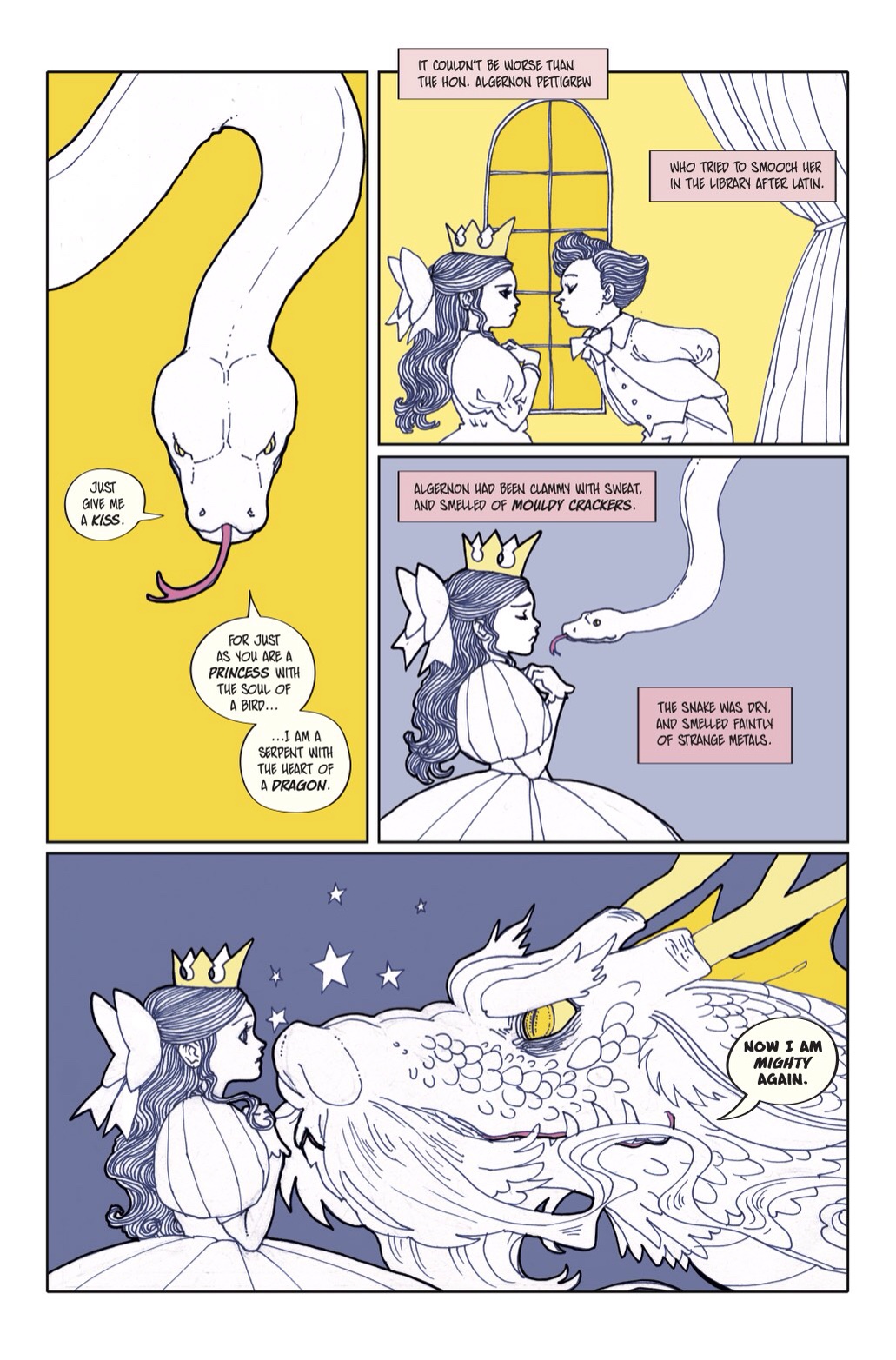 The prose piece in Twisted Romance #4, "Unbound" by Naomi Salman, is the most erotic contribution to the series. It's about a young man named Delio who has experienced some tough times recently and is just starting to get back on his feet. He moves into a new apartment and meets his downstairs neighbour who runs a bondage studio. With everything in his life feeling uncertain, something about being completely constricted could give him the sense of freedom and security he needs.
The comic by Sarah Winifred Searle (Ruined), "Legacy," also explores issues of freedom and agency. Poppy is the reincarnation of the queen of Freyfar, a heavy burden that has cost her everything that has ever mattered to her as she and her two friends search for relics to help her reconnect with her past life. They find a painting of her with her king, but Poppy isn't willing to let her destiny control this final piece of her life.
Twisted Romance #4 feels like it could be issue 4 of a longer series, and I wish it was. I love the premise, I love that one of the friends is a history major using her knowledge to help them uncover her relics; the art is beautiful. If Searle ever decides to spin this into a series or full-length book would definitely read it.

Verdict:
Buy it! But then, if you've read my other reviews on this series, you knew I was going to say that. I've enjoyed all the issues in this collection, but I think Twisted Romance #4 is my favourite.