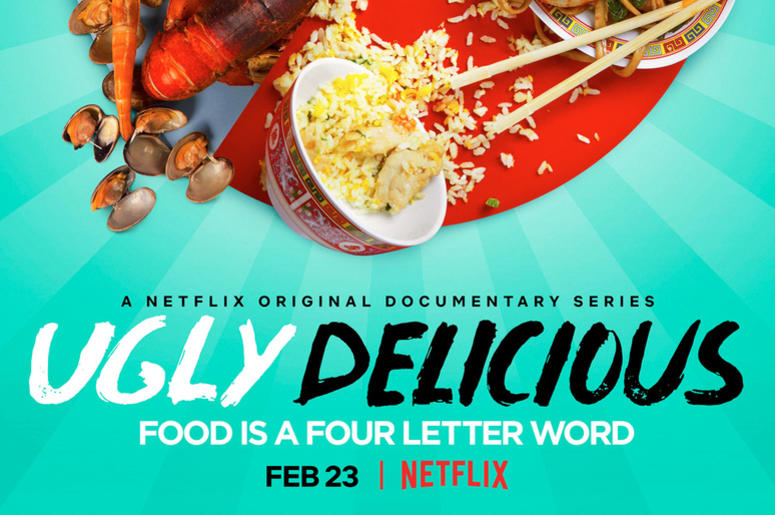 UGLY DELICIOUS
Starring: David Chang, Peter Meehan
Director: Eddie Schmidt, Morgan Neville, Jason Zeldes and Laura Gabbert
Review by Sidney Morgan
Do you love food? Do you love to travel? Well then, this show just might be for you. In Ugly Delicious, chef David Chang, founder of the Momofuku (means Lucky Peach) group which has restaurants in various locations in NYC, Washington, Sydney to include but a few, takes us around different parts of the US and the world to discover various food types and their history.
This isn't a how-to show, even though you might pick up a few tips and ideas here and there. And Chang won't host like a Guy Fieri, Gordon Ramsay, Emeril Lagasse or even Julia Childs. He's calm, soft spoken and down to earth, even if a bit rough around the edges. As I watched, I was reminded of Benedict Wong, a nice guy who simply says what he wants to. There are times where this direct approach does come across as being mean or even rude, but looking at the show's eight episodes, I gather this was not intentional.
What makes Ugly Delicious unique is its approach, Chang isn't all that interested in one particular restaurant, but rather in a food type. And from there, he asks questions. Where did it originate? What are the cultural roots of this food? How did it develop and was it perfected? Are there any cultural variations? And as he travels through the US and to other countries, he visits restaurants and engages their chefs in conversations about that food. What results is interesting and, at times, funny!
Chang does have a small chip on his shoulder. He hates that people seek "this singular thing that is authentic." He doesn't speak badly about other chefs, but his own comments, his own opinions, they seem to show a clear dislike for food snobbism and hates to be told that he can't like something. This is a man who loves gourmet pizza but isn't afraid to acknowledge that Domino's pizza is pretty good as well, nor does he mind tacos from Taco Bell. Ultimately, it humanizes him and makes him easier to relate to.
To add to the fun of the show, producers have added videos of fake commercials, film clips of Japanese television comedies and even some parodies from Saturday Night Live (remember Dan Aykroyd's portrayal of Julia Childs? Classic!). The interludes aren't necessary for mood purposes as the show is already light, but their addition creates something that is refreshing and different from other food shows. Thankfully Netflix has pause and rewind capabilities because you'll want to rewatch some of these!
Chang is clearly front and center in the show, but he isn't camera hungry. In fact, he sometimes doesn't even appear, leaving it to his friend Peter Meehan to host a particular part. When curious about the origins of Neapolitan pizza, it is Meehan and guest Mark Iacono (chef and owner of Lucali's in Brooklyn, NY), who travel to Italy, whereas Chang stays behind and accompanies a Domino's Pizza delivery guy for a few deliveries. Nor has he made this show about his brand, which is barely mentioned. It is simply about defining what constitutes 'authenticity' and whether it's even appropriate to use the term when speaking of types of foods that exist in so many various cultures.
Ugly Delicious is an intimate journey between a few friends traveling across various countries and engaging in conversations about food. It's beautifully shot, where setting is just as important as the food under study. The editing is well done, sewing together various scenes seamlessly, effectively transitioning back and forth between direct speech and voice over.
Verdict: Yes! Yes! Yes! Watch it and enjoy! But, a word of warning: it will make you hungry.
It's a great show. Whether you're inquisitive about the history of types of foods, or simply enjoy food, this show will not disappoint. It has scenery. It has humour, and it has opinions. Most of all, it has appetizing scenes, staring some of our favorite foods, including pizza, fried chicken, and dumplings among others.