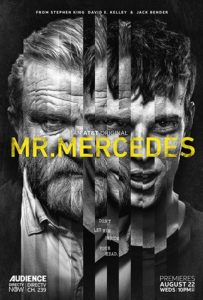 MR. MERCEDES
YOU CAN GO HOME NOW (S2, E3)
Starring: Brendan Gleeson, Harry Treadaway, Justine Lupe, Virginia Kull, Nancy Travis, Jharrel Jerome, Breeda Wool, Tammy Arnold
Director: Jack Bender
Writers: Mike Batistick
Based on the novels: Mr. Mercedes, Finders Keepers and End of Watch by Stephen King
Reviewed by Sidney Morgan
This review CONTAINS MINOR SPOILERS.
Well, it certainly didn't take long for Mr. Mercedes to become serious again and turn into a darker story. Back in his basement lair (dare we call it a man-cave?), Brady (Harry Treadaway) is accepting his new condition, though he is anxious and growing impatient. But something strange happens. Keeping in mind that this is happening in Brady's subconscious or even unconscious mind, who of all people should show up and converse with him? His dead little brother.
Whether Brady's own guilt (though I'm not even sure the man is capable of that feeling…) conjured him or whether it's something else entirely, the two play together as though nothing was out of the ordinary. But there's an awkwardness and it doesn't take long for Gerald (Graeme Buffenbarger) to finally ask Brady if he killed "mom as well." I guess that answers the question about the nature of Gerald's death. And for good measure, he also urges Brady to get on with it and finish what he started. This is the push Brady needed as it gets him back to his monitors and an unsuspecting victim.
Poor Sadie (Virginia Kull). The woman can't catch a break. She's a good nurse, a good woman and probably hasn't done anything bad in her life, at least if Nurse Wilmer (Tammy Arnold) is to be believed. And that is the reason she calls Hodges (Brendan Gleeson). Something isn't right. She finds Sadie trying to pump enough morphine into one older patient that had she finished, it would have killed him. Of course, it's Brady who's in the driver's seat, controlling Sadie and looking to kill someone. Anyone! Frustrated, Sadie leaves the hospital. But while sitting in her car, she sees Nurse Wilmer, who's now twice stopped her from killing someone (recall that Sadie tried to stab Hodges in the last episode). Turning the car, she aims it to hit and run Nurse Wilmer over. And it would have worked if she hadn't been interrupted by Hodges.
Hodges was aware that Sadie had tried to harm him while he visited Brady. But he couldn't figure out why. A seemingly innocent woman tries to kill him, and the only connection the two had was the hospital. But that isn't enough yet for him to suspect Brady. How could he? The Mercedes killer is still in a vegetative state, no matter how significant his teeny, tiny brain activity may have seemed. Hodge's world is grounded in the real, where flesh and blood humans commit crimes, and other humans stop them or catch them after the fact. There is no room for the supernatural, telekinesis or mind control. At least not yet. And with this first death squarely in the hands of Brady, Hodges will struggle to try to solve it.
You Can Go Home Now features more of Lou (Breeda Wool) and Jerome (Jharrel Jerome), who are both struggling. Lou is a mess, unable to move on from the stabbing and has nightmares of Brady. When Steph (Samantha Massell) confronts her about skipping out on therapy, Lou promises to go. But that doesn't turn out too well either. Feeling worthless, Lou believes that only by facing Brady to tell him she survived, will she get better. Dr. Jacoby (Sharon Graci) warns her that doing so in a fragile state could lead to a breakdown, which is as obvious a bit of foreshadowing as one can get, no?
Meanwhile, Hodges asks Jerome for help with rebuilding Ida's (Holland Taylor) gazebo. He's clearly frustrated with school and needs a change of scenery. Perhaps it's the reason he ends up back at Finders Keepers to help Holly. With the team back together, it will benefit Hodges when he begins to try and figure out who is behind these new murders.
One of the best parts of this show is the relationship between Hodges and Holly (Justine Lupe). Two broken people who've experienced their fair share of hardships, and who clearly need one another. It's a developing relationship, one that is experiencing highs and lows. And the episode begins with a low. Holly, suspecting Hodges lied about De La Cruz (Danny Garcia), confronts him about being left out. This leads to an argument as Hodges finally tells her that he hates their cases. Holly, accepting his arguments, asks for respect and to be treated as a partner. Hodges agrees and begins to take her on surveillance trips. That leads to some of the funniest moments of the show, but I won't describe them, as it wouldn't do them any justice. And it's a relief to watch, given the nature of the story. The showrunners have done an outstanding job.
Verdict
After three episodes, the murders are starting up again. At the urging of his brother, Brady is now fully committed to his murderous habits again. His ability to control minds is terrifying, even more so knowing that the victim seems aware of it, yet is unable to do anything about it. When Sadie is taking those last few steps, the look of fear on her face and the tears, convey the terror she feels. This abuse of the innocent serves to enrage viewers and perceive Brady as an even more sadistic, brutal and fearsome killer. Brady has made his move, but how will Bill Hodges respond?