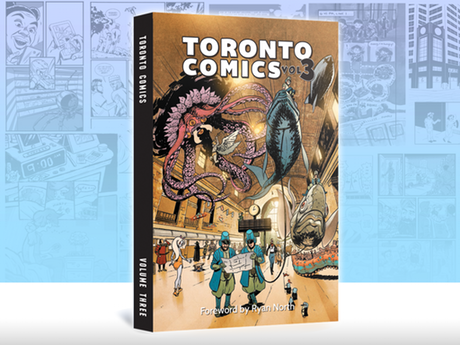 This weekend is the Toronto Comics Art Festival (TCAF) and it is also the official launch of "Toronto Comics: Volume 3". Two years ago Toronto Comics: Volume One was 90 pages with 19 contributors creating eleven stories. Last year Toronto Comics: Volume Two had grown to 209 pages with 33 creators and 20 new stories. This year it gets even bigger with 280 pages, 46 creators and 30 stories. Some stories are by long time participants in the field, some stories are brand new creators, but one thing this black and white anthology does give you is choice in how to celebrate both the city of Toronto and its creative denizens.
Writers: Steven Andrews, Saffron Aurora, D.A. Bishop, M. Blankier, Ryan Clement, Shawn Daley, Jeff Estrella, Aaron Feldman, Tuhin Giri, Andrew Gregoire, Bruce Hall, BC Holmes, Gwen Howarth, Mandy James, Stephany Lein, Ricky Lima, Jason Loo, Sari Lynne, Angeline Mauri, Phil McClorey, Keith WTS Morris, Shawn Morrissey, Sam Noir, Allison O'Toole, Simon Phommaneth, Corey Reid, Joy Santiago, Rob Shapiro, Howard Wong,
Artists: Saffron Aurora, D.A. Bishop, Meaghan Carter, Ally Rom Colthoff,Shawn Daley, Tuhin Giri, Keith Grachow, Andrew Gregoire, Xan Grey, Bruce Hall, Gwen Howarth,, Mandy James, Shane Krishenblatt, Jenna LeClair, Leo Lee, Stephany Lein, Jason Loo, Katie MacKay, Angeline Mauri, Greg Menzie, Meagan Moynagh, Sam Noir, Simon Phommaneth, Cleopatria Peterson, Joshua Rosen, Joy Santiago, Rebecca Slack, Kelvin Sue, Matthew Tavares,Tom Turner,Christopher Yao
Review by: Sunny Hope
With thirty stories, some only one page with others running thirteen pages, this anthology contains several genres and many art styles. If you like daily life check out Just In Time (one of those days), The Dark (is it easier to talk when you can't see them?), Architecture (clean lines and fun dialogue), A Work in Progress, Shrieking Freaks, One Night on the TTC, Bells, Michael, Taste of the Neighbourhood (yes there's a U), Chinatown's Lost Movie Palaces, or Then and Now.
Several of the contributors seem a bit horrific because of the number of ghost and supernatural tales including Hog Town (you'll never look at a pig the same way again),Etienne and the Far West (whose ink wash style feeds the haunted feel), A Night To Remember (Prom shopping is so overrated), The Way Home, Buried, Not Forgotten, Ghosts over Garlic Mashed Potatoes (fancy dining and ghost hunting), or Curly Plays the Rex.
For science fiction or fantastical stories check out Karina, Snow Blind, Lofty Aspirations(what if tv superheroes were based on real people, and they lived near you?), Towards a Frontier (in the far future, Toronto is no longer north enough), Date with the Majestic Rat (from the Pitiful Human Lizard universe), #ModernViking (a very cartoon style with a viking who wants to get back to Valhalla, but Toronto offers few heroic deaths) , TTC-YA (a Delorean smashes into a street car with unexpected results), Kunik and the Slave-Wizard of the Tower, Something Just as Great, or Ghost of Bellwoods Past (ever see the albino squirrel? This might explain why.)
While clearly the CN Tower is referenced many times, so are a number of other Toronto sites from a local perspective, including the large Honest Ed's sign which will be vanishing at the end of this year. Some are set in Toronto's past, some in the present, and some in what I hope are only possible futures, but all are a slice of the city from the people who live there.
Verdict:
BUY! Toronto is known as a city that celebrates diversity, and this anthology does that in spades! Between the variety of styles and stories, you also get contact information for many of the creators. Which is why Ryan North (The Unbeatable Squirrel Girl)'s advises in the Foreward to increase your classiness at least 10% by finding a new favourite local cartoonist!