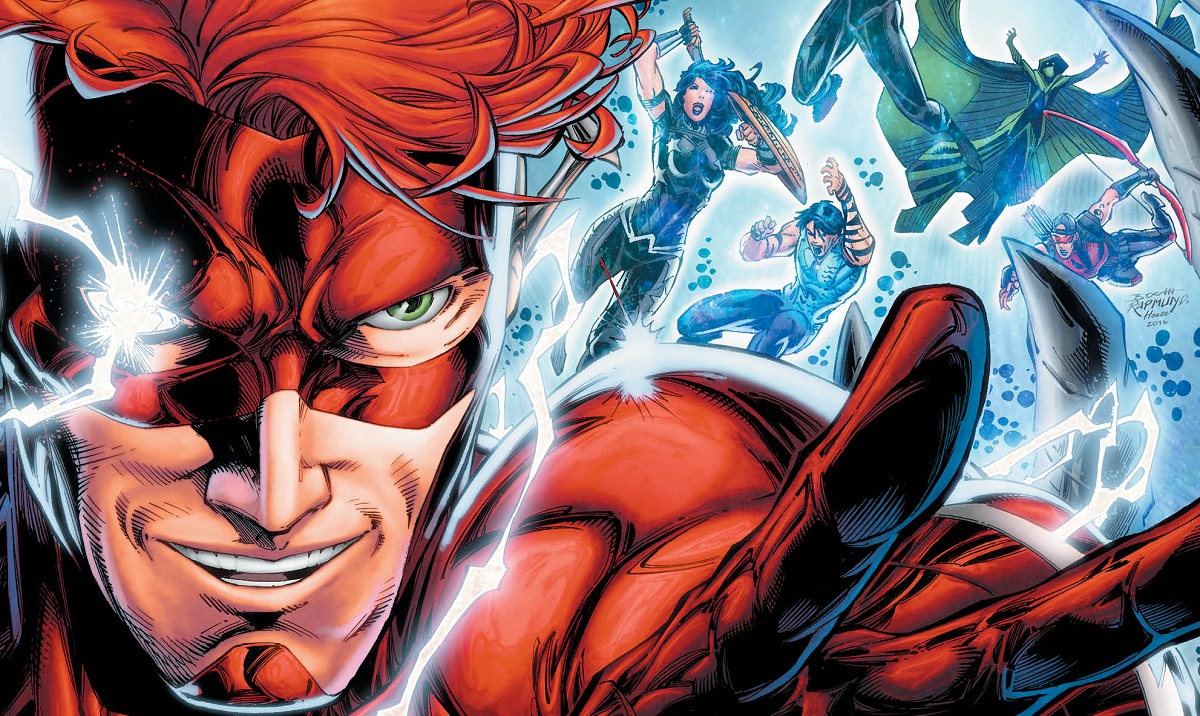 Titans Rebirth #1 
Writer: Dan Abnett
Penciller: Brett Booth
Inker: Norm Rapmund
Colorist: Andrew Dalhouse
Letterer: Carlos M. Mangual
Review by Josh Canales
More than just heroes, the Titans were a lifelong friends. Yet, as with many relationships in the DC Universe, this was lost in time. Wally West is back, in an all-new costume that ties together his classic Kid Flash suit with the iconic Flash suit, searching for what caused the loss of time. When Wally disappeared from everyone's lives, including us readers, time wasn't the only thing lost; memories, bonds, and so much more were nowhere to be found.
Running straight out of the pages of Flash Rebirth #1 (not to be confused with the 2011 Flash: Rebirth) we meet Wally searching for his old teammates, his best friends. They find him first, but of course without their memories they don't recognize him and just see him as a masked man breaking into one of their apartments. So they attack. On the defensive, Wally soon realizes one touch will bring back his friends memories, so he allows them to land punches on him. Soon enough, memories return and that's when the emotions hit.
With strong emotions and call backs to classic moments, Dan Abnett hits the ground running. Setting up what's to come, we get a great sense of the relationships we will get to see grow. From stealing the Batmobile with Dick to playing pranks with Donna Troy, readers get a taste of what to expect. Each relationship between the team members is different, but they're all full of love. That much is apparent, the Titans are and have always been more than just another team. Seeing the team back together is an emotional sight, and Wally describes the feeling best; "I'm finally home."
Brett Booth and Andrew Dalhouse do not fail to impress with their costume designs of most of the team, other than Nightwing's. Each costume ties back to their classic, Pre-52 looks, but with a fresh takes. Booth, Rapmund, and Dalhouse work together to create a seamless comic that is not only easy to follow, but uses panels in creative ways. These artists cooperates flawlessly to allow emotion to pour through each characters' face and actions in a way that can only be described as stunning.  The palette Dalhouse brings to the table is what truly ties the entire book together.
The Verdict.
Buy it. Titans Rebirth #1 is a great story that does well to educate new and old reader alike to the current situations the Titans have found themselves in. This creative team does not miss a beat, hitting the readers with emotions, action, and hilarity. If the New 52 Teen Titans left a bad taste in your mouth or you're new to the Titans in general, this book is for you. Abnett and team does not disappoint with this one-shot; expect great things to come from this new series. Filled to the brim with emotion, Titans Rebirth #1 is a must read for everyone.