Knitting and binge-watching your favorite shows goes together like Sansa and lemon cakes. These GOT inspired knits and crochets will keep you looking stylish throughout the final season.
Proudly show everyone your house loyalty at the next viewing party with these quick-to-knit fingerless mitts by Anna Richardson of One Hand Knits. You can even buy them as a kit (if you can bring yourself to pay the gold price for something). The ebook containing all 10 patterns or individual kits are available for houses Stark, Targaryen, Lannister, Baratheon, Tully, Arryn, Tyrrel, Mormont, Greyjoy, and the Night's Watch. House Martell has been added as a stand-alone pattern.
These stunning Direwolf Mittens by Carly Hill could be as challenging, and rewarding, as raising an actual dire wolf.
The view outside your window might look like spring, but we all know that winter is coming. Any good citizen of Westeros needs to be prepared with a collection of scarves.
This crochet Mother of Dragons Cowl by Laurie Garn of Standing Stones Yarn is like getting a hug from Drogon, but much more cuddly.
The War Banner Scarf by Emily Catherine of Sweetheart Stitches has tapered ends, just like the banners carried into war before the lords of each house. The pattern comes with options for Targaryen, Stark, Lannister, Tyrrell, Greyjoy, and Martell.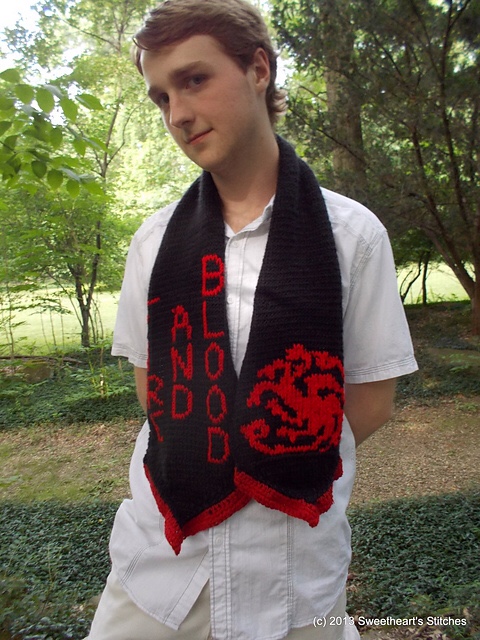 If you're looking for a project that will take you all the way through the final season, get a Game of Thrones afghan on your needles.
Sleep under the banners of nine houses with Ruby Gal's Game of Thrones blanket. You can fall asleep to the comfort of each house's eternal motto.
If your loyalties are to house Stark (and the crochet hook), then this Winter is Coming blanket by Tina Parker of Wicked Hookery will keep you warm while you worship in the Godswood.
So get out your Needle(s) and say "not today" to the chill of winter while you knit and crochet through the final season of Game of Thrones.