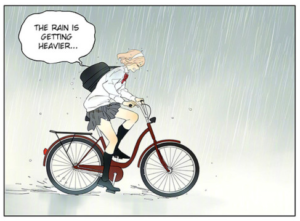 Tamen De Gushi is turning into a soap opera and I love it. A love triangle is about to commence and I cannot wait to see how it unfolds. In the last chapter peach Hair Girl (my apologize I cannot remember her name) is on the verge of confessing her feelings to Sun Jing. Are we about to see how Sun Jing is going to react to this news? Let's find out…
Plot
This chapter focuses on our new little lady and how she first met Sun Jing.
Opinion
What a lovely lovely girl peach hair girl is (my apologize I also cannot remember her name). Look at her sticking up to the bullies! Such a brave thing to do especially on your first day. I feel so sorry for her, she's clearly a good kid and she can't help who she falls for.
I'm pretty sure we've also seen the girl who gets bullied as well but I can't remember when. I'm pretty sure we've been introduced to her early on in the story (if anyone in the fandom knows please do tell me).
I love the minimalist look you get with some of the panels in this new chapter. The grey background really makes her stand out. Sometimes less is more and these panels clearly prove that.
I love the fact that Tan Jiu is making us wait. I'm pretty sure the fandom is dying to know what's going to happen next and it's a smart move on her part as it keeps the storyline interesting and also it makes sure that we the fandom stick around. I also enjoy the fact that we don't only just focus on Sun Jing and Qiu Tong. It's refreshing to have other characters appear here and there and also they give us a nice break from the main storyline itself. You don't want your readers to get bored do you?
Next Chapter: I have nooo idea! We're either going to have a chapter from where Qiu Tong's point of view or we'll have a direct continuation from chapter 150, either way I'm excited to see what happens!