How to Talk to Girls at Parties
Writer: Neil Gaiman
Artists: Fábio Moon/Gabriel Bá
Publisher: Dark Horse Comics
"They're just girls. They don't come from another planet."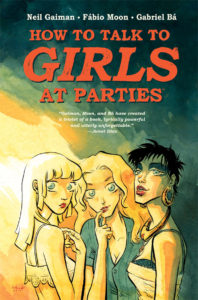 Or do they? Adapted from Neil Gaiman's short-story of the same name, How to Talk to Girls at Parties is a strange and beautiful tale about two lads who attend a house party in the hopes of meeting girls and end-up discovering much more about them than they had bargained for. The story first appeared in Fragile Things: Short Fictions and Wonders (2006) and was nominated for a Hugo Award (2007) and won the Locus Award for Best Short Story (2007). Set in 1970s South London, Gaiman masterfully explores the concepts of longing, loneliness, and what it means to talk to each another in a world where no one is truly understood.
Enn was never very good at talking to girls. To him they spoke a different language, always knowing more than they let on and never really showing any interest in him, especially at parties. Unlike his friend Vic that is, a handsome smooth talker who was, once again, dragging Enn to a house party he didn't want to attend in the pursuit of the elusive female — who always seem to succumb to Vic's charms. Despite Vic's assurances that this time would be different, Enn isn't looking forward to another evening stuck in the kitchen while Vic gets his game on, but he nonetheless follows his friend to the party. When they arrive, Vic doesn't waste time getting to know Stella, the loveliest girl there, leaving Enn with his best advice: just talk to them. That's when Enn notices something odd. So far, there are only girls at this party. Girls dancing spiritedly and care-free, to a type of music he didn't even recognize, a mix of "German electronic pop" and "strange sounds made by the BBC radiophonic workshop".
Enn travels deeper into the dim and mysterious house, which turns out to be larger and more intricate than it had appeared on the outside and eventually encounters three girls to try his luck with over the course of the party. Though he has but one goal in mind at first when speaking with each of them, soon Enn is both captivated and baffled by their stories of far off worlds, of how they were created and discarded, about how one swam in sunfire pools and doesn't know what to call it when she cries. Man, girls were weirder than he thought! But they all had one thing in common, they wanted someone to listen, to hear, to understand; they were more than willing to divulge a little bit of themselves to someone with a sympathetic ear. Even though Enn had thought girls knew everything, it turns out they were just as lost and lonely as he was. This tale, like many of Gaiman's others, is about the power of stories, how they transcend language to bring us together, to change us, and how they allow us to continue to exist long after we have been wiped away.
The comic is illustrated by the well-known Brazilian twins, Fábio Moon and Gabriel Bá. The vibrant watercolours intermingle with deep hues, creating a rich atmosphere full of dark mystery and fantastical oddity. Visual storytelling can be a tricky aspect of adaptations, as the artist tries to convey the author's writing style while still retaining some level of creative interpretation. This team did an excellent job of capturing Gaiman's pacing and prose with their poetic visual storytelling and mastery of body language. Thanks to the dynamic linework, the party girls seem to energetically dance off the page and the deep contrast and shading in the inking, a signature for this artistic duo, subtly highlights the eerie undertones of the story.
Verdict
Buy it! If you're a die-hard Gaiman fan, you'll definitely want to pick this up for your collection. Though this adaptation doesn't add much to the story if you've already read it in Fragile Things, the unearthly beauty of Moon and Bá's artwork really enriches the story experience. The acclaimed novelist and comics writer has many adaptations on deck, including a film also based on this short story coming out in 2016; directed by John Cameron Mitchell and starring Nicole Kidman and Elle Fanning. It'll be interesting to see what they make of this on the big screen. From what we know, the script is (very) loosely based off Gaiman's original story, which is one of my favorite things about him. He allows others to take from his stories to build something completely different, something he couldn't ever have imagined.