Star-Lord #1
Writer: Chip Zdarsky
Artist: Kris Anka
Publisher: Marvel

A review by Adrian Hodgkiss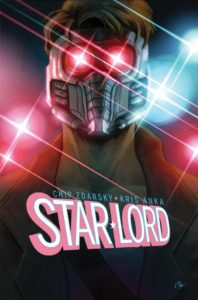 So, after the fall out of Civil War 2 and the collapse of the Guardians of the Galaxy, Peter Quill the half-alien, half-human, finds himself grounded on Earth. We meet Peter as he struggles to adapt to his new station in life, drinking in the morning in sweat pants and being chastised by his chaperone Brand.
Peter is told to deal with his problems and handed a phone filled with his known contacts on Earth. These amount to his ex-girlfriend Kitty Pride and Howard the Duck. The latter convinces Quill (after an angry outburst) to visit an art gallery, where he bumps in to Kitty Pride, Old Man Logan, and a class of Xavier's Academy students.
Things take a turn after a night out drinking with Logan and Star-Lord ends the evening in police custody.
This was a fun and amusing opening to this new run. As was expected from Chip Zdarsky, Star-Lord #1 is full of humour and fun interactions. There are elements of a fish out of water story and the similarities between Quill and Old Man Logan's recent life changes lead to an enlightening and quite personal exchange over a few beers. Not a"bromance"  I was expecting to get from this book, but it worked for me.
We also see Star-Lord's embittered half sister Princess Victoria of Spartax drowning her won sorrows and it is safe to assume she will be looking to track down Quill to exact her own brand of revenge.
It will be fun to see Star-Lord grounded on earth for as long as the run continues, he is so synonymous with space adventure and the Guardians of the Galaxy that being stranded on earth with few friends to call upon is an interesting direction to take him and should help stretch the character  in ways we may not have seen before.
The art of Star-Lord #1 is cool and I particularly like how Old Man Logan was drawn, there was potentially too many shirtless scenes with lots of Star-Lord abs on show for my liking, but you cant have everything. It did do a good job of letting the reader know that Star-Lord isn't lacking in confidence and is quite happy to take his shirt off. Outside of this one very minor gripe, the art here is flawless and perfectly matched with the script. I particularly liked the art gallery scene where a Van Gogh painting dominates the page to good effect.
The Verdict
Buy it! I think the humour and action beats in Star-Lord #1 were excellent, as well as the art. Boy does Kris Anka know how to draw some sweet abs! I think Chip Zdarsky will take Star-Lord in a very different direction to other writers out there, and I for one, am interested to see where that journey ends up. Plus, always extra points for the inclusion of Howard The Duck!