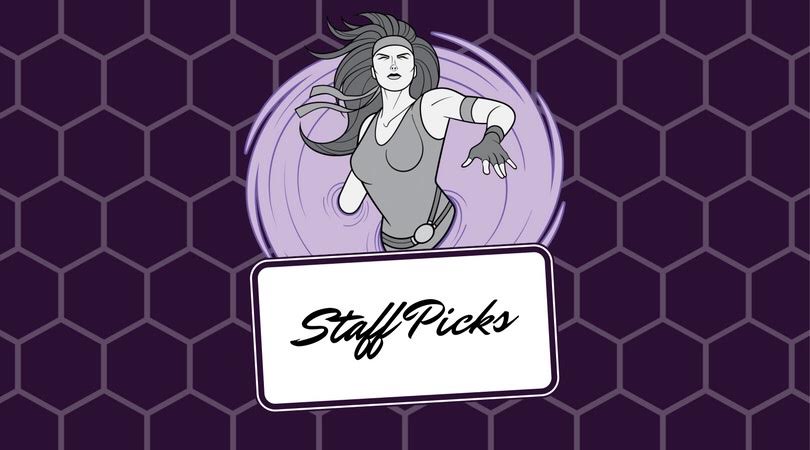 Staff Picks of the Week – May 5th, 2017
It's already May! This year is just flying by! I remember at the beginning of year saying "Oh, I can't wait until Guardians of the Galaxy Vol. 2 comes out!" And the time has come! We'll all be lined up to see it this weekend, unless you were lucky enough to catch it last night. Guardians is my favorite Marvel film, so I have high hopes for the sequel. Anyway, it is Friday! You know what this means! It's time for the Staff Picks of the Week.
Each week a select few of our staff shares with you what has been keeping them entertained. But before we get to the picks, I always share with you what's new and exciting at Rogues Portal. Check out comic reviews for Secret Empire #1, Ether #1, Pitiful Human-Lizard #12, and Regression #1 plus much more! Andrew interviews Managing Director Miles Baker from the Toronto Comics and Art Festival. Michael reviews the latest episode of The Leftovers, Insha covers Doctor Who, and Samantha continues with her 100 Thoughts on the 100 entries with this week's focusing on depicting suicide in a post-apocalypse world. We have you covered on games as well! Take a look at the reviews for Tumbleseed and Family Guy Another Freakin' Mobile Game.
We also have a variety of podcasts for your listening pleasure! Check out the latest episodes of Comicsbound, Scooby Dos or Scooby Don'ts, The Comics Agenda, The Missfits,  Not Enough Resources, and Babes of Wonderland. Hang out and see all that we have to offer! Now it's time for the Staff Picks of the Week!
---
Amelia's Pick of the Week – My staff pick of the week is the video game Stairs. Released in 2015, Stairs is a first-person, psychological horror survival game. You're a journalist named Christopher Adams, investigating the murder of a woman, found dead in a factory, who had been kidnapped three years earlier. As you explore the factory, descending further down a set of hidden stairs, reality fades away and the paranormal begins to take hold. It's really atmospheric and very chilling all the way through. The insane architecture and trippy trials to get to the end are really unique and a part at the end where you're only light source is a long exposure flash from your camera is some of the tensest gaming I've ever experienced. It's very Lovecraftian in tone without overusing those tropes ad nauseam. If you're looking for a spooky PC game, check out Stairs!
---
Greg's Pick of the Week -This past week The History Channel premiered their superhero documentary Superheroes Decoded. The documentary was done in a two part series with the first episode focusing on how many of the heroic and iconic heroes were created including Superman, Batman, Spider-man and more. Part two focused more on some of heroes who were willing to break the rules such as Wolverine, Hulk, and the X-Men. The creators were able to bring in actors, directors, writers, and of course the iconic Stan Lee for this documentary.
As much as I enjoyed the special I feel like they just started to scratch the surface of the cultural impact and historical context of the comic book industry. Hopefully if the two part series does well in the ratings it will encourage the channel the revisit the concept and delve even deeper into the comic book world.
---
Michael's Pick of the Week
– My pick this week is the TV show
Better Call Saul
. The series doesn't get as much respect as
Breaking Bad
, but It's an amazing series, especially for a prequel spinoff. Bob Odenkirk gives a charming and surprisingly layered performance as the man who will become Saul Goodman, Jonathan Banks gives us more of Mike the fixer from
Breaking Bad
and Michael McKean proves his dramatic acting chops as Saul's brother. We're only a few episodes into the third season and Giancarlo Esposito (
Breaking Bad's
Gus Fring, one of the best TV villains) is supposed to be appearing regularly, so any
Breaking Bad
fans who haven't checked it out should hop on now.
---
David's Pick of the Week
– My pick this week is the thriller
Get Out
. I had heard nothing but good things about this film and finally got a chance to sit down and watch it. Wow! I was really impressed! The film is about an interracial couple, Chris and Rose going to meet the girlfriend's parents for the first time. Chris is black, Rose is white. Upon arrival Rose's family is overly accommodating towards Chris, which he reads as them being nervous. But as the weekend continues, Chris discovers a number of disturbing things that leads to an even scarier truth about his girlfriend's family.  I know this film is considered a horror, but to me it was more of a thriller. Don't go into this film thinking you are going to watch a slasher film, because this is far from it. I thought the acting was well done and the story was original and though provoking. I think the biggest surprise for me was to see Catherine Keener (
The 40 Year Old Virgin
) play the role as Rose's mother. I scoffed at her at first thinking she could not pull of an intimidating role, but I was wrong! She casts a haunting performance. If you haven't seen
Get Out
, I strongly recommend it. It takes an interesting look at racism almost as envy and is a strong film from start to the exciting end!
---
Billy's Pick of the Week
– Hey look! I read books! 
Rebel Rebel
by Chris O'Leary is an amazing resource for David Bowie fans. In a little under 600 pages, this book is an anthology of essays on every David Bowie song from 1964-1976. O'Leary gives context to each song by analysing the content, the history behind the piece, and the contemporary culture that informed it to create a remarkably fascinating full picture. Chris O'Leary's original blog
Pushing Ahead of the Dame
is a huge inspiration in how I write about media, and
Rebel Rebel
is a more refined version of that text that I am proud to have on my shelf. Whether you want to read straight through the development of Bowie's musical career or just flip around to learn more about your favourite tracks, there's
tons
of information, stories, and history to enjoy.