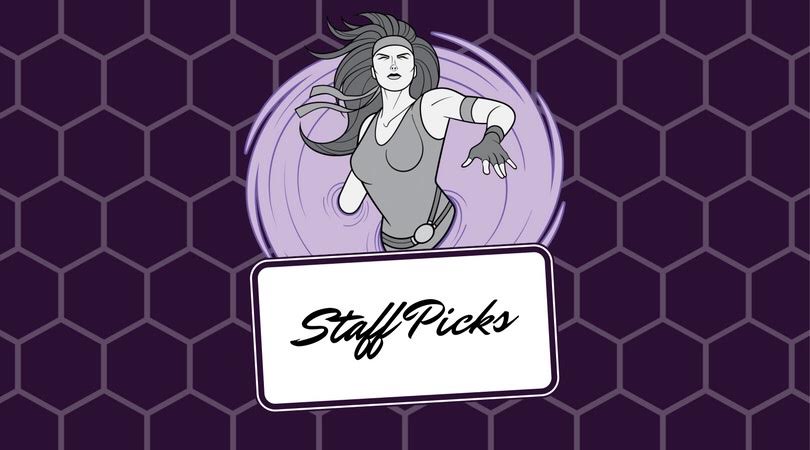 Staff Picks of the Week – May 19th, 2017
Friday is here! The weekend is right around the corner! What are you going to do? Catch the new Aliens flick? Pssst….I'll link you to Stephanie Cooke's review of the film below. Whatever you do, hopefully it doesn't involve a lot of working and involves a lot of fun. Friday also signals that it is time for the Staff Picks of the Week! You know how we play, each week a select few of our staff shares with you what has been keeping them entertained. And I wouldn't be doing by duty if I didn't first share with you guys what is new at Rogues Portal this week! Are you going to the comic shop this weekend? We have reviews for you to check out before you make those purchases! Check out reviews for Mass Effect: Discovery #1, Grrl Scouts: Magic Socks #1, American Gods: Shadows #3, The X-Files: Funko Universe, and Britannia: We Who are About to Die #2. That's right if the book didn't have a colon in the title, we didn't review it! No, we have plenty more comic book reviews this week, go check them out! And don't forget about our own Sunny and Owl Girl! Check out Stephanie's review of Alien: Covenant. And Billy reviews Doctor Who: Oxygen. The latest episodes of our podcasts are up. Take a listen to Scooby Dos or Scooby Don'ts, The Comics Agenda, Marvel Cinematic Origins, and Babes of Wonderland. So hang out awhile and enjoy! On to the Staff Picks of the Week!
---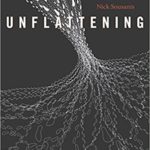 Anelise's Pick of the Week – Unflattening (2015) by Nick Sousanis has been on my to-read, non-fiction comics list for a while. This is an ambitious work that tackles the humanities and sciences and comic theory and seems to be an experiment in itself about visual thinking. Sousanis offers a deep examination of how humans think, and he effectively argues against one viewpoint as he regularly fractures and multiplies perspectives. While this is not a work that is solely about comics, it does present a lot of interesting information relevant to comic theory and it definitely seems like the comics medium was the best choice to deliver his ideas. Unflattening is heavy but rewarding, and if you are looking for a thought provoking comic that challenges the way you think about, well, thinking, then I definitely recommend reading Unflattening.
---
Hafsa's Pick of the Week – My recommendation is Comics Above Ground: How Sequential Art Affects Mainstream Media by Durwin S. Talon. Ever wondered what the mainstream comic authors thought of different aspects of comic writing and comic art? This book is a series of interviews linked by comics, but diversified by different links. Those links are covers, novels, illustration, children's books, video games, Hollywood, storyboards, concept art, visual special effects, animation, and new media. These interviews are with Adam Hughes, Greg Rucka, Dave Dorman, Louise Simonson, David Guertin, Heph Loeb, Chuck Woitkevicz, Bernie Wrightson, Jon Van Vliet, Bruce Timm, and Phuuz Entertainment. The discussion provides an insight into the overlap of the comic industry and the other one as well as an insight into how these different creators entered into their respective fields. The experience of such a book is very enlightening and influential in the exploration of the industry and is an amazing read, especially for academics.
---
Heather's Pick of the Week – Zombies, demon dogs, and dead teenagers — oh my! My staff pick this week is Volume 1 of Afterlife with Archie. With story by Roberto Aguierre-Sacasa and and art by Francesco Francavilla, Afterlife with Archie explores what would happen if Riverdale hosted Patient Zero of the zombie apocalypse. Admittedly, this title has sat on my shelf since I bought it. Now that I've read it, I have to wonder why I waited so long. I want to avoid being too spoilery, because the overall story itself is not original. However, what kept me interested is the depth in the characters that we get. I love how raw their emotions are beyond that superficial teenage nonsense that usually accompanies Archie comics. You get to see what happens when characters you know and love cope after committing unspeakable acts, all of which lends itself to the overall tone of the comic — which is dark, dark, dark. Do not go into this title expecting a happy ending in Riverdale, because you aren't going to get it. In addition, I came across one of the most heartbreaking panels I've ever read in a comic. No joke, I cried. Even though this title has been out for some time, I still recommend picking it up and giving it a read. It's not a lengthy endeavour and will be a good addition if you've recently got into CW's Riverdale. If you are interested in hearing more of my thoughts on Afterlife with Archie, check out episode 102 of The Missfits when it drops next Monday!
---
Robert's Pick of the Week – Don't judge me but this past week I am reading Usagi Yojimbo for the first time. I was able to snag an oversized collection for cheap at a con. I am sorry I never read it before but it was well worth the wait. Stan Saki is a master to be mentioned in the same breath as Kirby and Mike Mignola. I am not overstating when I say that. Usagi is this weird amalgam of 16th century Japan and Anthropomorphic animals. To be honest that the talking animals might be the reason I waited so long to read it, but boy was I wrong. This collection displays just how strong the character and writer/artist is because it has everything from a cross over with Teenage Mutant Ninja Turtles to short 5 page stories to multiple issue stories and it all holds up. Every arc works. The storytelling on display is some of the best I've seen in comics ever and every page I am blown away. If you haven't read it yet, I highly recommend jumping into Usagi if you haven't read it yet.
---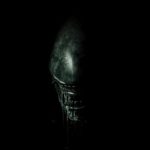 Ryan's Pick of the Week – Alien Covenant was such a mixed bag, but ultimately I think I enjoyed it. It really helped to watch Prometheus a couple nights before hand, as it helped filled a bunch of plot holes and really helped the character development of David shine. As much as it pains me to say, you really should watch the two prequel videos Fox put on Youtube to help round out some lingering questions. Any movie that requires you watch 10 minutes of Youtube before your viewing though needs a couple more passes in the editing room. If you do your homework, Alien Covenant is a rewarding watch, but if you are a casual film goer, go in with low expectations and a big old bag full of popcorn.