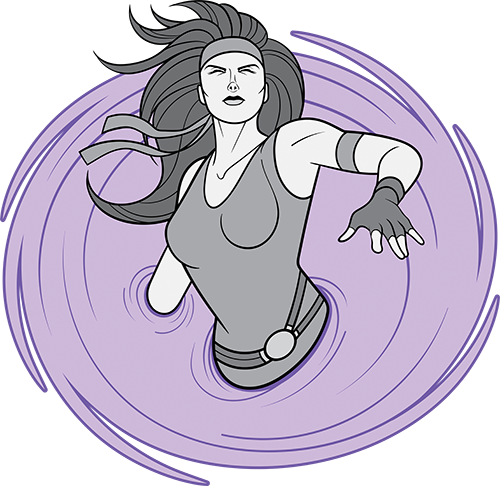 Staff Picks of the Year: 2016
The end of the year is right around the corner and the Staff Picks of the Week will make its triumphant return next week. This week, Rogues Portal is bringing you the Staff Picks of the Year! A group of us put together a small list of our favorite comic books that were released this year. Well, everyone but Ryan and Amelia. They march to their own beat with comic books to movies to novels! So check out the picks below and feel free to hit us up on our Facebook page or on Twitter to leave any comments or tell us what your choices would be for the best or favorite of the year. See you next year!
---
Anelise's Picks of the Year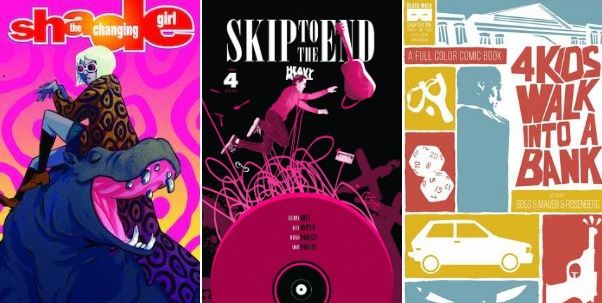 2016, despite all its flaws, was a pretty good year for comics in my opinion. And, if I have to narrow it down to three in particular, here's what comes to mind:
Shade, the Changing Girl
Publisher: DC

Written by Cecil Castellucci with art by Marley Zarcone and Kelly Fitzpatrick. This is a story about aliens, body snatching, and mean girls, all wrapped up in gorgeous, psychedelic art—what more could you want?
Skip to the End
Publisher: Heavy Metal Magazine

A four issue limited run by Jeremy Holt and Alex Diotto that managed to successfully combine two of my favorite things: Nirvana and science fiction. While this a story about music and time travel, Skip to the End is also a recovery narrative and has a lot to say about letting go of the past and moving forward.
4 Kids Walk Into a Bank
Publisher: Black Mask Studios
Written by Matthew Rosenberg with art by Tyler Boss, think the cast of Stranger Things meets the whimsy of Wes Anderson and the style of Quentin Tarantino, and that's what you have here. Hilarious, heartwarming, and gorgeous, minimalist art, 4 Kids Walk Into a Bank is unlike anything I've read.
Greg's Picks of the Year
Papergirls
Publisher: Image Comics
Take one part everyday boring life in North East Ohio in the 80's, add in four girls doing a job that, at the time was dominated by boys in the neighborhood, then finally add in weird alien beings and you have what has turned out to be one of the best series that has been coming out this year. The world creating, character development, and just plain crazy story arch means that each week Papergirls comes out, it moves to the top of my reading list.
Wonder Woman
Publisher: DC Comics
Before Rebirth I had never read a Wonder Woman comic on a regular basis. I would grab issues here and there and had a basic knowledge of who the character was and her history. With the relaunch of the DC line under the name Rebirth and Greg Rucka returning to the book, I decided it was time to give a regular Wonder Woman series a try, and I am glad that I did. Rucka's use of alternating stories going back and forth have eliminated the fatigue that has set in with some of the other bi-weekly books, but that is not the only reason that I'm still picking up this book. The stories that Rucka is telling are brilliant, and really have helped new and old readers alike to be able to understand and explore Wonder Woman in ways they have not been able to before.
A.D. After Death
Publisher: Image Comics
So far only book one and two have come out from the team of Scott Snyder and Jeff Lemire, but what has come out so far has been amazing. Lemire uses a water color that is breathtaking at times while also being minimal. The art enhances the story that is being told and does not take away from it at all. Meanwhile the story is unique, thought provoking, and engaging. Reading it makes you truly think about life and death and how would life be like without death. Would it be what you had always wished for or would it be something that, in the end, you dreaded. There is only one book left that is scheduled to come out in January, but the first two have been some of the best that I have read this year.
David's Picks of the Year
This was really hard to break down and only select three as my favorites for the year, so I can't promise it will only be three… I don't know why I'm lying to you. I know it will be more than three.
The Fix
Publisher: Image Comics
I had been hyped about The Fix ever since I saw the preview for it at the beginning of the year. I was more than pleased that The Fix delivered. The story is a nice mix containing crooked cops, corrupt politicians, mobsters, and a drug-sniffing beagle named Pretzels. Written by Nick Spencer, with the art by Steve Lieber, The Fix stands out with its laugh-out-loud comedy and the slimy characters that you almost immediately fall in love in. The pacing, scripting, and art are all things that are necessary to make a comic book work and The Fix hits on all levels.
Postal
Publisher: Image Comics
Now that it has been announced that Postal will soon be a television show, I hope it starts getting the recognition that it deserves. Postal is set in the fictional town of Eden, Wyoming. Eden has been set up as a secret safe haven for ex-convicts to try and start their life over. There is zero tolerance for any illegal activities and the law is enforced by Mayor Shiffron. You step out of line and you're screwed. Her son Mark is the town's postmaster, has Asperger's, and finds himself in the middle of a lot of the conflict that arises in the story. Bryan Edward Hill and Matt Hawkins have created a remarkable world of criminals that you find yourself cheering for.  Add the art of Isaac Goodhart and you have a comic book that can't miss. If you haven't checked out Postal, you might want to hop on this train before it skyrockets into space.
The Punisher
Publiser: Marvel
The Punisher is one of my favorite comic book characters. When I heard that Becky Cloonan was attached to write the latest volume, I was anxious to see what she would bring to the world of Frank Castle. She brought chaos and a lot of bloodshed! The Punisher is lights out brutal and with only seven issues into this current run, it has become one of my favorite runs in its history. I was also excited to see Steve Dillion make his return to drawing The Punisher, sadly as most of you know, he passed away earlier this year. Matt Horak is now tapped to fill some pretty big shoes in the art department. I have faith that it will all come together and The Punisher will keep its momentum going.
Rocket Raccoon
Publisher: Marvel
Rocket Raccoon was just released this week and made my list for the best of the year?  You're damn right! Matthew Rosenberg does an outstanding job telling a fish out of water story in the premiere issue. Rocket is grounded on Earth, has no way to get off and he isn't happy about it. He quickly learns the hard way how things work on Earth and in his own words: " This planet sucks". Coelho and Fabela's art does a wonderful job complementing Rosenberg's script with some gritty visuals and makes Rocket look like the respectable raccoon that he is. No cartoonish style here, folks. We finally have a legit Rocket Raccoon story!
Wonder Woman
Publisher: DC
Wonder Woman easily made my list as it being the only DC book that I have consistently read since issue one. Rucka alternating stories is the key to keeping this volume feeling fresh. The art is also alternated between Liam Sharp and Nicola Scott, once again keeping things fresh. The stories are well scripted and pull the reader in. It has been a long time since I have read any Wonder Woman but Rucka has pulled me in. Diana feels like Diana again! If you aren't reading Wonder Woman, you are seriously committing an injustice to yourself. Add this book to your pull list!
4 Kids Walk Into a Bank
Publisher: Black Mask Studios
4 Kids Walk Into a Bank took a six month hiatus. When it made its return a couple of weeks ago, I was nervous that it wouldn't grasp me like it did in the beginning with issues one and two. I was thrilled that the same feeling I had months ago came rushing right back to me within the first couple of pages. Matthew Rosenberg (wait this guy made my list twice?) tells an excellent story about a young girl named Paige, her friends, and their one big problem: keeping her dad alive and out of jail! Paige's dad is tied into a group of thugs that want to rob a bank but they aren't smart enough to pull off the caper, so what will Paige do? Her and her friends will rob the bank themselves! This is like Tarantino meets The Goonies and I have loved every page of it. It is sad that is only going to be five issues long, but it has been one hell of a ride!
Robert's Picks of the Year
I read a lot of books this year. A top three list was harder done than said, so it's a good thing no one ever said I couldn't include some runners up! Below is ranked in order of preference.
The Flintsones
Publisher: DC
This book is the one that took me most by surprise. If you told me at the beginning of the year the book I would be most excited about every month would be a DC Hannah Barbara property, I would have laughed right in your face. I hold no special affinity for The Flintstones, but this book stands alone as being really good work. It was sold to me as Mad Men in the Paleolithic era. While it isn't nearly as damning of a particular time period as Mad Men, it does provide social commentary. Mark Russell's scathing social satire of a civilization in peak capitalist form pulls no punches. Everything from the pseudo-science analysis of the world, to an actual warlord running for mayor gives this book a bite that not many books on the market can match.
Runners Up: Omega Men, Detective Comics, and The Flash
Black Panther
Publisher: Marvel
I grew up reading old school Marvel comics that were gifted to me from an older mentor-like figure in my life. I always considered myself a Marvel guy through and through, but this year Marvel has been letting me down. Everything from what I consider to be lackluster X-Men books, to the event that was the character assassination of Captain Marvel. But through all this, one book rises to the top and that is Black Panther by Ta-Nehesi Coates, Brian Stelfreeze, with colors by Laura Martin. This book brings mythology and regal prestige to a character that is going to gain popularity. My friends in the comic shop tell me I'm crazy for liking this book. They tell me, 'it's too slow', or ' the art is stiff'. I love this book. It's Marvel's version of an African Game of Thrones. My reviews really go in depth on the intricate nature of the series and what I believe Coates and his coworkers are trying to achieve. This book delivers in terms of a great long term story that is building a grand overarching narrative. One of the great things about this series is how deceptively subversive it is. Sure the title is Black Panther but T'Challa isn't the star of the book. It's the women in the series who make the book go. I tingle every time I see this books on the stands.
Runners Up: Vision and Ultimates
4 Kids Walk Into a Bank
Publisher: Black Mask Studios
Listen, I was late to the Matthew Rosenberg train. I met him at Heroes Con and my friend had to buy his book for me because I had no idea who he was and what the quality of his wares were. I was ignorant, but now I have seen the light. This guy's dialogue is on par with young Bendis doing Powers. Being frank, this book was late. But, it is so good that tardiness doesn't overpower quality in my eyes. He uses the medium of comics in a way that cannot be replicated in any other form. 4 Kids Walk Into a Bank is downright hilarious. It has a moment in issue 2 where I threw my head back and laughed till I dropped the book on the floor. The kids in this book sound like kids. The adults don't speak down to the kids and it all feels authentic. Lots of books with kids are written by middle aged white men and don't feel like kids. This book feels like actual people talking. It's Rosenberg's biggest strength. I think this book is a joy and pleasure to read.
Runners Up: Reborn, Saga, Moonshine, Jupiter's Legacy Volume 2, and Romulus.
Amelia's Book Picks of the Year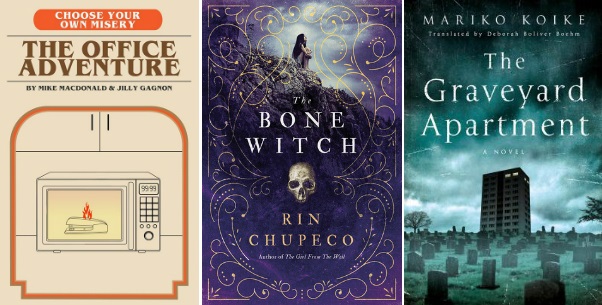 Choose Your Own Misery
Writers: Mike MacDonald & Jilly Gagnon
Here's an interesting series that takes the Choose Your Own Adventure format and makes it just one miserable decision after another. Will your morbid curiosity prefer to pretend you're in love with a pillow person or awkwardly drink with your boss as they wail about their relationship? Or what about spending the holidays with your overbearing sister compared to ending up in the seedy part of Jamaica? These miserable choice and more are in Choose Your Own Misery!
The Bone Witch
Writer: Rin Chupeco
The Bone Witch is an interesting young adult fantasy novel that follows the lives of a Bone Witch in training to keep the peace. As the only type of witch that can banish immortal demons before they rampage, The Bone Witch offers up a world that's a fantastical Memoirs of a Geisha with magic and witches.
The Graveyard Apartment
Writer: Mariko Koike
Originally released in the 1980s, The Graveyard Apartment got a re-release in 2016. This chilling tale follows a young Japanese family that's moved into a luxury apartment that was cheap. Suspiciously cheap. As unexplainable phenomena happen more and more, the family is left with only one option: escape before it's too late. The Graveyard Apartment is a slow-burning horror story with an ending that will have your heart pounding long after you've finished it.
Ryan's Picks of All His Favorites for the Year
Comics:
Darth Vader, Vision, The Mighty Thor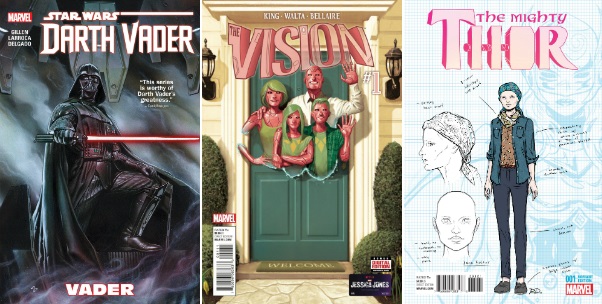 These three comics have captured my imagination more than any other comics released this year. Darth Vader came to an incredible satisfying conclusion, and returned Vader into the fearful dark lord he was made as. Plus, the amazing side character Doctor Aphra has secured her own series now that Darth Vader has concluded. I have only read the first couple issues of Vision, but it is incredibly gripping and brings a shocking amount of depth to one of my favorite Avengers. It reminds me a lot of old school science fiction from Arthur C. Clarke and Phillip K. Dick. The Mighty Thor brings Jane Foster as Thor into the forefront of Asgardian politics, in addition to finally dealing with Jane's cancer. It brings vulnerability to the character in a brand new way, and proves the Jane is worthy to wield the hammer.
Games:
Overwatch, Mini Metro, Titanfall 2
We discussed Overwatch during our Game of the Year talk, and with the large amount of content Blizzard keeps churning out, I will be playing the game for weeks to come. Mini Metro I purchased on an impulse buy from the app store for $.99, and it was worth every penny. The game focuses on the route planning of subways and quickly becomes a test of wit and skill. I haven't gotten a zen like experience out of gaming like this in quite a while. Titanfall 2 delivers a great multiplayer romp with giant mechs, and moves Respawn Entertainment further away from their Call of Duty past. It delivers on everything I thought video games would be growing up, and gutting people with a giant sword wielding mech will never get old.
Movies:
Rogue One, Warcraft, Star Trek: Beyond
Rogue One
took me by complete surprise, because honestly, I set my expectations incredibly low. I knew the story it was going to tell would end tragically, but I didn't expect to be so invested from the first frame of the film. While I was
initially lukewarm
about
Warcraft
, I find myself watching it again and again, and it is growing on me with each viewing. Is it  a movie made for everyone? Not by a long shot. Is it a movie made for me? Absolutely. The final movie of 2016 that I keep coming back to is
Star Trek: Beyond
. I wasn't a Trekkie when 2016 started, but by the time
Beyond
hit theaters my wife converted me. But
Star Trek
fandom aside,
Beyond
is a damn good film with a solid story and a great performance from every member of the ensemble.
TV:
Legends of Tomorrow, OJ: Made in America, Luke Cage
The biggest surprise for me for television in 2016 is by far
Legends of Tomorrow
. It is American
Doctor Who
with superheroes, and I love it. The absence of Wentworth Miller's amazing scene chewing in season two isn't noticeable and that in itself is an amazing feat. The entire cast is likable, even the newer additions, and it is just goofy entertaining fun. The other two shows that caught me in 2016 and wouldn't let go were
OJ: Made in America
and
Luke Cage
.
OJ
 provided a great amount of context for an era and a hero that I never knew growing up. The three things I remember from the OJ trial were the white bronco, if the glove fits you must acquit, and the verdict. The five part documentary series was incredibly dense, but covered a unique part of American history that I was completely blind to.
Luke Cage
 was incredible and unlike anything I have seen on TV. Rather than recap what I wrote in my
exhaustive review
, I seriously recommend you go to Netflix and watch the first couple of episode.