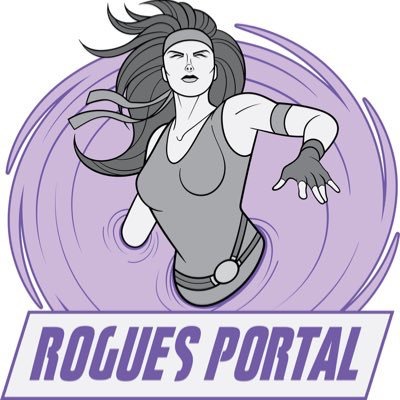 Staff Picks of the Week – November 18th, 2016
Hello my friends, Friday is here!  It has been a long week for me, I hope it has been easier for all of you out there! It is time for our Staff Picks of the Week! You know how it goes, each week I share with you what has been keeping our staff entertained! But before I get to those awesome picks, I will share with you a little of what has been going on this week here at Rogues Portal. You will want to check out our reviews for Namesake #1, Batman/Teenage Mutant Ninja Turtles Adventures #1, Ether #1, Briggs Land #4, and True Patriot Presents #1, just to name a few. We have a new features titled What's New This Week where we share with you upcoming releases for music, video games, books, and movies & TV.  Rhian unboxes the Nintendo Classic and tells us what she thinks, while Ryan tells us everything we need to know about Pokemon Sun and Moon. We have our latest episodes of the Comicsbound podcast, as well as the two weekly episodes of Scooby Dos or Scooby Don'ts! So hang around for awhile and enjoy!  And now I present to you, our Staff Picks of the Week – November 18th, 2016!
---
Amelia's Pick of the Week – My staff pick of the week is Animal Crossing: New Leaf. This game is an adorable time waster that I'm still finding joy in even though I've been checking in everyday for the last straight year and a half! In New Leaf you play as the Mayor. You're a human Mayor in a town full of animal neighbours. It's just the cutest damn thing you're ever going to see! You'll develop real feelings for these animals and making them happy will bring a smile to your face, though watching them pack up and move will break your heart! To prevent heart breakage, I suggest holding your favourites hostage, but in a nice way. It's why Alfonso the alligator, Bam the deer, and Hazel the squirrel have been with me since the beginning. They're not allowed to leave… And sure, this game is four years old, but Nintendo is still producing updates and content for it (a huge one just happened about a week ago) and it's only forty bucks for literal hours of pure bliss! If you have a 3DS and you aren't running an Animal Crossing town, you are definitely missing out!
---
Hafsa's Pick of the Week –  My staff pick is Fortunately, The Milk by Neil Gaiman.  This is a children's book that made me believe in magic, parenthood, and illogical logic. The story follows a father who left to get milk, but is late coming home. His children question him so he weaves a fantastical story that may or may not be real. This adventure takes him beyond space and time and yet he still manages to keep a hold on the milk he bought. The narrative is eclectic and surprising. The twists and turns of the story are unpredictable and most amusing. However, what makes any children's book more entertaining is the art in the book. All the different versions out there are beautiful. The art that did capture the spirit of the book was done by Skottie Young. His rounded and elongated figures add to the charm of the book and enhances the reader's relationship to the narrative. I do admit a bias towards Young's art and Gaiman's story telling, but the combination was truly inspired and fun to read!
---
Billy's Pick of the Week – David Bowie's Leon Suites is a lost treasure. A cyberpunk neo-noir concept album about social media, web addiction, and the disassociative habits bred on the internet. In 1994. Although never commercially released, the experience is perhaps better enjoyed in what can be described as its native format: legally dubious, unlabeled digital files. I've somehow only just discovered this album, and I'm devouring it over and over again. Some of you may fight me on this, but I think it's better than 1. Outside by a wide margin. The experimental narrative elements and character studies flow beautifully together without the singles shoehorned in, and if you open your mind up a bit, you can see for yourself how this album contains a story that was decades ahead of its time. It's definitely not the side of David Bowie you've come to expect, but it's such a pure, unvarnished, artistic achievement, you can't help but be impressed. I wanna be chrome.
---
Rhian's Pick of the Week – My pick of the week comes from the animation part of the geek world. American Dad has started its 13th season and I'm so excited for it to be back on the air. Slightly gutted it missed Halloween though, nothing beats a good ol' cartoon Halloween special. The first episode has already aired and it centered around the family missing Father's Day. As an apology to Stan they celebrate the special occasion 2 days after Father's Day. Not being particularly impressed with their efforts, Stan borrows some CIA equipment that erases the last 24 hours out of your head. He does this to the family for six months until he gets caught. It was such a good first episode and I cannot wait for the rest! Roger is definitely my favourite character so I cannot wait to see what type of shenanigans he gets up to and let's be honest, after this last week, we all need a bit of laughter!
---
Michael's Pick of the Week – My pick this week are a few fantastic film noirs you should check out in honour of it being "Noirvember". One of my personal favourites is Out of the Past starring Jane Greer, Kirk Douglas, and my favourite noir actor, Robert Mitchum. It's a dark, twisty story that boils down to a noir classic: a man trying and failing to escape his past. It's a gorgeous movie anchored by top-notch performances and it's worth seeking out reviews and articles about it after watching the film. There's a lot there to discuss. My next suggestion is Stanley Kubrick's The Killing. It's another classic noir story: a hardboiled heist. The Killing is loaded with great performances, led by Sterling Hayden, and Kubrick's directing is impeccable as always. My final pick is Key Largo, a story about a group of gangsters taking hostages at a hotel during a storm. The cast is a murderer's row, including Humphrey Bogart, Lauren Bacall, Edward G. Robinson, and Lionel Barrymore. The story is steadily paced, ratcheting up the tension as the characters are stuck inside, bouncing off of each other. These are juts a few suggestions, there are hundreds of amazing film noirs, and neo noirs, that are worth watching a revisiting.