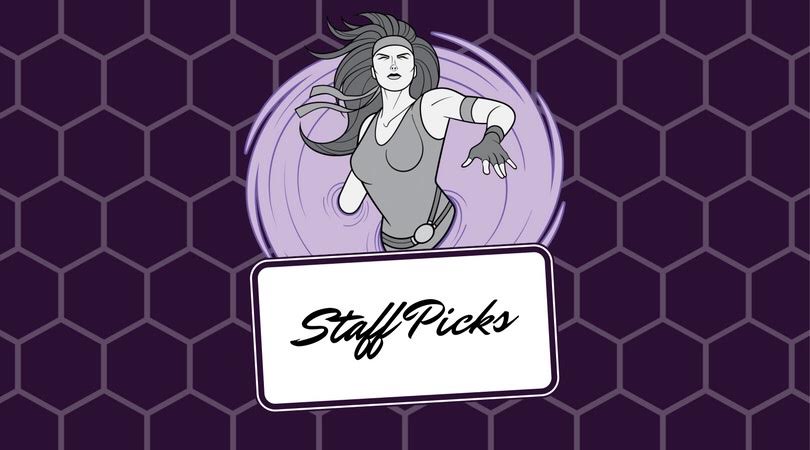 Staff Picks of the Week – May 26th, 2017
It is Friday! It is time for the Staff Picks of the Week! You know how this works, each week a select few of our staff members share with you what has been keeping them entertained. But before we get to the picks, let me share with you what is new at Rogues Portal this week! Check out our comic book reviews for Crosswind #1, Plastic #2, James Bond: Service Review, X-O Manowar #3, Batman Detective Comics Vol. 2: The Victim Syndicate, our own Sunny and Owl Girl. Robert talks with creator Brian Wood about Briggs Land:Lone Wolves. Are you fan of Twin Peaks? Of course you are! Last week the first episode of the new season premiered and our staff put together a bunch of Twin Peaks articles! Take a look at The Woods are Wondrous Here, But Strange: a Twin Peaks Primer, David Lynch: The Must Watch List, Did You Know: Twin Peaks, the Best and Worst Moments in Twin Peaks, some Damn Fine Fan Art and Michael reviews Twin Peaks "The Return"! I recap my trip to the Tidewater Comicon. Samantha continues with her 100 Thoughts on the 100: 5 (Wild) Theories for the Season 4 Finale. Rhian shares her experience from the "Get Even" video game press event. Staying on the subject of video games, Ryan reviews the lastest DC game Injustice 2. And the latest episodes of our podcasts are up! Check out new episodes from Comicsbound, Scooby Dos or Scooby Don'ts, The Comics Agenda, and The Missfits, We have something for everyone! And now it is time for the Staff Picks of the Week!
---

Amelia's Pick of the Week – My staff pick of the week is Heathers, a high school mean girls movie with a murderous twist! Veronica (Winona Ryder) is part of the most popular clique at her high school, but she disapproves of the other girls' cruel behaviour. When Veronica and her new boyfriend, J.D. (Christian Slater), confront the clique leader and he "accidentally" poisons her, they make it appear to be a suicide. Soon though, J.D. is intentionally killing students he doesn't like, all in the guise of them committing suicide. Veronica has to put an end to it before J.D. puts the cap on his plan. I first saw Heathers when I was thirteen and it's been an obsession ever since! It's a dark comedy that I just can't get enough of. Is it the realistic teenage attitudes, the non-stereotypical depictions of girls, or young Christian Slater? It's all those things! But mostly Christian Slater. Because, c'mon.
---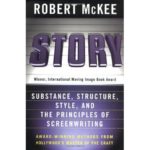 Christoph's Pick of the Week – I am currently working on my first comic script – the first story I've written in a very long time, actually. And I thought to myself, why not start by writing a story for my favourite medium. Plus, it's cheaper and maybe easier than making a movie. Unfortunately I am not a great artist, but my sister is. So I talked her into the project and as soon as I finish the first issue, she will start drawing it. I can't tell you how happy that makes me. I am looking forward to what she creates out of my descriptions. Since this is my first story I was looking for some help. And since comic scripts are structured a bit like screenplays, I bought the book Story by Robert McKee. The book is considered THE book for screenwriters or better even, the bible for screenwriters. I don't think I have to tell you who Robert McKee is – if you ever researched any topic about story-writing, you should have heard from him. You can imagine how high my expectations were, as I ordered the book and opened it for the first time. By the way, if your want in-depth movie reviews and screenplay analysis, I cannot recommend the YouTube channel "Lessons From the Screenplay" enough. Very interesting and you can learn a lot about structure, storytelling and genres. There are not a lot videos yet (it is a rather new channel), but the production value and the quality of the videos are very high. But let's get back to the main topic.
So, in parallel to writing my script, I am reading Story. That way I can immediately use McKee's recommendations. He makes a valid case regarding research. By that I don't mean for the movie or comic itself, but research about storytelling. I think he is right, because one should know the genre conventions of what one is going to write. You should know what your audience expects from you. This is especially important, if you want to break some genre conventions – how do you want to break them, if you don't know them? It is also interesting to read the book while writing, because he gives me ideas I didn't think of before, just by talking about the theoretical stuff. But don't get me wrong, he uses a lot of good examples so you instantly understand, what he means. Story is a perfect book and definitely worth a look. The ideas, guidelines and detailed examples makes it easy to follow as well. Happy writing!
---
Greg's Pick of the Week – My Staff Pick is Stacked Deck: The Greatest Joker Stories Ever Told. A few weeks ago I won an auction that was filled with various comic book related stuff. Autobiographies, collected volumes, original graphic novels, and the such. One of the books that caught my eye right away was a purple hard bound book with Joker on the front of it. Stacked Deck takes the top twelve best Joker related Batman comics. Not only are the stories presented in their original version, but you get some of the stories behind the stories. In addition to the reprints there are a couple of essays written about the Crime Prince. Batman would not be complete without The Joker, and no Batman fans collection is complete without this book.
---
David's Pick of the Week – My pick of the week is the new DC game Injustice 2. I have spent many hours of my life playing a lot of fighting games. My choices are very slim today compared to what they used to be. Slim as in Mortal Kombat and that's it. BUT the first Injustice surprised me so I decided to gamble my money on Injustice 2. So far, I am pleased with my purchase. I mostly play online and the Multiverse mode where you have the opportunity to win Mother Boxes, boxes you open to gain gear and other abilities to customize your fighter. My online experience has been pleasant. I have held my own and not bragging, I have only lost one match out of 20 so far and that was my first. The community is fun, I have joined a guild so I can earn extra goodies. The fighting engine is pretty much the same as the first. There are still stage transitions, where you knock your opponent through walls to other parts of the arenas. And of course there are some pretty sweet finishing moves to put on your enemy to end the fight. So if you were a fan of the first Injustice, go ahead and check out Injustice 2!
---
Billy's Pick of the Week – My staff pick for this week is Shitty Watchmen, a tongue-in-cheek redraw of Alan Moore's Watchmen published by Dave Baker and Nicole Goux that both celebrates the 1986 classic and derides is use by DC Comics since. The quote that opens the book makes this thesis clear, and when the following pages contain nothing more than a shot-for-shot reprint of the story using black and white, hastily drawn doodles of the iconic pages, you're immediately in on the joke. It's the kind of idea that works in concept, but stunningly continues to work as you flip through the pages cover to cover.
 A variety of artists contributed to Shitty Watchmen, with each offering a wildly different take on what "shitty" means. Malachi Ward for instance is the only artist who does not condense Moore's original dialogue into one word snippets, offering some great contrast between the simple art and verbose prose, even though it is endlessly entertaining to condense Rorschach's opening monologue to "no". While I wouldn't recommend reading this book straight through, it's the ideal coffee table book for nerds. You will get entertainment out of just showing people. Scenes like Dr. Manhattan's transformation take on new meaning when recontextualised. It reminded me of Be Kind Rewind, with its intentionally low-quality homage that just shows true fan passion in a way that makes Shitty Watchmen great.