Happy Friday! It's officially October, which means our Staff Picks this month will be themed as part of our month-long Halloween 2017 event! You likely noticed that we are already featuring a lot of spooky content, including new layouts on our Twitter and Facebook. Now, we're bringing it here! It's time for the best part of the week: Staff Picks! We asked staff writers and editors to tell us about something spooky that they love. Before we dive into their recommendations, let's do a quick recap!
Halloween: In case you missed it, we're taking submissions for our all-day Halloween 2017 takeover! See this post for more information. Plus, Rhian scoured the internet for awesome Halloween-themed subscription boxes!
News: Josh spotlighted the Kickstarter campaign for the CCBA Collectable Trading Card Set!
Podcasts: Catch up on new episodes of Not Enough Resources, This Page Is Under Construction, Babes of Wonderland, and The Comics Agenda!
Comics: Jameson wrote a series-so-far review of Image Comics' Moonstruck. Greg dove into Slots #1 and Eugenic #1, as well as X-Men Gold #13. Anelise gave us her thoughts on Spooky & The Strange Tales: Monster Inn Volume 1 and wrote an advanced review of Quince #13. Samantha read and adored Harley & Ivy Meet Betty & Veronica #1, as well as the NSFW 18+ comic Alleycat. Nico reviewed Nightwing #30 and Stacy reviewed Batman: The Dawnbreaker #1. Plus, Josh offered his thoughts on Shadowman/Rae Sremmurd #1 and Mike reviewed Centralia 2050, which has a Kickstarter launching October 15th. Then, Stephanie P reviewed Paper Girls #16 and Hafsa dove into Ismyre.
Books: Anelise gave us a first look at Weaponized, a dystopian horror novel by Zac Thompson! Samantha prepped us for this month's Rogues Portal Book Club chat, covering Harry Potter and the Goblet of Fire.
Manga: Rhian recapped 19 Days Days 212, 213, and 214. She also recapped Tamen De Gushi Chapter 141.
Movies & TV: 31 Spooky Nights has kicked off! Didn't we tell you we'd be bringing you Halloween content all month? Rhian also presented some badass babes of horror and iconic ladies of the genre. Stephanie attended a Netflix-sponsored Stranger Things meets Riverdale event in Toronto! And Michael gave us his thoughts on Gerald's Game. In less spooky content, Michael reviewed the second season of Vice Principles and contributor Alex gave us his top ten Netflix Original Series. Samantha and Shanicka finally embarked on Shadowhunters season two and loved the glo up.
Video Games: Ever wondered about the significance of food in Legend of Zelda: Breath of the Wild? Terry's got you covered.
Toys: Headed to NYCC this weekend? Be sure to check out the exclusive LEGO BrickHeadz Boba Fett and Han Solo in Carbonite sets! If you've got money leftover, why not pick up a Halloween Funko Pop to add to your collection?
Other Stuff: Jocelyn Geddie revealed one of the most unique first crushes we've ever had for the My First Crush column! Plus, Samantha introduced a brand new column: Fan Flair Fridays, featuring NYCC-exclusive enamel pins!
Dang, that's a lot of good content. Now let's see what spooky stuff our staff picked for October 6th!
---
Josh's Spooky Pick of the Week: Halloween always brings out my inner gamer and it seems like this year will be no different, thanks to Guild Wars 2. Ever since Guild Wars 1, ArenaNet has provided gamers with exciting, fun, and extremely lucrative holiday events, but none of the other seven hold a candle to Halloween. Shadow of the Mad King is the annual Halloween-themed festival taking place in Tyria (the in-game world) that brings in crazy jumping puzzles, intense quests, and terrifying (yet hilarious) battles with the Mad King himself.
Of course this wouldn't be an MMO event without some of the best rewards around. Rewards range from horrifying new costumes and armor skins, to deadly new mini-pets, to pumpkin pales to hold all your goodies! (Of course.) Whether it's finding your way through the Mad King's Labyrinth or just having costume brawls in Lion's Arch, the Shadow of the Mad King festival has something for players of all types, whether you're hardcore or casual. If you have never played Guild Wars 2 before, now is an amazing time to start with the launch of a new amazing expansion and Halloween coming up.
Now is the time to jump into this free to play (excluding the two expansions) game; come join me and millions of others. Enjoy Halloween in one of the geekiest ways possible!
---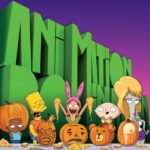 Rhian's Spooky Pick of the Week: Since picks of the week are Halloween themed this month, I chose one of my favourite Halloween traditions: the Animation Domination Halloween Marathon!! Every year, the big animated shows such as Family Guy, Bob's Burgers and The Simpsons always bring out a special episode focusing on Halloween. I look forward to it every year!
The Simpsons usually do a three-story episode where they parody famous horror films. This year they're airing their 29th Halloween special. Unfortunately, the episodes have gone downhill as the series goes on; however, I do still look forward to them every year!!
The highlight of the Halloween specials is Bob's Burgers, which is still new, fresh and exciting. I cannot wait to see what cute, spooky story they have for us this year!!
---
Robert's Spooky Pick of the Week: In the spirit of Halloween, I am going to recommend Castlevania. The first thing I have to say is that the entire show is written by Warren Ellis, of whom I am a huge fan. This show has lots of blood and gore, so if that's your thing there is plenty of that as well.
What I love about Castlevania is how it shows how inept the church is at governing society post-Rome. When the Roman empire falls — at least the western half — the societal structure that fills the gap is the church. And it is not set up to do so. As such, medicine and a lot of technology is simply gone. In Castlevania, Lisa Tepes actually goes searching for Dracula because he has the best medicine in the land; she wants to help people. This series has monsters, vampires, and some pretty cool fight sequences. I highly recommend it.
---
Terry's Spooky Pick of the Week: To feel at home in the cool fall air, I've turned to Night in the Woods. It's an adventure game for anyone who loves autumnal colours, likes feeling a chill roll down their spine, suffers from seasonal affective disorder, or has an affinity for anthropomorphized animals.
I have to be honest, however: it's a visual novel wearing a video game's skin. Follow college drop-out Mae as she returns to her sad suburban town to deal with demons (both inner and outer), reconnect with her old friends, and find (or maybe lose) herself.
The game's successful Kickstarter campaign is also worth noting, as it quietly affirmed that there is (and always will be) a demand for character-driven video games with LGBTQ+ elements, realistic depictions of mental illness, and enough heart to make yours feel heavy.
---
Want to tell us what you're loving this week? Sound off in the comments or let us know on Twitter and Facebook! Your responses might be featured on our social networks! Have a great weekend, everyone!