It's finally Friday! Who else is relieved? I sure am. And since it's still October, we've got another special round of seasonal Staff Picks! We asked staff writers and editors to tell us about something spooky that they love. Before we dive into their recommendations, let's do a quick recap!
News: Trailers! Trailers! Trailers! Who caught that stunning Black Panther trailer? We've got reactions to The New Mutants and The Punisher. What are you looking forward to most?
Interviews: Jameson chatted about magic and Moonstruck with Grace Ellis and Shae Beagle.
Podcasts: Catch up on new episodes of Not Enough Resources, This Page Is Under Construction, The Comics Agenda, and Babes of Wonderland! Plus, Comicsbound is back with a NYCC special!
Comics: Josh gave us an advanced review of Eternity #1 and Samantha gave us advanced reviews of The Witch Boy, The Scarecrow Princess, and Street Angel: Superhero for a Day. Plus, Greg took a first look at She-Hulk #159 and reviewed Shirtless Bear-Fighter #5. Josh also gave us his thoughts on the Bones of the Coast horror anthology, Look Straight Ahead, and issues 1-4 of Faith and the Future Force.
Anelise reviewed Dead of Winter #3, the Cutter Vol. 1 TPB, The Little Book of Knowledge: Tattoos, and Behind You: One Shot Horror Stories. Plus, Nico dove into Batman #33 and Stacy gave us his thoughts on Kong: Gods of Skull Island #1, as well as Half-Past Danger 2: Dead to Reichs #2. Samantha reviewed Rugrats #1 and Stephanie continued reviewing Grrl Scouts: Magic Socks with issue #6.
TV & Movies: Did you see Andrew's review of The Florida Project? How about Michael's dive into season nine of Curb Your Enthusiasm? Or his recap and review of Netflix's Mindhunter pilot? At the Toronto After Dark Film Festival, Stephanie saw The Villainess and Impossible Horror. She also started a new column, Revisiting Ghibli! First up: Ponyo. And Michael gave us a season-so-far review of season two of The Good Place.
Video Games: Ryan gave us his thoughts on Cuphead!
Other Stuff: Have you backed Centralia 2050 on Kickstarter yet? What are you waiting for? Get those early bird specials! And we hope you didn't miss Scout's first crush(es).
Nice! Now let's see what spooky stuff our staff recommends for October 20th.
---
Anelise's Spooky Pick of the Week: I spend most of the year watching horror movies, some fantastic ones and sadly a lot of terrible ones. So, when I come across a great film, I have to spread the news. I have not read the novel Gerald's Game by Stephen King, and, after making the poor decision to watch this film alone while my husband was out of town, I'm not sure I could handle it.
Rarely does a horror film affect me after it's over, but Gerald's Game masterfully mixes psychological horror, hungry dogs, and a woman who frees herself — both literally and metaphorically. I highly recommend watching it (available on Netflix), just perhaps not alone!
---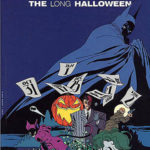 Greg's Spooky Pick of the Week: Considered one of the best graphic novels in the Batman universe, The Long Halloween is my pick of the week. The story takes place shortly after the Year One story. Harvey Dent has decided it is time to stop the constant mob war that is in Gotham. Before his plans can be put in place, a mysterious new villain named Holiday starts eliminating those crime bosses.
The story has it all: crime, mystery, action. Batman really gets to put his detective skills to the test as he tries to find the killer. As Batman works to find the killer, Harvey Dent starts his path towards becoming the villain Two-Face. I could go on, but this story is better when you read it for yourself. There is so much to unpack while reading. The shift of the types of villains, the use of detective work. the grey area of Harvey Dent. All of it keeps you on the edge of your feet as you read through the series.
Check it out today
!
---
Hafsa's Spooky Pick of the Week: My recommendation for Halloween is: Mindhunter.
Mindhunter is a new show from Netflix. It is set in the late 1970s when the FBI is finally discovering a correlation between serial killers and psychology. The story is supposedly based on real events, but it does revolve around an enthusiastic hostage negotiator turned instructor. The narrative starts with wanting to improve the current FBI teaching practices and evolves into a psychological study. The show is successful in its ability to be eerie and creepy while maintaining a lighthearted relationship between the characters.
Moreover, the story is actually intriguing and fits the spooky vibes of October and Halloween. Warning: it is still gory and has very disturbing moments. Also, the cast is mostly if not all white, though the show does not seem to whitewash. Also, I don't approve some of the sexist language and the victim blaming tactics used to get whoever they are interrogating to talk. I do appreciate the disapproval many on the show express.
So, I really enjoyed Mindhunter and I really recommend it! But I would recommend watching it with an understanding that the show is set in the 1970s with a lead character stretching his limits.
---
Josh's Spooky Pick of the Week: John Constantine has to be my favourite occultist in the comic worlds. This week I'm reading the first volume of Hellblazer: Original Sins. I'm excited to see Constantine's early days, and this is the perfect reading material for Halloween.
Unlike other books about magic users and DC Comics' current take on Hellblazer, Vertigo Hellblazer is full-on horror with no superhero shenanigans and no sense of fantastic. It's a psychedelic story that's rough and scary with the art to match.
---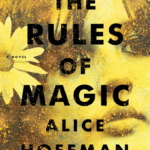 Stephanie's Spooky Pick of the Week: This week I'm reading Alice Hoffman's new novel The Rules of Magic that just came out last week!
When I first poked my head out of the young adult section of the library, I was drawn to an inky book cover showing a tall, midnight blue boot with a crescent moon and roses growing out of top and I was compelled to pick it up. That book happened to be Practical Magic, one of Hoffman's early novels from the 90s that quickly made its way onto my bookshelf as a permanent addition (as did the film starring Sandra Bullock and Nicole Kidman that I rewatch every fall).
The Rules of Magic is a prequel, which takes place in New York City on the cusp of the 60s. So far it's a whimsical and captivating read that delves even deeper into the heritage of the Owens family and Maria's curse that befalls any man who dare love an Owens woman. Though this is before Sally and Gillian's time, you'll find familiar threads running through the story: young children who are starting to discover magic, a mysterious aunt who reveals the truth in the past, a mother who refuses to believe in curses or love. It's the perfect October read if you're like me and love stories about witchy, urban magic that flow from a lineage of strong and outgoing women.
---
Want to tell us what you're loving this week? Sound off in the comments or let us know on Twitter and Facebook! Your responses might be featured on our social networks! Have a great weekend, everyone!