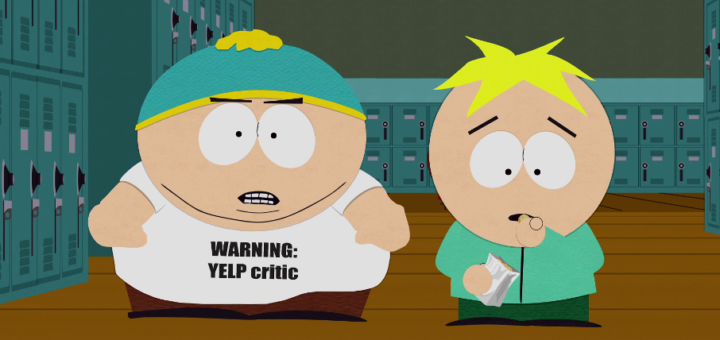 South Park is on its nineteenth season. I know, right? Nineteenth season. WTF. 
Comedy Central graciously sent Rogues Portal a wonderful preview of the new nineteenth season on Blu-Ray. The DVD/Blu Ray are in stores now and let just say it's absolutely beautiful. I've been a long South Park fan, but haven't physically owned one of their seasons in a very long time. I first would like to thank Comedy Central for allow us to review this beautiful season. Here's the amazing new season and my Sailor Scouts stickers laptop in the background. (Yes, I know my laptop is badass. Thank you. :P) 
South Park has continued to be one of the longest running adult cartoons on TV to date. It's stood the test of time, not only because it's ridiculously funny, but also pretty damn ridiculous in general. There are so many things to talk about in this season. South Park sets its sights on political correctness, yaoi love, safe spaces and sponsored content. When Randy tries to make the town into something everyone can be proud of, it does a lot more harm than good. Everyone is trying to look for a safe place to go and to be, but everywhere they seem to go it's swept into political correctness, gentrification and the social commentary of the day. Like, damn South Park.  
This season was super interesting because it gave a lot of good points about the good and bad arguments surrounding political correctness. It touches on topics and people of today such as: Yelpers, Caitlyn Jenner, Yaoi (a japanese term for fiction involving romantic and sexual relationships between boys, also known as, Boys' Love) and more. I have to say, this season was probably one of the best seasons of South Park I've seen in a long time. South Park always keeps up with the topics of today and they absolutely nailed it with this one. Not only was it brilliant and funny, but it's something that people should talk about. It was a brilliant season and should be something that people aspire to watch honestly.
THREE BEST EPISODES:
"Stunning and Brave" – An episode that had me gasping because of how smart and honest it is. South Park Elementary gets a brand new principal and he's super PC. When Kyle says that Caitlyn Jenner isn't a hero, he sends everything into a whirlwind and everyone has to deal with the wrath of the political correctness of their new principal, even Cartman.
"You're Not Yelping" – Cartman becomes a Yelper and since he is, must be catered to on hand and foot. When the restaurants in South Park are tired of catering to yelpers, it's a great thing to experiences what the yelp reviewers do to get their rights back and what the restaurants do in retaliation. This episode has probably some of the best lines in it as well as a brilliant song at the end. It's one of my favorite episodes out of the whole season.
"Tweek x Craig" – This episode centers around Tweek and Craig, two minor characters, but have their own shipping outside of the show and inside of the show as well. It's brilliant to see how throughout this episode is and how badly you will ship Tweek x Craig afterwards. The whole town is involved in their love and it's a trip to see how affected the town is and the boys are in the mists of everything.
The DVD/Blu-Ray are available in stores September 6th worldwide, but you can also catch season nineteen on Hulu. Thank you again Comedy Central for letting us review South Park – The Nineteenth Season. Thank you Trey Stone and Matt Parker for another smart and brilliant season that we'll be laughing at for awhile.