Soupy Leaves Home
Written by: Cecil Castelucci
Art by: Jose Pimienta
Published by: Dark Horse Comics
Review by Stephanie Cooke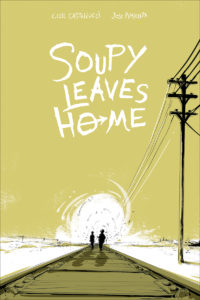 I had the absolute pleasure of reading a story from the current writer of Shade the Changing Girl, Soupy Leaves Home. A story about a young girl who runs away from a troubled home and finds kindness, compassion and friendship along the way as she poses as a boy and rides the railroad to what she ultimately hopes is a better life.
Soupy Leaves Home is a heartfelt story that hooked me in right from the get go and for a book that doesn't seem to be exceptionally long, it packs a lot into its pages and had me feeling all kinds of emotions from start to finish.
While Soupy Leaves Home is supposed to be set during the Depression Era, I didn't feel like the story felt "old timey" in any way. The story at its core is full of heart and about finding your way and finding yourself when you think you're utterly as completely lost. The language and the message behind the story is timeless and I think that for some, this book coming into their lives at the right time could be a beacon of hope that helps make the darkness a little more bearable.
Castellucci clearly felt a deep connection to the story she was telling and expertly researched many really interesting elements that she weaved in such as the marks that travelling hobos would leave around the places they traveled through as a way of telling those who came next what they could expect at certain households and the like.
The art and colours by Jose Pimienta are nothing short of spectacular. Each character has many layers that are provided by both Castellucci and Pimienta through words, expressions and colours.
The line work is perfect for this tale and the micro expressions on the faces of the characters give even further context to what's going on. You could spend ages looking at the double page spreads featuring the imagination's of the characters as they do their best to pretend they're somewhere else, feasting on something else, or with someone else.
Some of the pages or panels are one colour and one colour only whether it's purple, yellow or blue… perhaps some sort of indication of the mood our main character, Soupy is in. The colours help set the tone for the story at the moment and when we get to some of the double page spreads that I mentioned a moment ago, Pimienta lets loose flurries of colour and imagery to convey what's going on. There are so many intricacies within these spreads to look at and take in – hints of what the characters feel or wish for or miss.
Pimienta earns a title, in my mind, as not just the artist on this story but as a co-creator for the visuals that are placed before us. This story would still be good if it was solely the words (and obviously adjusted for that format) but Pimienta really earns his credit here, knocking this out of the park and really just showing us the kind of ideal relationship one can hope for as a comics writer with an artist.
Soupy Leaves Home feels like the efforts of an illustrator that knew the vision they wanted to bring to life and effortlessly worked to put forth what was in their mind to the page. I always find it even more impressive when an artist does that while working with a writer. It feels effortless, like the relationship between them is almost a hive mind.
I'd love to see Castellucci's scripts someday though because between this and Shade the Changing Girl, she has a way with her artists in bringing out the absolute best in them and I absolutely want in on that secret.
Verdict:
Must buy! This book is wonderful. It deals with some sad subject matter and it's technically geared towards "juvenile readers" but don't let any of that deter you. Soupy Leaves Home is a book that will resonate in everyone's heart and you'll be happy that you checked it out. Cecil Castellucci has quickly proven that she's a creator to be on the lookout for in the coming months and years and this book has brought Pimienta onto my radar too.