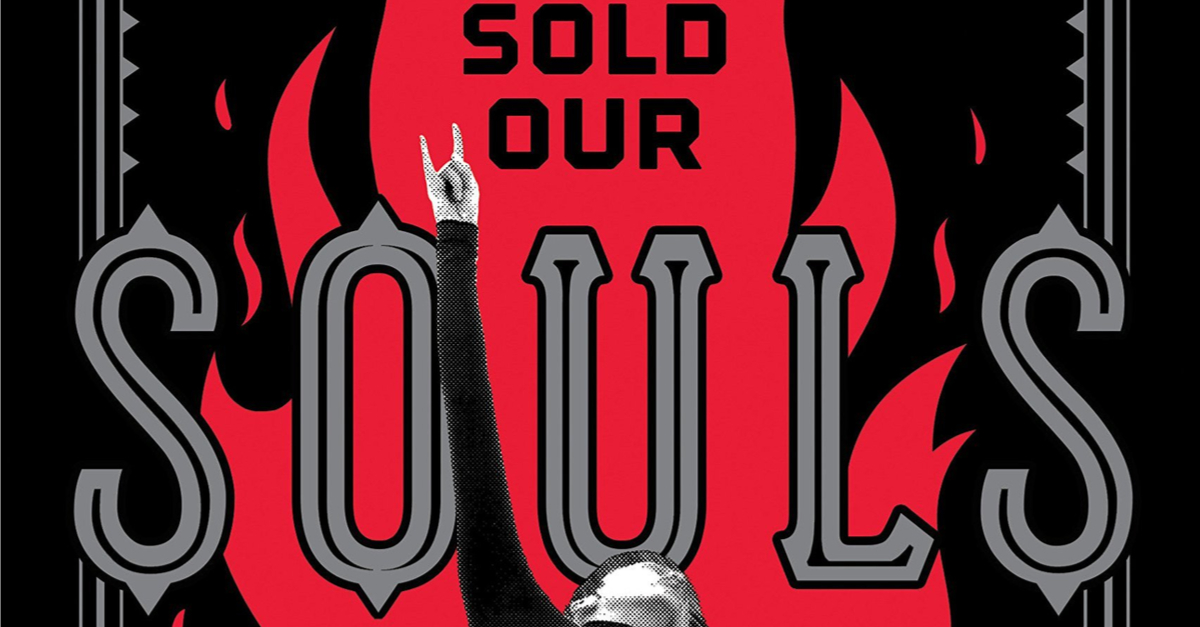 We Sold Our Souls
Author: Grady Hendrix
Genre: Horror
Publisher: Quirk Books
The newest horror novel from Grady Hendrix, We Sold Our Souls, is a wild trip through the most iconic rock'n'roll myth – making a deal with the devil.
It definitely does not disappoint. Twenty years ago, metal band Dürt Würk was going places. Sold out tours, rising record sales, and the building buzz heralded the beginning of an era for these young musicians. Then came the night of the contracts and everything went wrong. The only problem is, guitarist Kris Pulaski can't remember exactly how or why. After that night, the band scattered and Kris has been drifting through her days without music or purpose. She does know one thing: Terry Hunt must pay. The band's former lead singer continued to rise after that night, rebranding himself and 'selling out' for the money. While his music is popular, Kris knows her former friend too well. She knows that something just isn't right. He owes her – and the rest of the band – for what he did.
She just has to get to him first.
We Sold Our Souls is a love letter to metal and metalheads. From the very first page, it's clear that music is everything to Kris and her bandmates, even after their glory days. The story begins as what looks like a standard "getting the band back together" tale that takes a hard left turn into horror. It's as unexpected as it is compelling, throwing the reader (and Kris) into a road trip that quickly slides into a terrifying world of conspiracy and darker forces. Murder, mayhem, and secrets of her own past come back to haunt Kris as she begins her trek to track down the truth at the biggest music festival the west coast has ever seen. As the past and present collide, the reader begins to wonder how much of anything is coincidence and what's been set into motion long before Kris made her choice.
This is a book about damaged people. Everyone within the book is shadowed by choices they've made and the decisions that brought them there. A middle-aged burn-out, Kris is a hard character to like. She's crass, difficult, and doesn't conform to society or authority. Even decades after her career, she hasn't forgotten what it was like to feel her music. Whatever else, Kris is a scrappy, stubborn survivor. It makes her the most compelling character to follow along on this journey for answers and vengeance. Hendrix excels at character development through snappy dialogue and clever banter. When the characters talk, it's done with such care and subtlety that it brings them to life.
The book is exactly what it says on the title, playing with the grand tradition of musicians making deals for their own fame and fortune. The story isn't subtle or even original. However, when the plot gets rolling, it's such a fantastic, wild ride. Moments of claustrophobic horror and fast-paced action are interspersed with some surprising commentary on the music business at large. Fame and fortune may be on the table (or in the contract) but what do we give up in order to make it happen?
Verdict: READ IT.
We Sold Our Souls is pulpy, slick, and entirely ridiculous. It's exactly the kind of book where fans of horror and music will both find plenty of story to enjoy. The pace is quick, frenetic, and never shies away from the darkness within the text. I loved it. I've been a fan of Hendrix since My Best Friend's Exorcist, and his newest book is another winner for new horror. Combining Faustian bargains with the evolution of popular music, We Sold Our Souls reminds us all that metal never dies.
We Sold Our Souls is available now on Amazon and other bookstores.