Skip to the End #1
Publisher: Heavy Metal
Writer: Jeremy Holt
Artist & Cover Artist: Alex Diotto
Colorist: Renzo Podesta
Letterer: Adam Wollet
Review by Anelise Farris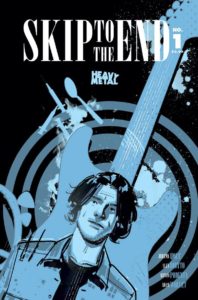 Nirvana has been the subject of numerous films, documentaries, books (both fiction and non-fiction)—particularly as of late. 2015 alone gave us Soaked in Bleach as well as Cobain: Montage of Heck. Yet, the world of comics has been surprisingly silent on the subject—that is, until now. Writer Jeremy Holt and artist Alex Diotto have joined together to produce the comic book series Skip to the End: a fictionalized account of Nirvana.
Skip to the End #1 begins in the late 1980s with the three-man band, Samsara, featuring Kirk Jansen on lead vocals, Jonny Wells on bass, and Mark Strong on drums (all characters who bear an uncanny resemblance to Kurt Cobain, Krist Novoselic, and Dave Grohl respectively). The story alternates between the grunge heyday of the 90s to the present, where we meet Johnny Wells: now an addict who is unable to come to terms with the death of his best friend and bandmate, Kirk. However, when Johnny becomes the owner of a mysterious guitar that is capable of transporting him back to his glory days, he is literally forced to confront the past in order to move forward and hopefully turn his life around. In an interview, Holt stated, "In the case of Skip To The End, a 1930's National Duolian Guitar is–at least to me–the musical equivalent of a DeLorean." So, we have a comic that is at once a sci-fi/grunge homage to one of the (if not the) most influential bands of the 90s as well as a story of addiction and recovery. Could this get any better?
Well, yes actually. For fans of Nirvana (and 90s culture in general), this comic is everything you want: the details in the art (from the Butthole Surfers t-shirt to The Melvins poster on the wall to the inside of Sub Pop Records) and the way the Samsara lyrics feel so Nirvana-ish in a way that only true fans of Nirvana could get right. In addition to Alex Diotto and Renzo Podesta's artistic faithfulness to the 90s music scene, there is a fantastic use of color, fade out, and blank panels. One of my favorite secens in the comic is when a girl asks Kirk to sign her Rolling Stone magazine with Samsara on the cover (an image which is nearly identical to the 1992 Rolling Stone cover featuring Nirvana). Kirk just takes the magazine and rips it in half, and that is, of course, exactly what Kurt Cobain would do. And even though this series is a fictionalized account, it has tons of Easter eggs for Nirvana fans to enjoy.
Verdict:
Buy it! Skip to the End #1 is instantly familiar from the cover featuring Kurt Cobain's iconic white sunglasses, yet, as a fictional story of a Nirvana-like band, this comic offers something new. For fans of Nirvana, this comic is a must, and for those who are less enamored by the 90s rock gods, the time-travel and recovery narrative is intriguing in its own right.