I'll give this quick warning up front: none of the Simpsons episodes on this list are later than season 10. Not that there aren't good episodes later on or even romantic ones, just none of them stand out as much. Hey, if you think the love affair of Comic Book Guy and Agnes Skinner is an all-timer, more power to you, but this list is an arbitrary 19 entries long, so I can't please everybody.
For this list I tried to pick a wide variety of relationships and aspects of love: new love, old love, failed love, long-time love. I wanted to show the wide array of relationships The Simpsons is able to show and make us care about. Most of the episodes themselves aren't technically Valentine's Day specific, but I feel that all of them have something that contributes to the ideal feelings we should have on this day.
Now, done with the preamble, here are the 19 bests episodes of The Simpsons to watch on Valentine's Day.
19. NATURAL BORN KISSERS (Season 9, Episode 25)
Overall, "Natural Born Kissers" isn't an episode of The Simpsons that I love, but it's one that shows Marge and Homer's relationship really well. 11 years into their marriage and they're feeling stuck in a rut, which is only natural. But when they end up having spur-of-the-moment barn sex they get reinvigorated. It's a fun episode that explores the way couple's try to spice things up and try to light a new spark. The implications of their newfound need for a sexual thrill doesn't really come to a satisfying conclusion, but it's funny enough that it doesn't matter.
My favourite part of the episode is the fact that Marge and Homer go back to the windmill on the mini golf course where Bart was conceived. It's a nice little bit of continuity and it adds a much needed layer of nostalgia to their sneaking around that makes it about more than just sex.
Valentine's Day Card:
"If somebody's in here, you're in for some serious ass-forkin'!"
18. I'M WITH CUPID (Season 10, Episode 14)
Finally, an actual Valentine's Day episode! "I'm with Cupid" covers a wide net of characters, but Apu and Manjula are the general focus. When Apu decides to show his wife a series of romantic gestures he ends up making the rest of the men in town look bad. The episode makes plenty of jokes at the expense of the characters who think their problem is with Apu instead of the way they handle their own relationships, so that's good. Still, it's fairly light on themes and consequences, but heavy on jokes.
Luckily it has an ending that's goofy enough to border on sweet. When Homer sabotages a skywriter before he can finish his message the women of the town read what they want into the message. The ultimate message of half-assing your way into someone's good graces is spurious, but I'll always enjoy Mrs. Wiggum saying "Awww, Clancy".
Valentine's Day Card:
"Everybody's marriage is falling apart except ours. See, the problem's communication. Too much communication."
17. LISA'S DATE WITH DENSITY (Season 8, Episode 7)
I'm a sucker for an episode where Lisa is smart, confident and comes out on top emotionally. Even though "Lisa's Date with Density" deals with a crush and a short relationship and a break up the only emotional — and literal — punching bag is Milhouse. Milhouse being the butt of a joke I can deal with.
Lisa develops a crush on Nelson, the school bully, and isn't quite sure what to do about it. She starts sort of seeing him and actually manages to get to know him more than most people would. After sharing a nice date with him, and a kiss, she sticks up for him because she wants to believe the best. When she finds out Nelson was lying to her she does the smart thing and calls off their relationship. It's good to see Lisa take control of her situation and stand up for herself. It's also nice to see another side of Nelson, getting a glimpse of his crappy home life as well as the kind of guy he could be while he's on his date with Lisa. But Lisa makes the right call at the end of the episode.
Valentine's Day Card:
"Well, most women will tell you that you're a fool to think you can change a man. But those women are quitters! When I first met your father he was loud, crude and piggish. But I worked hard on him, and now he's a whole new person."
16. BART'S FRIEND FALLS IN LOVE (Season 3, Episode 23)
The best thing about this episode is that it's a bit of a fake out. The episode is following Bart's perspective and when a new girl shows up in his class — and following the foreboding declarations of a magic 8-ball — we expect Bart to get a crush on her. Instead, Milhouse falls in love. We still stick with Bart's perspective though and it gives us a fun episode where we see the effects of a new relationship on a single, jealous and kinda selfish friend.
It's classic Bart stuff, in that he ruins the relationship and then a crisis of conscience has him trying to make up for it. It has a very nice resolution where Bart apologizes to Milhouse and Samantha and there's a bittersweet goodbye between the separated couple. Life — and Bart — parted the two of them but they were able to enjoy it while it lasted, which is all that matters.
Valentine's Day Card:
"Oh, don't worry children. Most of you will never fall in love, but will marry out of fear of dying alone."
15. BART'S GIRLFRIEND (Season 6, Episode 7)
This episode highlights the pitfalls of love. What happens when the person you fall for is so clearly and blatantly bad for you? When Bart falls for Reverend Lovejoy's daughter, Jessica, he tries to change himself and act like a mannered gentleman. When he finds out Jessica is actually even more of a wild-child than he is, Bart tries to change himself again. It doesn't work though. He has to be fundamentally who he is as a person and Jessica not accepting — or not really caring — about that is one of the main reasons the relationship would never work.
Of course, as the end of the episode shows us, Bart's going to fall for this again. Infatuation makes us all do dumb things. Breaking things off with Jessica was a good first step but the heart's a harder thing to change than a mind. All we can hope for is that Bart won't get Tom Sawyer'd too many more times before he finds someone who cares for him.
Valentine's Day Card:
"Don't you ever come near my daughter again! Never have I heard such gratuitous use of the word 'butt'!"
14. I MARRIED MARGE (Season 3, Episode 12)
In the continuing saga of Homer and Marge's relationship it's important to see how they dealt with the big, life-changing moments. Obviously having their first child was a major milestone in their lives. "I Married Marge" shows the struggles of any new marriage and prospective parents. It also sets up one of my favourite weird bits of Simpsons iconography by having Homer and Marge conceive Bart in the windmill at the miniature golf place.
In classic Homer style he stresses out about not being able to provide for his wife and incoming child by doing the dumbest thing. It's an understandable act, if you understand Homer, but it's heartbreaking to see him leave Marge. Obviously he realizes how silly he's being and comes back before she gives birth and their reconciliation is touching. In the present day Homer and Marge share an underrated and entirely relatable romantic moment: high-fiving about not being pregnant.
Valentine's Day Card:
"Marge, you're as beautiful as Princess Leia and as smart as Yoda."
EL VIAJE MISTERIOSO DE NUESTRO JOMER (THE MYSTERIOUS VOYAGE OF HOMER) (Season 8, Episode 9)
This episode, whose title I don't want to write out again, asks some big questions. How exactly do you know the person you're with is your soulmate? Is there such a thing as a soulmate? When Homer eats some insanity peppers and goes on a spiritual journey he gets advice from Johnny Cash's Space Coyote that he needs to find his soulmate. (That's a weird sentence to write). Homer thinks the answer is easy, that Marge is his soulmate, but then he starts to doubt himself. He goes on a journey to try to find out who his soulmate is or if he even has one.
Despite being one of the most visually inventive episodes of the series — and having a surprisingly stellar performance from Johnny Cash — the conclusion to the episode is the selling point. I mean, there's really no question that Marge is Homer's soulmate. Who else could ever put up with him for as long as she has? But watching Homer come to that realization and appreciate Marge for it is a real treat.
Valentine's Day Card:
"That coyote said my soul mate would understand me. But Marge doesn't understand me at all. Maybe we're not kindred spirits. We don't have anything in common. Look at these records: Jim Nabors, Glen Campbell, the Doodletown Pipers… Now look at her records. They stink!"
A STREETCAR NAMED MARGE (Season 4, Episode 2)
This episode is a great example of how art can open us up and allow us to understand and express the feelings we have that we previously didn't know how to put into words. It's no surprise for anyone who watches The Simpsons, or anyone who just watches this episode, that Homer can be a massive jackass. Selfish, boorish and insensitive. The only saving grace is that he's rarely, if ever, malicious. He just needs to be shown the error of his ways.
Luckily he gets to watch Marge perform in a musical production of A Streetcar Named Desire. Throughout the episode we've seen how awful Homer's been — the horn-honking alone would drive me insane — and we've seen how necessary the play has been for Marge's emotional well-being. It isn't until Homer takes our perspective as a viewer that he's truly able to appreciate what Marge has been going through. And, because at heart he's a good man, he tells her he understands and he apologizes.
Valentine's Day Card:
"I mean, it made me feel bad. The poor thing ends up being hauled to the nuthouse when all she needed was for that big slob to show her some respect. Well, at least that's what I thought. I have a history of missing the point of stuff like this."
11. NEW KID ON THE BLOCK (Season 4, Episode 8)
In this episode Bart deals with a couple of tough truths: actually having feelings for a girl and having those feelings go unrequited. It's inevitable that Bart falls for the cool, new, girl next door. She's older and wiser and knows all the best, most disgusting pranks. So it's a sad night in the treehouse when Laura, oblivious to the severity of Bart's feelings, tells him she's dating Jimbo Jones. Bart's vision of Laura literally ripping his heart out and tossing it in the trash is pretty damn apt.
Of course Bart tries to get revenge in the best way that he can, by scheming. Weirdly, it kind of works, because Lauran sees Jimbo differently after he's humiliated and basically breaks up with him. But, just because she's single again, doesn't mean she shares Bart's feelings. So it ends with two immature kids dealing with different levels of infatuation through mutual friendship. It's a refreshingly healthy look at this type of story.
Valentine's Day Card:
"You know, if you were only old enough to grow a bad teenaged moustache, I'd go out with you in a second."
10. THE LAST TEMPTATION OF HOMER (Season 5, Episode 9)
"The Last Temptation of Homer" seems to have a pretty straight-forward premise. Homer gets a coworker who he's attracted to and he's tempted to have an affair. The way the episode plays out is interesting though, because the affair doesn't seem like something Homer's actually lusting after so much as something he thinks is sadly inevitable. Homer clearly has some kind of feelings for Mindy, and vice versa, but he never seems like he wants to act on them. He comes off like he's supposed to act on them and that makes him sad.
That actually works best for the episode because it stops us from thinking of Homer as a complete pig. He does everything in his power not to be attracted to Mindy, but that isn't really something he can help. As far as episodes about a "seven-year itch" it's a pretty diplomatic one. Even the eventual kiss with Mindy comes off as reluctant, so it doesn't actually seem like much of a surprise when Homer ends up with Marge in the hotel room instead.
Valentine's Day Card:
"Oh Margie, you came and you found me a turkey on my vacation away from work-y."
09. OLD MONEY (Season 2, Episode 17)
The Simpsons gets a lot of versatility out of its cast. Homer alone can play almost any role in a storyline believably: hero, villain, mean, romantic, or — usually — the fool. Using Grampa as a sadly romantic type is a well they went back to a few times. They had good reason to, considering how Dan Castellaneta can break your heart with a simple inflection. "Old Money" is the first time they played up the romantic side of Grampa Simpson and his relationship with Bea Simmons is the definition of bittersweet.
The episode packs a lot of emotions into 22 minutes. Grampa falls in love, misses Bea's birthday, Bea passes away, Grampa gets mad at Homer and then ultimately forgives him and tries to live a happier life. Seeing heartbreak from an older person's perspective is so effective due to the perceived frailty. But this episode shows that it's never too late to love.
Valentine's Day Card:
"Nothing says 'I love you' better than a military antique."
08. PRINCIPAL CHARMING (Season 2, Episode 14)
"Principal Charming" is an interesting and emotionally mature episode of The Simpsons. While the love life of Selma Bouvier has been thoroughly explored there have only been a couple instances of Patty finding love. Patty has recently (in the lifespan of the show) come out to everyone, but in general she seems content to be alone. The strongest and most complicated relationship in her life is with Selma. The closest she's come to a romantic relationship is with Principal Skinner. Which makes sense, when you think about it. Both of them are no-nonsense authoritarians and the episode spells out why a relationship between the two of them is both unexpected and kind of perfect.
But what the episode does even better is show how two mature adults can come to the realization that even if something seems perfect it isn't necessarily right. Patty cares for Selma above everything else and can't full commit to a significant other. Skinner understands this and their break up is as touching as any other part of their relationship.
Valentine's Day Card:
"Farewell, my Patty-cake."
"Goodnight, sweet principal."
07. LADY BOUVIER'S LOVER (Season 5, Episode 21)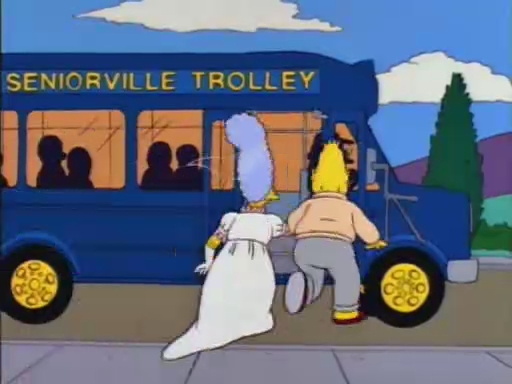 Another episode where Grampa Simpson falls in love! This time with Jacqueline Bouvier, Marge's mother. There's a fun, playfulness to Grampa and Mrs. Bouvier bonding, and Grampa being excited to go on a date with her is pretty adorable. When Mr. Burns enters the episode to create a love triangle it becomes easy to cheer for Grampa because, well, Burns is clearly awful. Julie Kavner is the star of the episode, bringing a different dimension to Mrs. Bouvier than she does to Patty, Selma or Marge.
The best thing the episode does is overtly homaging The Graduate. That film's classic, uncertain finale makes it easier to brush off Grampa and Mrs. Bouvier's relationship once the episode itself ends. Another great thing about the finale is Mrs. Bouvier choosing to marry neither of the two men and instead just leaving with Grampa to have some fun.
Valentine's Day Card:
"You know, you remind me of a poem I can't remember and a song that may never have existed and a place I'm not sure I've ever been to."
06. LISA'S WEDDING (Season 6, Episode 19)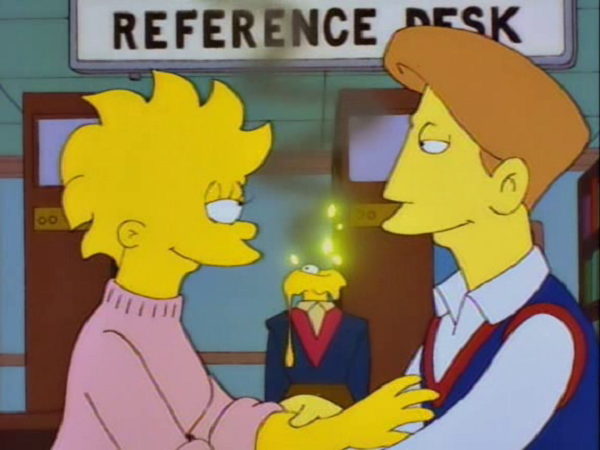 The main selling point of "Lisa's Wedding" — besides being one of the few look-into-the-future episodes that actually works — is the voice acting by Yeardley Smith. Smith is sadly underrated as an important aspect of the series, with at least two line-readings in this episode alone that give me goosebumps. She's also lucky enough to be paired up with the always fantastic Mandy Patinkin as the Hugh Grant-alike "love" of her life. Their relationship is standard rom-com fare with the added absurdity of taking place in the Simpsons universe and in the future.
The titular wedding ultimately doesn't take place because, much like the lesson Bart learns in "Bart's Girlfriend" there are more important parts of a relationship than mutual infatuation. To Lisa, her family, warts and all, means everything to her. The fact that Hugh can't get past that is a dealbreaker. It's sad to see someone as sweet as Lisa get her heart broken, but it's reassuring to know that that's years away and she's still the smart, innocent girl we know.
Valentine's Day Card:
"Oh, you'll have a true love, but I specialize in foretelling the relationships where you get jerked around."
05. A FISH CALLED SELMA (Season 7, Episode 19)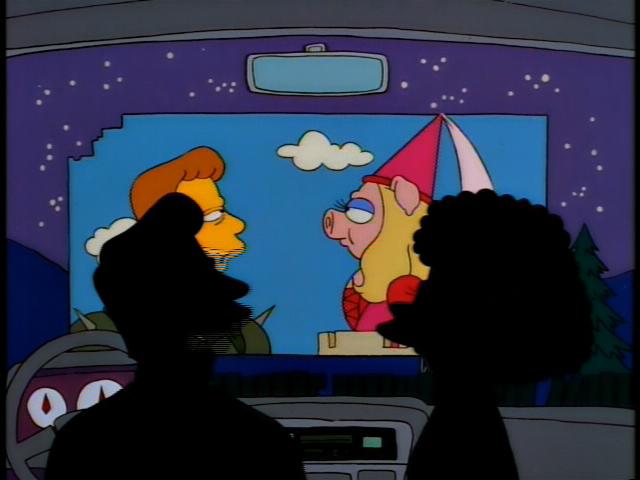 Another episode, another Selma wedding. "A Fish Called Selma" is easily the best of the Selma Wedding Series, with a nice dimension on the romantic episode by exploring the vapid, celebrity marriage. What makes it kind of sad is that Selma has feelings for Troy McClure, unfortunately due to his proclivities — some strange, best-left-unexplored fish fetish — those feelings aren't reciprocated. Selma sadly agrees to live out the sham marriage and enjoy the lifestyle of being a c-level celebrity's wife.
As purposely depressing as Patty and Selma are there's always been a sweetness to Selma. There's a positive stoicism to her repeated attempts at finding love. That's what always makes it sad when they never turn out right for her. But she ends the episode holding her head high, knowing she has a family — and an iguana — that love her.
Valentine's Day Card:
"The only difference between our marriage and any one else's is: we know ours is a sham."
04. I LOVE LISA (Season 4, Episode 15)
Hey, look! Another actual Valentine's Day episode is on the list! It even has that Valentine's Day classic tune, "Monster Mash". "I Love Lisa" is a classic episode of The Simpsons for good reason. It continues to early-Simpsons tradition of expanding fairly two-dimensional side characters by giving them fully fleshed-out, sympathetic roles. This episode does that with poor Ralph Wiggum. Lisa, like her mother, is a kindhearted person and she takes pity on Ralph on Valentine's Day. Unfortunately, the aggressively innocent Ralph takes it the wrong way and becomes infatuated with her. Lisa's big, televised blow-up hurts him in a way he's probably never been hurt before.
The big moment in the episode, that I always kind of forget about, is the big President's Day pageant at the end of the episode. (Complete with the President's Day classic, "Monster Mash"). Ralph works through his feelings with Lisa on stage and, in a sweet ending, the two reconcile in understanding friendship. A few entries in this list deal with unrequited love and this one is probably the saddest, funniest and most sensitive portrayal.
Valentine's Day Card:
"Ahhh, sweet pity. What would my love life be without it?"
03. GRADE SCHOOL CONFIDENTIAL (Season 8, Episode 19)
Principal Skinner and Edna Krabappel were a couple for a long time on The Simpsons. It wasn't until later seasons that they split up and Edna ended up marrying Ned Flanders. That's all well and good but I'll remain a Skinbappel fan (a term I hopefully just made up) for life. That's because of this episode. The way the two characters bond over their loneliness is wonderful and true to character. It's sold especially well by Harry Shearer and the late Marcia Wallace's voice acting. The episode touches on the excitement of new love, the excitement of secret love and the difficulties inherent in workplace romances.
When their romance is blown out of proportion and they're forced to hole up in the school with Bart. To prove that they weren't overly inappropriate in front of the school children, Skinner admits to being a virgin in front of a lot of residents of Springfield. It's played as a joke, but there's a sweetness to it as well. The apparently chaste relationship between Skinner and Edna, a character well-known for her sexual appetite at this point, takes on a completely new shade. The episode also includes Skinner and Krabappel dancing in the cafeteria to the song "Embraceable You" which is one of the most beautiful sequences the show ever animated.
Valentine's Day Card:
"Mrs. Krabappel and Principal Skinner were in the closet making babies and I saw one of the babies and the baby looked at me!"
02. A MILHOUSE DIVIDED (Season 8, Episode 6)
This episode about a divorce is a good Valentine's Day episode. I know it seems weird, but stick with me. Even though the big event of "A Milhouse Divided" is Luann and Kirk getting a divorce, the heart of the story is Homer and Marge. Homer rightfully worries that his behaviour might be hurting or alienating Marge and he talks to the smartest person he knows (Lisa) to try to fix things. He goes about it in a very Homer sort of way, by getting a divorce so they can renew their vows realistically, but ultimately it's a sweet gesture.
What's interesting about "A Milhouse Divided" is that Kirk and Luann stay divorced by episode's end. Sometimes relationships don't last, that's a fact of life. Stresses and responsibilities can create a toxic atmosphere that a couple can't handle. And that's fine. Especially if that divorce gives us a Valentine's Day song as good as Kirk Van Houten's "Can I Borrow a Feeling". That song should be playing on every radio on every Valentine's Day, second only to "Monster Mash".
Valentine's Day Card:
"Kirk, crackers are a family food. Happy families. Maybe single people eat crackers, we don't know. Frankly, we don't want to know. It's a market we can do without."
01. THE WAY WE WAS (Season 2, Episode 12)
This episode is one of the best episodes of the entire series, specifically because it shows the foundation of the Simpsons family. When Marge and Homer explain to their children how they met and fell in love we as an audience find a new reason to like them as characters, and a new depth to the relationships on the show. We're also gifted with great versions of high school aged Marge and Homer in the '70s.
The flashback is so true to the characters as we know them because, coming in the second season, it basically created the characters as we know them. Of course they'd get together because Marge was being kind and helpful and Homer was trying a dumb scheme. And of course Homer would show up to Marge's house to be her prom date and break our hearts. "The Way We Was" shows what works best about Homer and Marge as a couple in a way few other episodes have. That's why this episode is the best episode of The Simpsons to watch on Valentine's Day.
Valentine's Day Card:
"I got a problem. Once you stop this car, I'm gonna hug you. And kiss you. And I'll never be able to let you go… and I never have."