Shade the Changing Woman #6
Writer: Cecil Castellucci
Illustrator: Marley Zarcone
Colorist: Kelly Fitzpatrick
Inker: Ande Parks
Letterer: Saida Temofonte
Cover Artist: Becky Cloonan
Publisher: DC's Young Animal
Review by Anelise Farris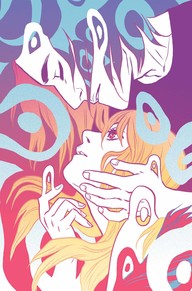 Here we are with the final issue: Shade the Changing Woman #6. I may or may not be crying a little as I write this. This series, beginning with Shade the Changing Girl, has been near and dear to my heart from issue #1. I know that all good things must come to an end, but it doesn't ever seem to hurt any less when they do. The bright side? Now, you can read this entire series if you haven't been reading it yet. And even if you have, join me, and buy it all in trade to read and re-read and repeat. Okay, enough gushing…(for now).
Last issue saw Lepuck trying to return Shade's heart to her (will she ever feel again??), the alien-human war at full swing, and a whole bunch of tie-ins from Shade's days as a (mean) girl. Shade the Changing Woman #6 takes the latter happening even further by returning us to a question that has haunted Shade since she landed on earth: can anyone–human, alien, avian, etc.–ever really change? Reflecting on all that has happened in her time on earth, all the people and aliens she's met, and all of the life lessons she has learned, Shade is finally going to come to a conclusion (pun intended).
The writing is, as always, just absolutely beautiful. As Shade and Rac are dueling it out, their philosophical debates had me entranced. With lines like, "All thinking creatures enable another's horror to feel less alone with the awful that lurks," how can one not linger on the page? And when Shade is trying to care (despite being literally heartless), and envisioning her friends, the message here is palpable: ask for help, "Let those who love you be your love." This depth is beautifully balanced by the humor that's been here since the first issue.
Like the writing, the art is consistently impressive. The punk rock, whimsical style is at full force here, with vibrant colors, texture play, and a fantastic energy to the panel composition. I love how the weird-horror aspects have increased over time (that final page in issue #5 made my mouth drop), and we see that same vibe here when Shade borrows a heart. As a final note, it's rare in a comic when space-scenes and earth-scenes can be equally stunning, so bravo creative team!
Verdict: Buy it.
If it had to end, Shade the Changing Woman #6 is exactly how I wanted it to.