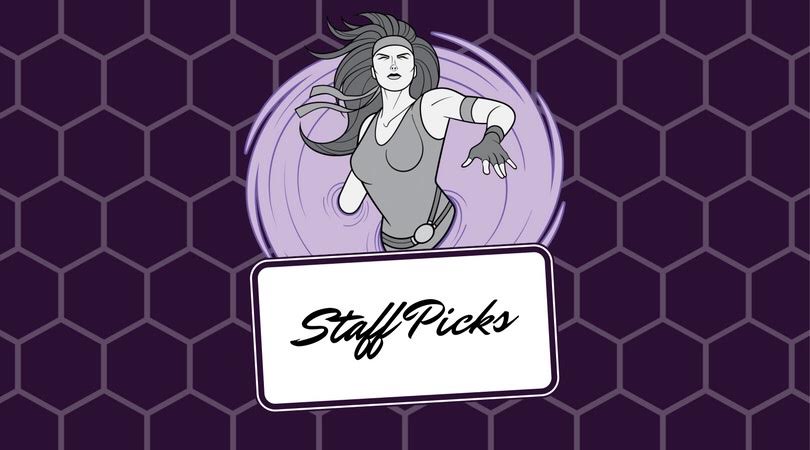 As we wrap up June we have a final set of staff picks for Pride Month. Of course, all of us here at Rogues Portal support and encourage diversity within the entertainment industry. So you will continue to see those values represented in future picks also.
Josh's Pick
Greg Anderson Elysée is the writer of two horror comics: Is'nana the Were-Spider and The Gentleman: Darkness of the Void. Is'nana is based on African and Caribbean folklore, something close to Elysée's heart, and Oliver Solomon in The Gentleman is a bisexual, polyamorous black man. Having representation in comics is important to Elysée. It's not enough to have black and queer characters. He wanted to see a queer, black character like himself. Finally, after waiting so long for someone else to do it, he took to heart that old saying "If you want something done right, you better do it yourself."
Greg's Pick
When I am reading a comic or reviewing it for the site, one thing that I am guilty of is forgetting to mention the colorist. The wrong colors or palate can completely destroy the feeling that the writer of a series is going for. That's why my pick is Tamra Bonvillain. Bonvillain has done quite a few high-profile comics in her career. And because of the fact that colorists do not always get their due credit. You might not even realize she has been coloring some of your favorite books.
Her most recent work on Multiple Man #1 shows how nuanced her work is. Switching from sharp vibrant to muted as the mood changes through the book shows her understanding of comics. You can also find her work in books like Rat Queens, Moon Girl and Devil Dinosaur, Doom Patrol, and much, much more. Next time you pick up a book with her as a colorist, notice the care that she takes in setting the perfect mood for that dialogue you are enjoying.
Cameron's Pick
For the last week of Pride Month, my pick is…literally ANYTHING written by Jeremy Whitley. He writes some of the strongest, funniest women in comics, and handles several characters in the LGBTQ community with tremendous respect, especially in his creator-owned series Princeless and Raven: Pirate Princess. He recently wrapped a brief but memorable run on Vampirella which focused a great deal on Vampi's relationship with another woman and is about to launch another volume of Marvel's The Unstoppable Wasp, who may be straight but she's an amazing character so we won't hold that against her. Also, I'd love to give a shout-out to Melissa Grey, writer of
The Girl at Midnight and its subsequent sequels which are textbook examples of how to write same-sex couples in a fun, realistic, and emotionally resonant way.
Insha's Pick
There's always that one writer in comics that you always go back. They create delivers an absolutely dope stories that make you scream because of how good they are. James Tynion IV is that kind of writer for me. Tynion is a writer that can write just about anything and kill it. From his creator-owned series Backstagers, The Woods to his Batman runs, he creates worlds that are so rare in comics. You can see yourself in a Tynion world. That's something that not a lot of creators know how to do flawlessly.
Tynion also creates diverse and unique characters that you gravitate towards because you can see yourself in them. At FlameCon last year, I went to a bisexuality in comics panel. It made my heart leap out of my chest to know that Tynion was bisexual. If you haven't read anything by Tynion, please get started as soon as possible. You're missing out on something remarkable.