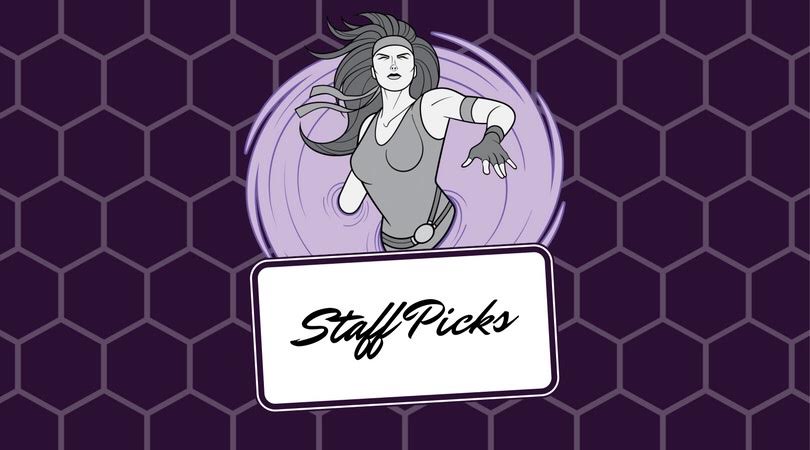 It is the first week of May and we are back with a fresh batch of staff picks.
Stephanie's Pick: Fence
I don't normally branch outside my science fiction/fantasy scope, but when I do it's for very special stories like Fence. A comic series created by C.S. Pacat and Johanna the Mad and published by BOOM! Box, it follows young fencer Nicholas and various other students at a private fencing school. Fencing is anything but easy and the creators do an excellent job of delivering sympathetic characters, gorgeous art, and exciting drama within the grounds of a private school. If you're like me and have ever dreamt of being a professional fencer, this series does an excellent job of crushing those dreams (fencing looks far too exhausting), yet you'll still find yourself glued to the pages wanting to know what drama will occur during each fencing tryout and competition. Fence is the perfect combination of good storytelling and I dare anyone to try not to enjoy it.
Corrine's Pick: Labyrinth
I recently caught the Fathom Events screening of Labyrinth (1986) in theaters. For those who haven't seen it, the plot is fairly simply. When teenage Sarah accidentally wishes her baby brother away to the goblins, she has to solve the labyrinth within a certain amount of time or she'll lose him forever. With Terry Jones (Monty Python, Erik the Viking) penning the script and the late Jim Henson (The Muppet Movie, The Dark Crystal) directing, the film is far more than just a generic children's fantasy film.
While so many things from our childhoods never quite hold up to the nostalgic memories we have of them, this was thankfully not the case. It was wonderful to fall in love with Sarah, her quirky companions, and the Goblin King himself (played by the extraordinary David Bowie) all over again. Seeing the film on the big screen for the first time was great. I've always loved the movie and revisit it every so often. Spotting the tiny details on the costuming, set design, and practical creature effects made an old favorite into a brand new experience.
Labyrinth is just as timeless, weird, and delightful as it was when it premiered thirty years ago. While his legacy lives on through the continued work of the Jim Henson's Creature Shop,there's something to be said for going back and watching original fantasy classics once again.
Hafsa's Pick: Madiba
This TV show by BET is the story of Nelson Mendela. It is one of the most compelling portrayals of one of the leaders of change and the destroyers of apartheid in South Africa. The beauty of the show is that it delves into the heat of apartheid and shows the Indian's and white South African's points of views as well as the predominantly Black communities' differing views on both the conflict and the resolution. Madiba addresses the hardships of fighting a system that is divisive from the ground up. The problem with a fight against the system is that there are many consequences with some being extremely violent. The ones that Mendela and his cohorts faced were easy compared to many people around the world. Still, Madiba shows systematic racism and how brutal the fight against it can become. Yet, humanity has the potential to be unexplainably cruel and the show only presents a taste of the brutality we are capable of! So, I highly recommend this show in an attempt to experience an alternative history.
Cory's Pick: Brooklyn Nine-Nine
While I would love to gush about my love for Infinity War, I'm going to go in a completely different direction. Do you feel a void in your life? Is there something missing that just isn't making you as happy as you could be? Are you not watching Brooklyn Nine-Nine? If you answered yes to all three, then you know what to do. Now, when I first started watching the show, I wasn't the biggest fan of Andy Samberg, his Lonely Island stuff notwithstanding. But, I still gave it a shot. Now, it has blossomed into one of the funniest shows on television. The supporting cast is amazing. I dare you not to laugh at Andre Braugher's deadpan humor. There is representation galore. They recently revealed that a main character is bisexual, and it felt organic to the character. Not only is this show hilarious, but it really gets you to care about the characters. I literally LOL every episode. And that's something everyone in this world needs to do at least once a week. So, give it a shot, and fill thatvoid in your life.
Michael's Pick: God of War
Have you ever come across a video game where, after having played the first couple hours of it, you sit at work daydreaming about all the things you'll do in the game as soon as you get home? For me, the newest God of War has done that. I'm a longtime fan of the series and can tell you there are definitely changes. Gone are the days of button-mashing to take down waves upon waves of mythological beasts. This time around, you definitely have to be a lot more strategic about your combat choices. The learning curve for me was a tad difficult having just come off of Assassin's Creed: Origins, but once I got the hang of it, it was so much more satisfying. The Blades of Chaos have been replaced by the boomeranging Leviathan axe. But still, a lot of aspects from the previous games have remained the same. You're still up against the gods (Norse gods this time around), there are still complicated puzzles to solve, and a whole lot of world to explore. But what I think this game can boast above any others is the quality of the story. I'm only a few hours in, but there's already a lot more emotional depth than I remember from the previous games. I find myself being torn between exploring the world (I'm a big-time fan of checking out every nook and cranny) and progressing in the main quest just to see how this story concludes. Definitely recommend picking this one up. Sorry to those of you who only have an X-box.