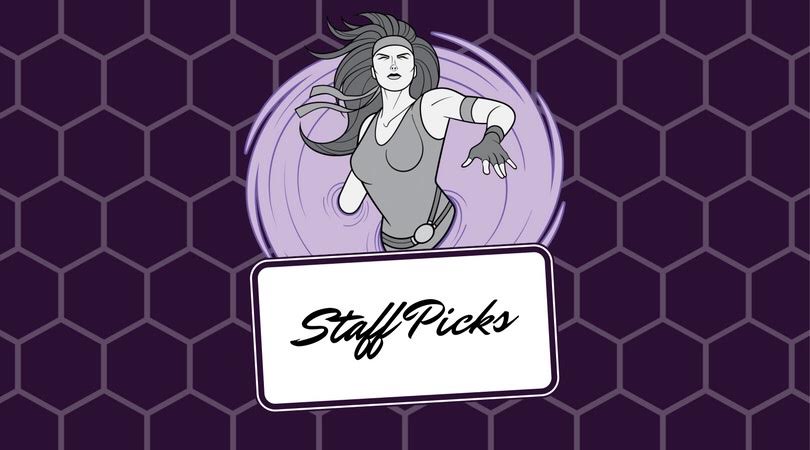 After a couple of weeks off, Rogues Portal Staff picks are back this week. Halloween is behind us and we are heading headlong into the end of the year. So without further ado the picks of the week.
---
Michael's Pick
Avalon is an indie board game of deduction, trickery, and betrayal. Players draw character cards (based on Arthurian legends) at the beginning of each round to determine if they are good or evil and if they might have special in-game advantages.
Anyone familiar with the party game Mafia will find this game easy to learn. It starts off with the "everybody close your eyes and no peeking" rule. There are certain advantages tied to a character you draw (as long as it's not a loyal servant to Arthur or a minion of Mordred). For example, while everybody else has their eyes closed, Merlin can see all of the evil players… except Mordred. Percy can see which players drew Merlin and Morgana, but he doesn't know who is who.
After all that gets figured out, players go in a circle to create an adventuring team to go on quests. The adventurers have a success and fail card. Good players always have to play success, but evil players have a choice. If there is a fail card, the evil side gets the point.
That's where the deduction and deception comes in: You don't want to be outed as an evil player and never be invited on another quest. This pits friends against friends in a frustrating-but-highly-entertaining way. You'll play this game for several hours and not even know it. If you're looking for a fun party game, go with Avalon.
Brooke's Pick
I was familiar with Christine McConnell's work through her YouTube channel, her beautifully macabre baking creations and confections are breathtaking in their skill and attention to detail. And she's self-taught! Yet, when I first saw the trailer for her show, The Curious Creations of Christine McConnell, I wasn't immediately sold.
It seemed a bit hokey and forced. There are wise-cracking puppets for some reason. It definitely wasn't what I expected of a baking show. I honestly don't know what made me watch it on Netflix one night this week, but I'm glad I did. The show is delightful! Each episode follows a little story, like making an apology basket for a neighbour whose dog has been violated by Rose, Christine's taxidermied raccoon, or preparing a first date dinner for a man Christine picked up at the cemetery (played by Days of Our Lives' Adam Mayfield).
The projects range in difficulty from spiders made from hard caramels to intricate Victorian houses full of awe-inspiring details. She doesn't dumb down the projects for her audience. If you've never tried decorative baking before, don't expect to suddenly be able to make a 3-story mansion out of cake. She gives a great starting point and useful tips. That, paired with lots of patience and practice that could inspire you to really up your game.
Although the show is shot at Jim Henson Studios, you may not want to watch it with your kids. Unless they're too young to understand all the jokes about sex and murder. If you've ever heard the stories about what Jim Henson performers get up to off-camera, you'll be familiar with the kind of humour we're dealing with here.
Christine does a wonderful job of taking on a kind of Anjelica Huston as Morticia Adams persona; refined, poised, and composed even in the face of the morbid and the macabre. And her vintage dresses, hair, and makeup are on point and make the show watchable for her style alone. The characters that I thought would be annoying are actually endearing, especially Vivienne the 1940s ghost who is probably my favourite (played by Dita Von Teese). As someone who grew up on a lot of Jim Henson properties, it's great to see a show that gives me that hit of nostalgia but is unapologetically adult. And with a cliff-hanger ending that makes me anxious to see a season 2.
Josh's Pick
Jay Baruchel is the voice of Hiccup in the How to Train Your Dragon series, an actor in Tropic Thunder, and writer/director/actor in the Goon movies. He's a huge fan of hockey and in particular the Montreal Canadians. In his new book Born Into It, Jay talks about how his life and hockey was intertwined from before he was born. He talks about hockey and his friends, his relationship with his father, and how he hates the Toronto Maple Leafs like a cousin. Born Into It is a heartfelt look into his life and relationship with the Canadiens. It's not that hard to read either.
Insha's Pick

I've been a horror hound all my life and Faculty of Horror fuels that part of me that wants to go deeper into the horrid halls of horror. Faculty of Horror is a horror film podcast hosted by Alexandra West and Andrea Subissati. The ladies bring a feminist and academic side to horror films that you wouldn't expect to fall so deeply into. They have these deep, intelligent, and brilliant conversations soaked in sociology, psychology, gender studies. Alex and Andrea make you look at horror differently and make you want to revisit the films they talk about to make you think even more. They've recently inspired me to want to go back to school and study horror full time. They've also became my personal heroes in the process.