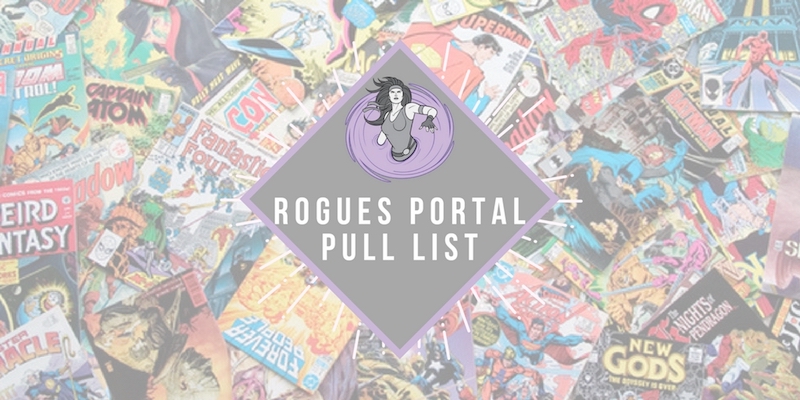 It's Wednesday my dudes, and that means it's New Comic Book Day! There are tons of new comics hitting the shelves of your local comic shops every week, and it's not always easy deciding what to get, let alone what you should add to your pull boxes. So we've put together the Rogues Portal Pull List to show you the best comics that you might have missed! Here's what we're getting and what you should check out today!
---
Rogues' Essentials
Bone Parish #2
Supernatural drugs. Read it. – Anelise
They didn't bury the lead with the first issue, but had a nice little twist at the end. Plus Cullen Bunn is a great writer when it comes to horror. – Greg
Drugs and death always seem to work together, but what happens when death is the drug? Crazy first issue has me anticipating every issue of this series ever. – Michael
Euthanauts #2
Death can be beautiful. And this comic proves that. – Anelise
This first issue was off the wall. I cannot wait to see what happens next. – Greg
House Amok #1
Twins, weird science, conspiracy theories–this is so up my alley. – Anelise
Christopher Sebela is a star on the rise. He just can't seem to miss! – Cory
I keep reading these crazy solicits, and then I see Chris Sebela as the writer, and it gets me that much more excited. – Michael
Isola #5
Kerschl's art alone is worth the price of admission. – Cory
Excited for the next issue of my favorite book that's out right now! – Jameson
New Gods By Jack Kirby TP
Ever since Gerads and King started working on Mister Miracle, I've been fascinated by the Fourth World and Kirby's philosophy. Time to dive into the original story! – Josh
The epic saga of the Fourth World has an amazing story both on and off the printed page. This is easily some of the most powerful work ever to come from the pen of the King. For sheer scope of ideas, for characters that have endured well into the 21st century, the New Gods are some of his finest work. Recommended. – Stacy
Scarlet #1
The next installment in Bendis' Jinxworld comics. Pearl was a great start, and I can't wait to read the next chapter. Bendis and Maleev on a comic? What could go wrong?! – Christoph
Bendis + Maleev = must buy! – Cory
Web Of Venom Ve'Nam #1
Cates' Venom has been surprisingly deep and rich. Getting a chance to look back at the history that he's established has me all sorts of excited! – Cory
Venom in the Vietnam War? Stegman and Cates: you know just what makes me tick. – Josh
I know I'll be listening to Creedance Clearwater while diving into this story of our favorite symbiote back in 'Nam. – Michael
---
Anelise's Pick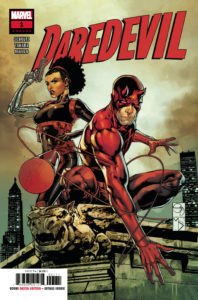 Daredevil Annual #1
It's Daredevil. Enough said.
---
Christoph's Picks
Beyonders #1
I like mysteries based in reality, and conspiracy theories can be a nice touch in fiction stories. Add in the lost library of Alexandria, artwork as seen in the preview pages, and you have me intrigued.

Marvel Two-In-One #9
This issue, hopefully, fills in the gap between the last issue and FF #1. I am glad this series continues even though the FF are back.
---
Cory's Pick
X-23 #3
This book shot up to the top of my reading list. Tamaki is hitting all the right notes!

---
Greg's Picks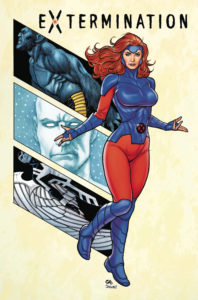 Extermination #2
The first issue lived up to its name. So who is next to die?

X-Men Grand Design Second Genesis #2
If you are a fan of the X-Men, this has been a must read set. Equal parts entertaining and reference material.
---
Josh's Picks
Harbinger Wars 2 #4
The finale to Valiant's summer event! Looking forward to seeing how Kindt wraps this up.

Mighty Morphin Power Rangers Shattered Grid #1
Go, go Power Rangers! Its the finale to the Ranger's summer event!

X-O Manowar #18
Aric of Dacia is in the Gladiator pits. I expect this to be a violent issue.
---
Michael's Picks
Joker Daffy Duck Special #1
Two of my childhood favorite antagonists together, how can I not be excited?

StarCraft Scavengers #2
Jody Houser writes comics for all the things I love, so it only makes sense she's doing a great job with an original Star Trek story so far.

---
Stacy's Pick
Star Wars Lando Double Or Nothing #4
Any chance to see the suave hero of the Star Wars saga at work is a great one, and with the addition of of L337 we've got an intriguing pair of grifters working on that next big score.

---
Graphic Novels
Eugenic TP
Have you not read Eugenic yet? First: shame on you! Second: here is your chance to catch up on a great mini-series by James Tynion IV. – Christoph

Fantastic Four By John Byrne Omnibus Volume 2 HC
Easily the second most definitive run on the characters after the Kirby/Lee days, John Byrne's run on the Fantastic Four is required reading for people in need of fun superhero science-fiction adventure. – Stacy
Fantastic Four Omnibus Volume 1 HC
Any chance to revisit the early days of the Fantastic Four is a cause for celebration, and, in this masterfully produced omnibus volume, Kirby and Lee teach a master class on serial sequential superhero storytelling in a merry Marvel manner! Run, don't walk True Believer! – Stacy
Hercules Adventures Of The Man-God Archive HC
Classic comics featuring the mightiest hero the Greco-Roman pantheon had to offer? Sign me up! – Stacy
I Hate Fairyland Volume 4 Sadly Never After TP
Unfortunately, this book will be the last volume we get, for now. I hope Scotty Young come back to the series with one-shots and such. I Hate Fairyland was one of the best Image books of the last few years. Read it! – Christoph
James Bond Hammerhead TP
Diggle on James Bond has been so much fun! Its a classic 007 mission for the modern day. – Josh
Superior Spider-Man The Complete Collection Volume 2 TP
I loved Doc Ock as Spider-man. This is required reading for Spider-geddon. Not actually, but you should read it anyway. – Josh
2021 Volume 1 TP
This was a surprisingly good series that ended in a brilliant, if not depressing, way. Having this as a trade is definitely a must. – Michael
---
That's all we have for this week! Thanks for checking out the Rogues Portal Pull List! We'll be back next week with a brand new list for you to check out. Same Bat-Time. Same Bat-Channel!