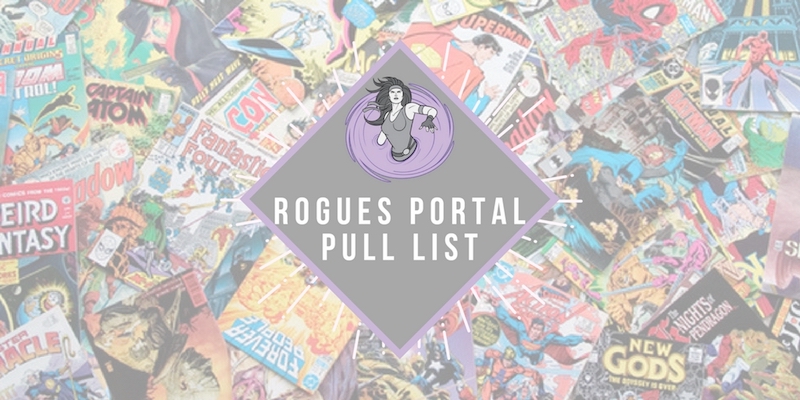 Another month, another day, another comic to be read. It's Wednesday my dudes, which means it's New Comic Book Day! There are tons of new comics hitting the shelves of your local comic shops. It's not always easy deciding what to get, let alone what you should add to your pull boxes, so we've put together the Rogues Portal Pull List to show you the best comics that you might have missed! Let's see what's new for June 13th. Here's what we're getting and what you should check out today!
---
Rogues' Essentials
By Night #1
Monsters, magic, and adventure? Count me in. – Anelise
The creator of Giant Days wrote this. 'Nuff said! – Cory
The creative team behind this venture has me super excited, and the premise is hilarious! Who hasn't considered themselves an "amateur urban explorer" and gotten up to a bit of mischief? Throw in magic, monsters, and the most dangerous threat of all: a former best friend, and I'm sold. – Kylee
Coda #2
The first issue really set the stage well for the remainder of the series. Plus, I need more pentacorn in my life! – Cory
The first issue was something of a slow burn for me, but once I was hooked I was hooked! I can't wait to see what Hum does with that horrifying cliffhanger from the first issue. – Kylee
Dead Hand #3
Cold War spy story with some crazy twists already has me on the edge of my seat so far. – Greg
This has been surprisingly suspenseful and not your average Iron Curtain spy story. The revelation in the last issue shows just how precarious the situation is.
Eternity Girl #4
A very open and raw depiction of living with depression…yes, even superheroes have negative emotions. – Michael
Ditto, Michael. – Anelise
Mech Cadet Yu #9
This boy-robot adventure is super fun. – Anelise
The beginning of the final arc. Noooooo!!! – Cory
Nancy Drew #1
Kelly Thompson gets a free pass. I'll check out every new comic she writes. – Cory
An all female creative team on one of the best teen detective series ever, complete with feminist and queer vibes. – Josh
Robocop Citizens Arrest #3
Last issue the retirement programming came off. So what will happen now that Robocop is back to his old self? – Greg
I'm guessing there will be. . .trouble. – Stacy
Weatherman #1
I'm a sucker for anything set in space. The premise and the bombastic cover have me itching to get my hands on this one. – Kylee
Lots of early praise for this one has me pretty hyped. – Michael
---
Cory's Pick
Copperhead #19
The first issue of the final arc. Sob!
---
Greg's Picks
Plastic Man #1
Gail Simone has the uncanny ability to write quirky characters and make them super interesting. Cannot wait to see her take on Plastic Man.
Thor #1
Jason Aaron ushers in the return of Odinson but without the Hammer. So how has the former Thor changed since last he held the mantle of Thor? Aaron is sure to tell an epic tale.
---
Josh's Picks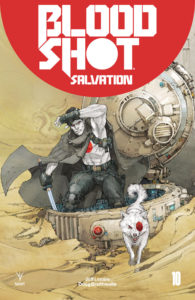 Bloodshot Salvation #10
Bloodshot ends up in the year 4001 where he meets what's left of the nanites that used to be Bloodshot. Lemire is free to take all of my lunch money.
Hawkman #1
Venditti is a great writer with works like X-O Manowar and Green Lantern. Looking forward to seeing what he does with Hawkman.
---

Michael's Picks
Man Of Steel #3
Bendis is making me a Superman fan. Hard to do.

Venom #2
First one was an incredible reintroduction to Eddie Brock as Venom. I'm definitely along for this ride.
---
Graphic Novels
Atomic Robo And The Spectre Of Tomorrow TP
If you haven't read Atomic Robo, you're missing out on some of the most entertaining, funny, and outright great comics of recent years. – Stacy
DC Young Animal Milk Wars TP
Milk Wars is over the top crazy comics insanity that needs to be read to be believed. Young Animal has been wonderful, and this crossover with the mainstream DCU is as quirky and fun as you'd want it to be. Deliciously subversive. – Stacy
Elseworlds Batman Volume 3 TP
Who doesn't love an imaginary story? The fun of Elseworlds is seeing familiar characters in worlds that could have been, and worlds that should never be. This collection looks like it'll be a lot of fun. – Stacy
Grass Kings Volume 2 HC
Kindt is one of my favourite writers, and I love the watercolour art in this. The first volume was so good, and now the rulers of the Grass Kingdom are hunting for a serial killer. – Josh
Greatest Adventure HC
Edgar Rice Burroughs' characters are all together in one adventure. Every. Single. One. If you're a fan of Tarzan or any other ERB property, you need this in your collection. – Josh
Hellboy The Complete Short Stories Volume 1 TP
Hellboy is one of the greatest comics creations of the past decade, and this volume gives you a chance to get acquainted with the World's Greatest Paranormal Investigator and his world in fun, done-in-one short pieces by the master Mike Mignola himself. – Stacy
It Will All Hurt TP
I'm a huge fan of The Wrenchies, so I'm excited to see what this talented creator delivers next! – Anelise
Quick And Easy Guide To They Them Pronouns GN
A fast, but extremely important read for ensuring that you're treating people with the respect that they deserve. I also appreciate that the creative team is coming from two different places when it comes to pronoun usage and will hopefully bring the topic to a level where everyone can understand it. – Kylee
Slots Volume 1 TP
This down-on-his-luck retired boxer story was a great read. Here is your chance to read it all in one place. Check it out. – Greg
---
That's all for this week! Thanks for checking out the Rogues Portal Pull List! We'll be back next week with a brand new list for you to peruse. Same Bat-Time. Same Bat-Channel!