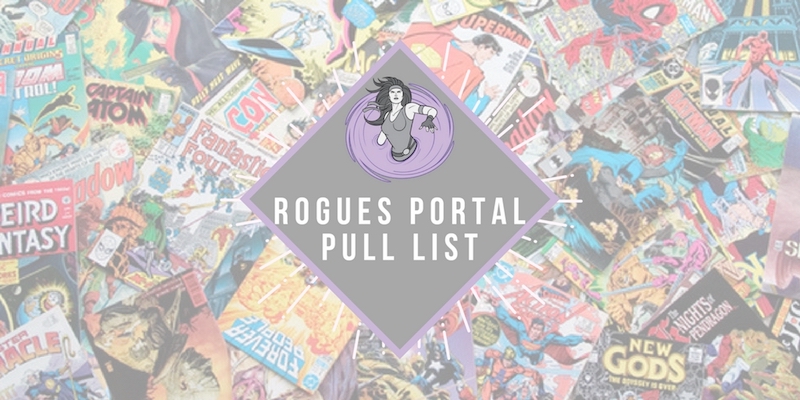 Another month, another day, another comic to be read. It's Wednesday my dudes, which means it's New Comic Book Day! There are tons of new comics hitting the shelves of your local comic shops. It's not always easy deciding what to get, let alone what you should add to your pull boxes. We've put together the Rogues Portal Pull List to show you the best comics that you might have missed! Let's see what's new for July 4th. Here's what we're getting and what you should check out today!
---
Rogues' Essentials
Batman #50
It's wedding season! – Anelise
King has reached the halfway point of his 100-issue run. He has had more ups than downs so far, and I look forward to the final 50. Don't let the spoilers stop you from reading this issue. It's one of the best Batman issues I've ever read. – Cory
King has done a remarkable job bringing out the human side of Batman. The issues leading up to the wedding have really raised questions about Batman and all of his villains. I'm sure there will be a twist, but what will it be? – Greg
Batman By Grant Morrison Omnibus Volume 1 HC
I've been waiting to read Morrison's run on Batman for awhile now. What better time than now that it is all collected in one glorious omnibus. – Cory
Grant Morrison is one of my favourite writers, and Batman is one of my favourite superheroes. It is only logical I get this giant book of awesomeness. – Josh
Catwoman #1
With the wedding night barely over, Catwoman is back to work! I'm excited to see how this #1 and Batman #50 work together. – Anelise
Joelle Jones and Laura Allred were meant to make comics together. This book has the look and feel of Jones' Lady Killer…and that is a great thing. – Cory
Since they are telling you that you should read Batman #50 first, then we must have a big reveal here. I'm a huge fan of Jones' art, and I'm looking forward to her writing Catwoman. – Greg
Captain America #1
Coates on Cap has me all sorts of excited! As a bonus, he is bringing non-comics readers into the fray. So, welcome!! – Cory
Coates taking over Captain America? After a rough start on Black Panther, he really found his groove, so I cannot wait to see his take on this iconic Marvel character. – Greg
Quantum Age #1
Jeff Lemire has created a wonderfully unique, complex, and original superhero universe with Black Hammer. This spinoff looks to be more off the same greatness we've already come to expect. – Cory
New series spinning out of Black Hammer. Definitely worth checking out at least twice. – Josh
Quantum And Woody Volume 1 Kiss Kiss Klang Klang TP
I've never read any Valiant, but from what I've heard about the humor and action in this one, I have to give it a whirl. Who knows? Maybe it'll get me into Valiant…? – Cory
Funny and heartfelt brotherly drama. And they're superheroes. – Josh
Josh forgot to mention the all-important goat. but I ditto everything else he said. – Anelise
Rogue And Gambit Ring Of Fire TP
Kelly Thompson is one of my favorite writers in comics, and her take on R&G is such a blast to read! – Anelise
With the new series starting soon this is a great chance to see how well Thompson wrote the couple. – Greg
---
Anelise's Picks
Deadpool #2
The art. The writing. The perfect Deadpool characterization. No. 1 was SOOOOOOOOOO amazing. I can't wait to see if #2 continues to deliver greatness.
Death Or Glory #3
I love it when a series I didn't think I would enjoy manages to capture my attention. And that's precisely what has happened here.
Immortal Hulk #2
#1 of this was the first Hulk comic I've read, and I was blown away. It was so dark and so relatable and so brilliant. I'm excited to see what's next!
Shade The Changing Woman #5
It's Shade. So, OF COURSE you should be reading this.
---
Cory's Pick
Project Superpowers #0
A 10-cent zero issue that relaunches the original Project Superpowers. Ten cents is not a bad price to check out an original superhero universe, especially if you have Big Two fatigue.
---
Frank's Picks
Elvira Mistress Of The Dark #1
With Joe Linsner covers and goofy Elvira stories, how can you go wrong?
Hillbilly #11
This book really hits me where it counts: creepy back country folk, witches, scary monsters and Powell's gorgeous art. Truly worth a read!
Lady Mechanika la Belle Dame Sans Merci #1
Every Lady Mechanika series has been fun to read, if overly wordy at times. Benitez's art is consistently great. I look forward to this book every series.
---
Greg's Picks
Astonishing X-Men #13
Rosenberg takes over and introduces a new team.
Jim Henson's Beneath The Dark Crystal #1
There have been a couple of new series focusing on The Dark Crystal recently. For someone who grew up loving the movie I feel like I need to at least check out these dives into other parts of the universe.
---
Graphic Novels
Betty And Veronica Vixens Volume 1 TP
I read an issue of this and wasn't wowed by it, buuuuuut I want to like it so much that I think I'll give the trade a read. Hoping for the best! – Anelise

Scales And Scoundrels Volume 2 Treasurehearts TP
Rich with atmosphere and medieval political drama, this book definitely deserves a read. – Frank
Witchblade Volume 1 TP
The new version of Witchblade has been an exciting and interesting take on the ancient relic. Great chance to catch up on the whole story here. – Greg
---
That's all for this week! Thanks for checking out the Rogues Portal Pull List! We'll be back next week with a brand new list for you to check out. Same Bat-Time. Same Bat-Channel!