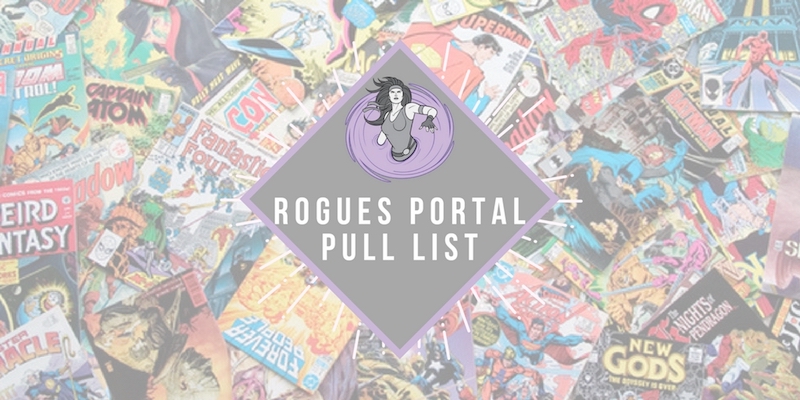 Another dawn, another day, another comic to be read. It's Wednesday my dudes, which means it's New Comic Book Day! There are tons of new comics hitting the shelves of your local comic shops. It's not always easy deciding what to get, let alone what you should add to your pull boxes, so we've put together the Rogues Portal Pull List to show you the best comics that you might have missed! Let's see what's new for May 16th. Here's what we're getting and what you should check out today!

---
Rogues' Essentials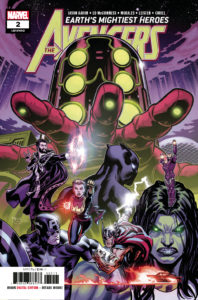 Avengers #2
The band is back together: Unworthy Thor, Hydra Cap, and Coma Tony are ready to rock'n'roll. Their new producer Jason Aaron started off with a jam-packed reunion album (with guest (not)singer: Celestial), and I am curious what he has planned for them in the future! – Christoph
How can you top the start of this series? Hope to find out in the next one. – Michael
Barrier #3
The first issue destroyed my expectations in the best possible way. Martin's art is just stunning. – Cory
Read this series if you want everything you thought you knew about comics to be radically changed. – Michael
Cable #157
The current creative team infuses Cable with a lot of depth. Read it! – Anelise
Cable as horror is a brilliant move. – Michael
Daredevil #602
Daredevil as acting mayor? Heck yes! – Anelise
Daredevil is starting not to suck again. – Jim
Dead Hand #2
Of all the espionage books that have come out (there have been quite a few), this is the one that stood out most. – Cory
The way the last issue ended has kept me anxiously awaiting this second issue. – Greg
Huge twist at the end of the first issue and now I have to keep going. – Michael
Ether The Copper Golems #1
I loved the original series. A nice mix of science, magic, and fantasy. – Jim
Maybe I'm biased because I love Rubin's art, but the idea of science fiction plus fantasy is too hard to pass on. -Michael
Fence #6
*Sigh* Fence. I love Fence. This comic does not just look good – the story is engaging, and every character is unique and chases their own goal. Read Fence! – Christoph
When I first heard about this series it seemed as if it was going to focus on one main rivalry. Instead it has a robust group of engaging characters who all bring something else to the story. Check it out if you are not already. – Greg
Flavor #1
Think competitive cooking and the hunger games. Intrigued? I thought so. – Anelise
The promise of the high-stake competition a la Hunger Games with Miyazaki-esque world building is enough to get me in the door. Keatinge's writing is likely to keep me in the room. – Cory
Gideon Falls #3
This series is so dark and weird and I love it. Gorgeous art, too. – Anelise
Lemire and Sorrentino are on fire and my new favourite creative team. – Josh
I still want to know what Fred and Norton have to do with each other. What is their special relationship? I GOTTA KNOW, CAN YOU SHOW ME? – Michael
Infidel #3
A horror series that has me so interested and so freaked out is a win for me. – Anelise
If you want to read a great horror comic, which makes you question everything you see, Infidel is the comic for you! – Christoph
It has been a long time since I have read a comic that is so well written and planed out that it creeps me out the same way a movie or TV show can. Give it a read, but maybe leave the lights on while you do. – Greg
Justice League No Justice #2
I like the idea that the universe has to deal immediately with the repercussions of the Metal-event. And though the first issue has some problems, I want to see where this is going. – Christoph
Enjoyed the first one, and the weird amalgamation of teams is worth the price of admission. Whose bright idea was it to put Harley Quinn on Team Wisdom? – Michael
Ninja-K #7

Guys, you should've learned by now that Ninjak is my favourite character. Of course I'm going to pick this up. – Josh
James Bond as a ninja. If that statement piques your interest, get Ninjak! – Stacy
---
Cory's Pick
Quicksilver No Surrender #1
Saladin Ahmed proved with Black Bolt that he can take a character I don't really care about and make him one of my favorites. Which is good, because I really don't like Quicksilver.
---
Greg's Picks
All-New Wolverine #35
With the OG Wolverine making a return to the living, it was just a matter of time before this series came to an end. Taylor has done an amazing job on this series, and I cannot wait to see what's next for Lara, Gabby, and their pet wolverine.

X-Men Wedding Special #1
It's wedding season. While there are many people anticipating the Royal Wedding, this is the wedding I am ready for.

---
Jim's Pick
Mighty Thor At The Gates Of Valhalla #1
Looking forward to this tribute to Aaron's recent run.
---
Josh's Picks
Bloodshot Salvation #9
Release the dog of war! The nanite enhanced pooch known as Bloodhound (that isn't an actual bloodhound) gets his own origin story!

James Bond The Body #5
I've really been enjoying the unique storytelling for this version of 007.
---
Mark's Picks
Assassinistas #5
Always gonna read anything by Tini, but #4 drew me back in with a vengeance. Super stoked to see how the team follows up on #5.

Heavenly Blues #6
Heavenly Blues is a caper comic the likes of which you've never seen. Really excited to see how Kahn and Hidalgo wrap this up.
---
Michael's Picks
Curse Words #14
Finally caught up on this series, and I need more Wizord and Margaret in my life.
Goosebumps Download And Die #3
This has been a fun blend of weird, gross, scary, and humor. Hope it doesn't end any time soon.
Lucy Dreaming #3
This has been a surprisingly entertaining series so far. Lots of crazy twists and turns but with a very self-aware sense of humor.
---
Stacy's Picks
Athena Voltaire And The Sorcerer Pope #4
Like Lara Croft? Yeah, Athena Volatire is better. Read her series, track down the collections. It's great stuff.
Bubba Ho-Tep And The Cosmic Blood-Suckers #1
If you aren't familiar with the cult classic Old Man Elvis Presley vs. Mummy in a retirement home film written by legend Joe Landsdale and starring Bruce Campbell, consider seeking it out your homework. This tale pits the King against blood suckers from beyond. Go get it.

Star Trek The Next Generation Through The Mirror #3
Are you a Star Trek fan? Were you bummed out that the TNG crew never faced off against their Mirror Universe doubles? Boy howdy, is this series for you!
Usagi Yojimbo #168
Stan Sakai's Usagi Yojimbo is required reading for historical/fantasy comics reading. Ask for it, you will not be disappointed.
---
Graphic Novels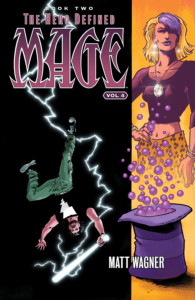 Mage Volume 4 The Hero Defined Book Two TP
Matt Wagner's Mage is an amazing piece of urban fantasy, and I encourage you to seek it out. – Stacy
Paradiso Volume 1 Essential Singularity TP
Praise from industry titans has me intrigued. The level of detail they all mention sounds amazing.
Turok Volume 1 Blood Hunt TP
A fascist dinosaur empire controls the Lost Valley and has enslaved the human race. Turok is looking for a girl who may have some clues about how the Dinosaurs took over. – Josh

Unsound GN
Pysch ward mystery and pastel, whimsical art? Yes, this is calling my name. – Anelise
Cullen Bunn was made for horror, and horror was made for Cullen Bunn. I've heard great things about this one…just wish I would have heard them sooner. – Cory
---
That's all for this week! Thanks for checking out the Rogues Portal Pull List! We'll be back next week with a brand new list for you to peruse. Same Bat-Time. Same Bat-Channel!