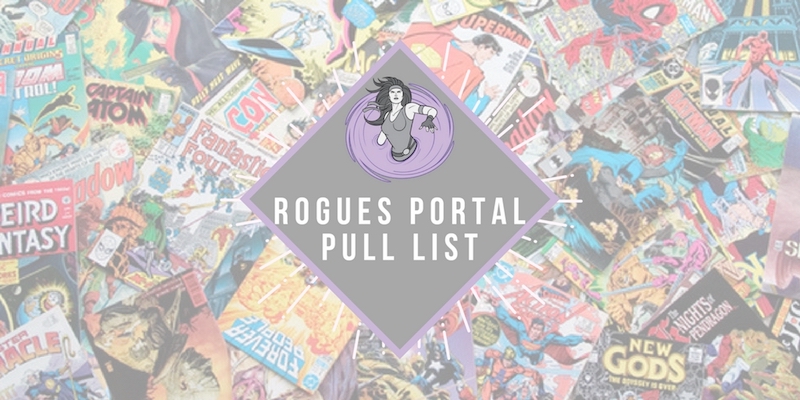 It's Wednesday my dudes! And every Wednesday tons of new comics hit the shelves of your local comic shops. It's not always easy deciding what to get, let alone what you should add to your pull boxes, so we've put together the Rogues Portal Pull List to show you the best comics that you might have missed! Let's see what's new for March 28th. Here's what we're getting and what you should check out today!
---
Rogues' Essentials
Beef #2
A comic that tackles the food industry and big AG has me intrigued. – Anelise
The first issue had me hooked with its crazy ending. I cannot wait to see where this story goes next. – Greg
Breathless #1
It's Buffy the Vampire Slayer if the villains were big pharma. I hate big pharma, so, naturally, I want to read this for cathartic purposes. – Cory
Black Mask continues to surprise me with interesting title after interesting title. Breathless sounds like a wild sci-fi ride and early praise makes me think it's going to be another fantastic female heroine to add to the list. – Kylee
Dark Nights Metal #6
To say this event has been a crazy ride would be an understatement. So how will the team end it? I personally cannot wait to see. – Greg
You'll see my review elsewhere on the site but here's hoping Snyder, Capullo, and company can bring this epic to a satisfying conclusion, especially after all the delays. – Stacy
Goosebumps Download And Die #1
I love Goosebumps. I love all-ages horror. Sign me up. – Anelise
The all-ages horror genre and mystery are always fun to read. – Greg
Mighty Morphin Power Rangers #25
The first Power Ranger event, Shattered Grid, starts here. 'Nuff said. – Cory
The best part of the original MMPR show was the Evil Green Ranger: Tommy Oliver. Now here is an alternate version of Tommy that stayed evil and gained the power of the White Ranger too. Forget 8 year old me; adult me is screaming. – Josh
---
Anelise's Picks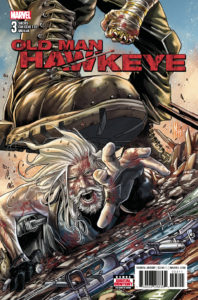 Old Man Hawkeye #3
More Hawkeye with the flowing hair please.
Void Trip #5
I am so sad this beautiful, sci-fi is ending. I will be re-reading it many times.
---
Cory's Picks
Abbott #3
The supernatural part of this hard-boiled crime story is starting to amp up, but it's Ahmed's character work that has me coming back for more.
Battlecats #1
Giant anthropomorphic cats in battle armor? Sign me up.
Factory #1
Mad Max meets Fallout. Okay, I'll bite, even though those are both pretty close to the same thing.
---
Frank's Picks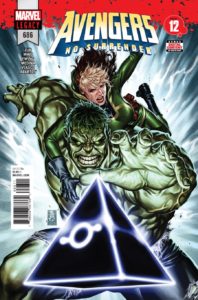 Avengers #686
This No Surrender train keeps on a rollin'. Definitely the most enjoyment I've had with an Avengers title in years.
Cyber Force #1
I'm always game for a new Cyber Force book. I thought the last iteration was quite good, and tied in so well with the Aprodite IX story. Hopefully this one has some legs!
Lady Death Damnation Game #1
This is purely a guilty pleasure from my 90's bad girl comics days.
Terrifics #2
Very excited to see what hi-jinks Plastic Man and the team are getting themselves into!
---
Greg's Picks
Peter Parker The Spectacular Spider-Man #302
While Amazing gets all the hype, for me this is the series that you should be picking up. Zdarsky is telling some great stories here.
Star Wars Adventures #8
I am a huge Star Wars fan. At times it is hard to keep up with all that is going on within the Universe right now. That is why this series is so fun. They are characters that you recognize, but each issue is self contained. A great all-ages read.
---
Jim's Picks
Days Of Hate #3
A serious comic that mixes politics and suspense.
Manifest Destiny #34
This comic about monster hunting on the frontier has managed to stay fresh and interesting.

---
Josh's Picks
Shadowman #1
Brand new series! Voodoo gods, a man tied to a loa spirit, and more magic than you can shake a wand at (except there are no wands)! And it's written by Andy Diggle!

X-O Manowar #13
It's Conan the Barbarian in Star Wars! Just picture Conan in Iron Man's armour, but a 1000 times more powerful. I really enjoy this series.
---
Stacy's Picks
Battlestar Galactica Vs Battlestar Galactica #3
Speaking of crossover events that I never expected, the chance for the 1978-era BSG to meet their 2004-era counterparts is too good to pass up. I can't wait for the sequence where the two Starbucks meet for the first time, not to mention the contrast in relationships between '78 Apollo and Adama as opposed to their contemporary counterparts.
Doomsday Clock #4
Again, I'm really hoping for this series to be good. So far it's surprised me with it's quality, but the continued delays are getting to be a bit much.
---
Graphic Novels
Batman '66 Meets Wonder Woman '77 TP
Easily one of the best things to come out of DC: all their team-up books with the '60s Adam West/Burt Ward Dynamic Duo have been a delight, and teaming up with Lynda Carter's Wonder Woman? It's too good for me to let it pass you by. – Stacy
Invincible Volume 25 The End Of All Things Part 2 TP
Everyone focuses on Kirkman's work on The Walking Dead so much that the quality work on Invincible feels ignored by comparison. This is a shame because his work with Ryan Ottley, Cory Walker, and Nathan Fairbairn has been some of the best superhero work outside the big two. – Stacy
Magnus Between Two Worlds TP
Magnus Robot Fighter is now an A.I. therapist/bounty hunter. A new Robot Fighter for a new era! – Josh
Realm Volume 1 TP
Our world invaded by creatures from fantasy? A post-apocalyptic high-fantasy story? I'm sad I'm just getting this. – Josh
Unholy Grail Volume 1 TP
The story of King Arthur with a horror twist. Go buy it already! – Josh
---
That's all for this week! Thanks for checking out the Rogues Portal Pull List! We'll be back next week with a brand new list for you to peruse. Same Bat-Time. Same Bat-Channel!