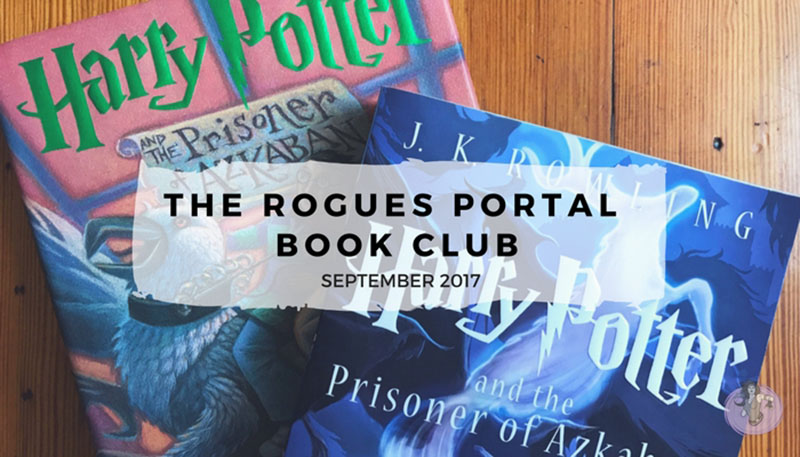 Good morning, y'all! I'm so excited to welcome you to back to the Rogues Portal Book Club. My name's Elizabeth and you can find me on twitter @semisweetrubix!
This month we'll be reading Harry Potter and the Prisoner of Azkaban, and I'm over the moon just thinking about it.
Prisoner of Azkaban is my not so secret favorite Harry Potter book. And what's not to love? Jailbreak! Dementors! Time travel! Professor Trelawney predicting death around every corner! From Hermione's powerful right hook to the Marauder's exploration of magical cartography and juvenile delinquency, I loved this book to pieces the first time I read it, and I can't wait to talk about it with all of you!
We'll be on twitter @roguesportal with the hashtag #RPBookClub on Monday, September 25 at 1 P.M. EST! I loved talking to y'all about the last few books, but if you're new or missed a session, you can catch up with the wrap up posts from Philosopher's Stone and Chamber of Secrets.
If you can't wait until the 25th to talk, you can always join the Rogues Portal Book Club Slack channel! Patreon supporters of $5 a month can talk to myself as well as other Book Club organizers and contributors from the site about Harry Potter and all your other favorite books!
When did you first read Prisoner of Azkaban? What stood out most to you? Let us know on Twitter, using the hashtag #RPBookClub or in the comments on this post!
Those of us still in school may be studying more mundane subjects, but I hope this month's book club meeting will be magical! See you on @roguesportal on Monday September 25 at 1pm for #RPBookClub!