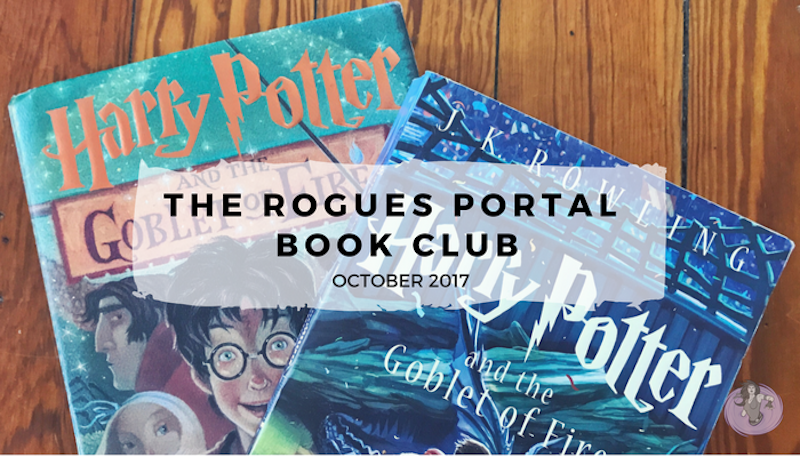 Welcome back to the Rogues Portal Book Club! This is my first month hosting and I'm super excited to dive into Harry Potter and the Goblet of Fire with you all!
I'll admit, Goblet of Fire has never been my favorite in the series, but it does represent a huge turning point. I'm excited to chat about it with everyone in our monthly Twitter discussion and to see what you think! This book is big in more ways than one, and we'll definitely be talking about the Triwizard Tournament, foreign wizarding schools, Cho Chang, and so much more. I'll refrain from saying too much in case we have first-time readers, but get ready for a really intense ride with this book!
We'll be on twitter @roguesportal with the hashtag #RPBookClub on Monday, October 23 at 1 P.M. EST!
Our last three sessions have been awesome. New to the Rogues Portal Book Club? Missed a chat? You can catch up with the wrap up posts from Philosopher's Stone, Chamber of Secrets, and Prisoner of Azkaban!
If you can't wait until the 23rd to talk, you can always join the Rogues Portal Book Club Slack channel! Patreon supporters of $5 a month can talk to myself as well as other Book Club organizers and contributors from the site about Harry Potter and all your other favorite books!
If you're a returning reader, when did you first read Goblet of Fire? What stood out most to you? Let us know on Twitter, using the hashtag #RPBookClub or in the comments on this post!
See you on @roguesportal on Monday, October 23 at 1 p.m.!