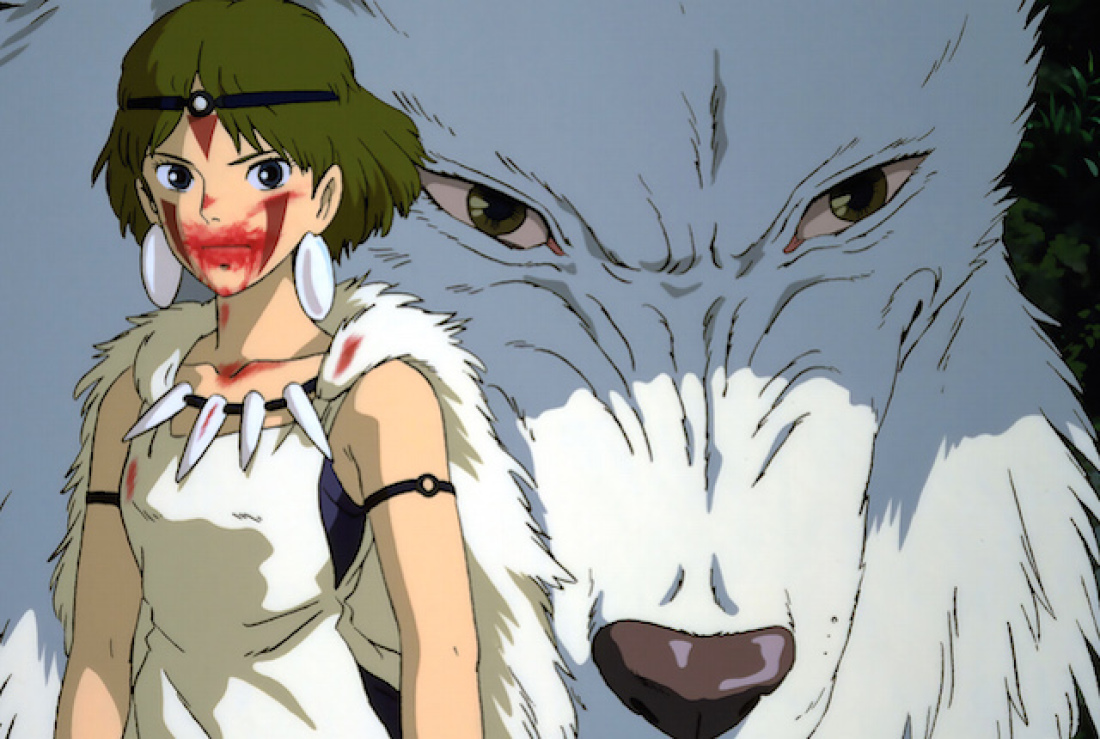 Princess Mononoke
Written and Directed By: Hayao Miyazaki with the English adaptation by Neil Gaiman**
Starring (English Dub): Claire Danes, Billy Crudup, Minnie Driver, Gillian Anderson, Jada Pinkett Smith, Billy Bob Thornton
Review by Stephanie Cooke
There are some movies that are so special that it's almost like watching it for the first time every single time. Princess Mononoke is one of those films. It is one of those incredible feats of filmmaking that defies all expectations and is a once in a lifetime piece of cinema.
When Princess Mononoke originally came out, I was old enough to enjoy it and to like it but I wasn't old enough to really truly get it and appreciate it. Each time I watch it, it gets sadder and sadder, which is maybe a sign that as I age, it resonates more with me. Or maybe it's that all the warnings in the film that Miyazaki put out there for us feel less and less like they were heeded.
As someone who loves nature and went on frequent hikes in the forest with my parents admiring birds and animals, this genuinely is a film that breaks my heart over and over again. But as much as Princess Mononoke is about death and how we must learn to coexist with nature, it's about hope and life too. It is about the struggles we face when something stands in our way and we can only see one path, which I think we can all relate to at some point in our lives.
I guess if you haven't seen Princess Mononoke before and this is your first time reading about it (somehow), the film revolves around Ashitaki, a prince who has been exiled from his lands after a God turned angry demon curses and condemns him to death. Ashitaki takes hold of his fate and travels to where the beast God originated from and was poisoned. It's there that he meets more Gods of the world and San (aka Princess Mononoke), the human daughter of the wolf goddess, Morrow. Together they work to save the forest and create a world where the creatures that dwell there can coexist peacefully with the humans of Irontown.
When I watch Princess Mononoke, I'm overwhelmed from start to finish with the beauty that's on the screen; lush forest landscapes and stunning scenery always take my breath away. My heart aches for the characters and their journeys. My heart aches for the forest and the spirits that reside there. I'm torn between hatred for the humans in the film, like Mononoke and her clan, and an admiration for Eboshi. More often than not while I watch the film, I hurt – Miyazaki does such a brilliant job of telling the story that I feel like I'm falling apart as I watch it but nevertheless, it's so beautiful and packs in so many powerful messages.
Honestly, I could ramble about this film all day, but again, like with virtually all Studio Ghibli films, one of the biggest draws for me is how Miyazaki writes and portrays women. San is such an incredible character that isn't driven by human impulses – she shares the goals of the wolves in protecting the forest and protecting the inhabitants within it. Eboshi is the same in a lot of ways… they're two sides of the same coin. Where San is consumed with protecting the forest at all costs, Eboshi exists to protect the interests of the people or Irontown (the women and the lepers, especially). Neither one can see the other side's perspective and fight to make sure that what they stand for is protected.
Ashitaki doesn't act as a love interest to fuel the flames of the fire but is there to help be a sort of mediator that works to make them see the errors of their ways. While he's far more invested in San, he still doesn't allow his feelings for her overtake his judgment when it comes to protecting the animals, the forest, and the humans. It's just SO GOOD in so many ways. I wish there was more story from the beginning with Ashitaki and his little sister, Kaya, but I understand why that part of the story was kept relatively short.
Princess Mononoke Blu-ray Special Features:
Feature-Length Storyboards
Original Theatrical Trailers
TV Spots
Princess Mononoke in USA
Behind the Microphone
8-page Booklet with Producer's and Director's Statements
Verdict:
As with all my previous Studio Ghibli revisit reviews, this is a Must Buy for your collection. The release is beautiful and the animation in HD will honestly take your breath away. If you've never seen Princess Mononoke or other Studio Ghibli films, now is a fantastic time to invest in them with the new releases from GKIDS. You won't regret it.
**RE: Neil Gaiman working on the English adaptation of the Princess Mononoke script: I had NO idea and this is incredibly cool, baffling and more bits of cool.