Ponyo
Writer/Director: Hayao Miyazaki
Starring/English Dubs By: Noah Cyrus, Matt Damon, Tina Fey, Frankie Jonas
Review by Stephanie Cooke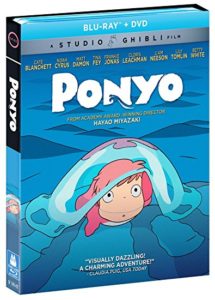 Some of my earliest memories are of watching The Little Mermaid and inflicting all sorts of Little Mermaid facts and mini-plays to anyone and everyone around me. I love The Little Mermaid.
I was completely transfixed with all of it and that started, of course, with the Disney movie but then spiraled into the original fairytale, other animated films, a deep love of the mythology behind mermaids and more.
So naturally, when Studio Ghibli announced that master filmmaker Hayao Miyazaki would be writing and directing his take on the fairytale, my heart leapt. I felt like this was made JUST for me!
Ponyo was the first Studio Ghibli film that I saw in theatres, and it was beautiful.
With GKIDS rereleasing the Studio Ghibli films on Blu-ray, I got to sit down with the film at home in HD for the first time and relive the experience again. The first and only time I watched Ponyo was that time in the theatre back in 2008. I was incredibly excited to revisit it even without the connection to one of my favourite film studios ever. I have such a strong connection to the story of The Little Mermaid.
Fun fact: one time when I was a little girl, I was in a parade on my tricycle as The Little Mermaid. My mom turned my tricycle into the rock from the scene with Ariel on top of it. I stuck out of the middle of the rock. The mermaid tail was painted down the side to give the illusion I was sitting on top of the rock with my tail out. BUT ANYWAYS…
As an adult, I recognize the problems that exist with the actual story of The Little Mermaid, especially with the Disney version. I'll love it until my dying day, but it falls under the problematic fave category. That said, I love the route that Miyazaki takes with Ponyo. The decision to make Ponyo a little girl and to cut out the whole idea of the prince is perfect. It brought a whole new wholesome angle to the story that happened really been explored before.
Ponyo's decision to go back to the surface isn't driven by a lustful kind of love or a hyper-romanticized version of what Disney thought young girls wanted love to be like. Ponyo wants to go back to the land to continue learning about the world. She wants to continue her time with Sôsuke who treats her as a friend and as someone that he cares about. Ponyo doesn't make a deal with the devil (so to speak) and responsible for the changes to her body that facilitate her ability to be on land.
One of my favourite things about Ponyo and about pretty well all Ghibli films is the concept of love. There isn't a relationship where one person is devoted to another in some sort of romantic entanglement. Rather there's this innocent and pure form of love that's always shown. There's a boy, and there's a girl. They love one another, but there's not anything more to it other than endearing affection. There aren't labels or expectations put on it. It exists solely to show a different kind of love on screen. The lengths that Sôsuke goes to to protect and save Ponyo, even mere hours after meeting her, is ridiculously sweet and heartwarming.
The music is another one of the things that I adore so freaking much when it comes to this film. The score by Joe Hisaishi perfectly captures the essence of what's going on throughout the entire film and helps you really feel what's going on. It evokes emotion and helps add so much to the film to connect you to it.
For years and years, Studio Ghibli has been delivering animation that resonates with people around the world. Animation that people who don't typically like animation enjoy and follow religiously. Ponyo is full of that kind of animation that we've come to expect over the years from them. While more rooted in reality with the bulk of the story taking place in the "real world." It still manages to throw in lots of incredible, fantastical scenes that take your breath away as you watch. The landscapes, the characters, the imagination that goes into every detail of the films is awe inspiring.
With this new release of Ponyo, there are over 5 hours of bonus features that fans can enjoy, which is AMAZING. This version comes with an exclusive booklet, feature-length storyboards from the film, and more:
Behind the Microphone
The Five Geniuses Who Created Ponyo
Interviews with Hayao Miyazaki and Toshio Suzuki
Theme Song Press Conference
Theme Song Music Video
Opening Event at Hibiya Scala-Za Theatre
Hayao Miyazaki Press Conference
Creating Ponyo
Ponyo & Fujimoto
The Nursery
Scoring Miyazaki
Producer's Perspective: Telling the Story
The Locations of Ponyo
Original Theatrical Trailers and TV Spots
So, there's a LOT of content to check out here.
Verdict:
Must buy! The Studio Ghibli films are masterpieces, and Ponyo is no exception. It's built with beautiful bonuses and lovely packaging. If you're a collector who cares about consistency, now is a great time to pick up each of the Blu-rays being released by GKIDS to make sure your collection is perfect.