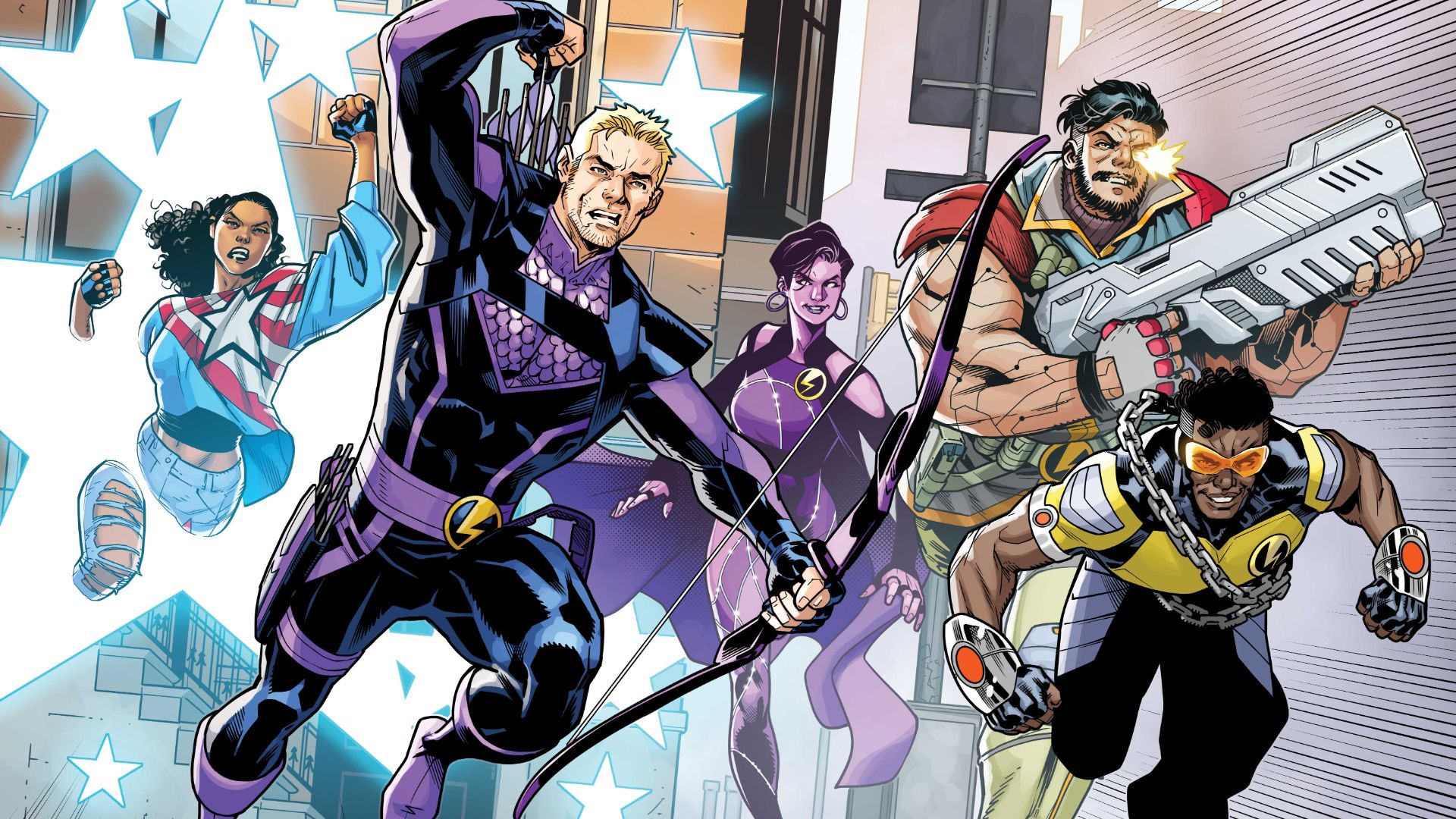 There is a lot going on in the 616 right now.  The mutants – with help from the Avengers and a few Eternals – have put the entire
planet on the clock.  As judgement looms, Spider-Man is keeping the web from going dark because of trolls…I mean a Goblin Queen.  There's a new Strange, we either got – or are dealing with – a Reckoning and when does the Banner of War PPV air? Doesn't seem like your typical "strike while the iron is hot" type moment.  But as Thunderbolts # 1 proves, this has always been a different sort of team.
The best one word description for every Thunderbolts team would be opportunistic.  When the first team debuted in 1997 it seemed their intent was to fill the void left after the battle with Onslaught.  After the discovery of their deception, the remaining members saw a chance for redemption.  This effort caught the attention of Hawkeye – Clint Barton – who was also seeking an opportunity; a change.  Which is the same position Clint is in when this issue of Thunderbolts begins.
You would think Clint would be pretty happy right now.  He did just have a hit show on Disney+…oh you mean that was about the other Hawkeye.  Well he did just have his own solo comicbook series.  That seems like a sore subject too based on how Jim Zub writes Clint's phone call to former West Coast Avenger Simon Williams.  His humiliation is cut short by another call with an offer Hawkeye so desperately needs.
The caller is none other than newly appointed New York City Mayor Luke Cage.  Luke's inclusion in this comic provides a lot of potential.  He is associated with everything in it –  a New Yorker and a former leader of the (New) Avengers and a Thunderbolts team.
Clint was hoping for a West Coast reunion and he does get it once Monica Rambeau – now Spectrum – arrives.   Monica's reluctance to lead hints at other issues since her confidence was high during her last appearance in the pages of Captain Marvel.  As for Cliint's other team members we get America Chavez and Power Man.  Neither have been Thunderbolts – their first mission facing the previous team may help them learn to respect the name.
There are two random strikes on the team.  There is Purple Girl/Woman, now known as Persuasion.  Maybe the main wild card – as a child of a villain who has a tense relationship with Luke's wife – she also is the most entertaining.  Last there is Gutsen Glory.  That's all you get – the rest is CLASSIFIED.  Reminiscent of Cable, let's hope ole Glory's story isn't as convoluted.
While it's nice to see Cage's corporate help use some good team assemblage logic – their use of the algorithm doesn't feel authentic and even less artistic.  This leads to a conversation about the art style in the comic that seems sort of stuck –  each member is drawn similar to their last incarnation.  Instead of a fresh look they still sport their looks from comics like New Avengers or the Ultiimates.  This mention is both a compliment to Sean Izaakse and Java Tartaglia's artistic adaptability and a bit of disappointment that the Thunderbolts aren't getting new uniforms.
The issue swaps between Luke's team lineup pitch to Clint and each member on display.  As each one strikes against their foe the real impact begins to show – cracks in the team are already present by the issues end.
New York City's new mayor needs New York's Finest.  He has assembled the Thunderbolts for this purpose.  But lightning only strikes a spot once.  But, as the issue's opening target practice shows – Clint can hit the same target twice, even thrice.
Which Hawkeye will Cage and New York City get – Thunderbolts leader, Avenger or another Freefall?