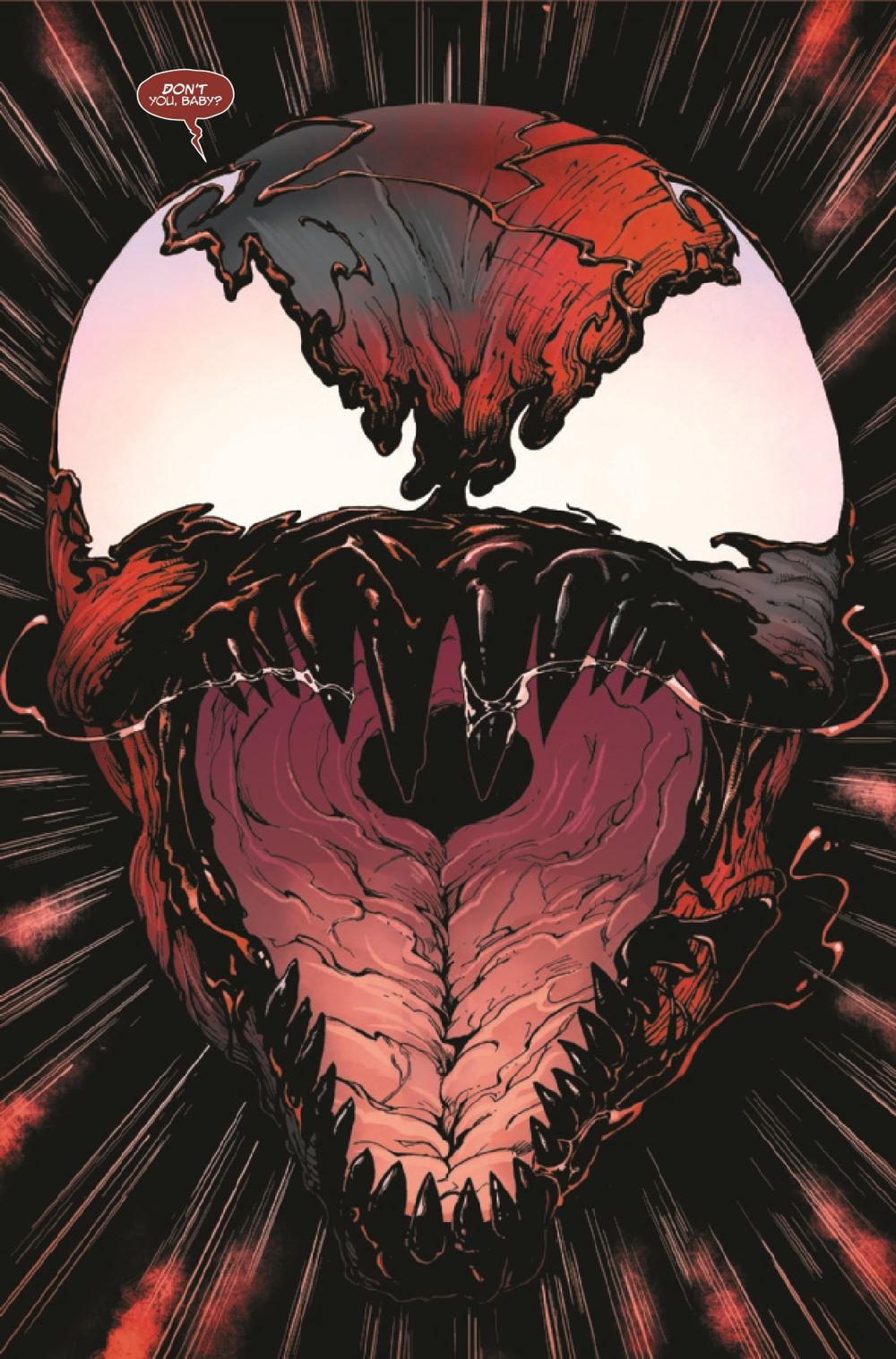 Thirty years after his first appearance, Carnage is back. While much has happened to the homicidal villain over the years, Carnage Forever #1 seeks to tell a stand-alone story while also setting up the future for the character. The last time readers saw Carnage, he and Cletus Kasady were being ripped apart–with the latter ending up dead. However, because of the symbiote hive mind, Kasady's consciousness is still kicking, and he emerges more evil than ever. 
Carnage Forever #1 consists of two stories and a fun little homage to classic newspaper comicbook strips. The first story is titled "Homecoming" (written by Phillip Kennedy Johnson with art and color duties from Edgar Salazar and Rachelle Rosenberg, respectively). In it, we meet Elise, a young homeless girl who spends much of her time in the streets as her parents do not like her to hang out with them. Despite warnings, Elise continues to stay out way too late, focusing on her sidewalk art. It is during one late-night art session that a run-in with some locals leads Elise down a dark path. 
The second story, titled "Unmade in His Image" (written by Ram V, art by Salvador Larroca, colors by Rain Beredo), focuses on Carnage trying to adapt to life without Cletus as a host. While in the past this may have been a problem, the symbiote thinks he has solved the issue. The answer seems to lie with the villain Hydro-Man. However, it is not the body that Carnage wants; it is Hydro-Man's power that Carnage seeks. The outcome of the meeting between the two villains leads to what could be a new status quo moving forward. 
Each of the stories, while unique, draws attention to equally disturbing parts of Carnage. Phillip Kennedy Johnson creates a setting where, long before Carnage makes an appearance, a certain uneasiness is put into motion thanks to classic horror tropes. While the plot elements are familiar, Johnson presents them in a way that is both compelling and disturbing. 
Ram V's contribution is clearly here to drive the character of Carnage forward. While Carnage's homicidal side has been seen before, there is a new cunning side to the character that has not previously been explored. And although the violence is just as heavy, the new abilities create a plethora of possibilities moving forward. 
No horror story can be successful without the proper aesthetic, and both Edgar Salazar and Salvador Larocca deliver. Because of the nature of the story, Salazar's art is much more graphic. I would dare say some of the more graphic art that we have gotten in a Marvel book. But it's necessary for a character like Carnage. Meanwhile, while it's not as gory, Larocca is able to depict the mental and physical pain that Hydro-Man is going through to great effect.
After reading Carnage Forever #1, it is obvious that Marvel has big upcoming plans for the character. It makes sense since we are entering the 30th anniversary of Carnage. Hopefully, the upcoming series will allow Carnage to become more of a mainstay within the regular Marvel universe. 
Carnage Forever #1
Story True To The Character
10.0/10
That Panel With The Dog
9.0/10
Where Is The Dragon?
7.0/10
Credits
Writers: Phillip Kennedy Johnson, Ram V, Ty Templeton
Artists: Edgar Salazar, Salvador Larroca, Ty Templeton
Colorists: Rachelle Rosenberg, Rain Beredo
Letterer: Joe Sabino
Publisher: Marvel Comics