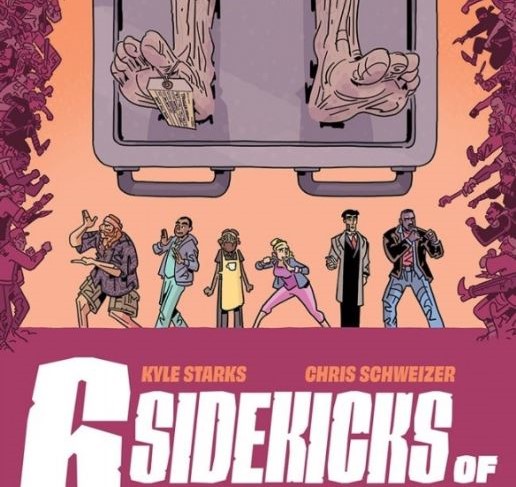 "God must've needed a little more kung fu in Heaven"
The Six Sidekicks of Trigger Keaton #1 accomplishes something that many comedies can only dream of: Keep me grinning the entire time. Six Sidekicks follows the former sidekicks of popular action television star Trigger Keaton as they attempt to solve his murder. The only problem is that Trigger is a bonafide piece of shit, and no one really cares. In fact, just about everyone is happy he bit the dust and are satisfied to leave it at that. What follows is a hilariously crafted first issue from writer Kyle Starks and artist Chris Schweizer.
Starks's dialogue is consistently witty and memorable, and it's partly due to the fact that each character is so dang likable. We are even given a reason to root for characters that would otherwise be troublesome (except for Trigger himself, of course). There are six different "stars" of the story in the form of the sidekicks, and the small moments of pathos sprinkled throughout go a long way in establishing reader buy-in. The opening pages perfectly showcase Starks's balance of humor and drama by reminding the reader just how terrible Trigger is right after making you laugh at one of his many on-set antics. It's one of the few times I didn't find myself smiling like an idiot. But I enjoy that kind of tonal sleight of hand, and Starks delivers on it.
Six Sidekicks utilizes the comicbook medium's strengths to great effect, translating a sense of "Hollywood movie magic" into pictures and panels to tell its story. Particularly, the sidekick's introductions are paced really well with snippets of newspaper clippings hinting at each sidekick's traumatic history with the action star pariah. They each have a different experience with Trigger, and sometimes with each other, and it's revealed naturally within the story and art. This makes for a quick read despite how much dialogue there is.
Taking on art duties is Chris Schweizer, along with Liz Trice Schweizer on coloring assistance. In interviews, Starks endearingly calls Chris Schweizer his best friend, and that synergy clearly shows itself on the page. Schweizer's line work is clean and round, but it's his layouts that really help the jokes land with perfect timing. Schweizer also manages to make each sidekick feel distinct in their quirks and facial expressions. But Six Sidekicks is also a love letter to Hollywood, particularly the action television stars of yesteryear. This means there's quite a bit of action, and Schweizer's fight scenes are suitably combative and hilarious. However, Six Sidekicks doesn't lean on ultra-violence as a crutch for shock value either. Instead, the action reminds you that these are a group of misfit, washed-up actors pretending to be detectives and action stars. As such, you can imagine how their fights play out.
The lettering in Six Sidekicks is also very well done. Speech bubbles are big and round, seamlessly fitting in with Schweizer's art despite the spaciousness of each bubble. The hand-drawn sound effects are charming, sometimes hilariously describing what the character is doing during a fight like a kid announcing his next move when play fighting as a martial arts master. And finally, the production design by Carina Taylor adds an extra layer of polish on top of everything. The additions of Trigger Keaton posters, fan club membership packages for $7.95, and a signed Trigger Keaton headshot are fun ways to showcase Trigger's legacy.
The Six Sidekicks of Trigger Keaton is, at times, surprisingly dramatic and scrappy yet incredibly heartfelt. The mystery surrounding the death of Trigger Keaton is the least interesting part in a book whose characters quickly won me over. They're woefully inept yet lovable, and they steal the show in this first issue. But above all, Six Sidekicks is simply just a hilarious and witty book that will no doubt bring a smile to your face. This is the first I've read of Kyle Starks and Chris Schweizer's work, and it definitely won't be the last.
The Six Sidekicks of Trigger Keaton #1