THE IRISHMAN (AKA: I HEARD YOU PAINT HOUSES)
Starring: Robert De Niro, Al Pacino, Joe Pesci, Harvey Keitel, Ray Romano, and Anna Paquin
Written by: Steven Zaillian
Based on the book I Heard You Paint Houses: Frank "The Irishman" Sheeran and Closing the Case on Jimmy Hoffa by Charles Brandt
Directed by: Martin Scorsese
"I can only drive 'em. I can't fix 'em."
The above line is spoken fairly early in The Irishman's massive 3h and 22m runtime. Oddly enough, it is a pretty clear microcosm of the character De Niro is bringing to life across the decades. Frank Sheeran is a utilitarian man, practical to a fault and twice as singularly focused. He plods out a workman's existence, forged by the horrors and terror of the Italian Front in WWII. After a chance encounter with high-ranking members of the Bufalino crime family, Frank has turned once again into a soldier. This time for Jimmy Hoffa in the ongoing struggle between organized crime and organized labor. It only costs him his soul.
Much has been written recently about Martin Scorsese's latest crime opus. Smarter, more incisive people have broken down the effects, themes, and place among the maestro's canon. But for my money, The Irishman finds Scorsese and his now hard weathered repertory cast of actors at their most Shakespearean, anchored around a cypher of a man swept into orbits beyond his control. Even the surface level glamor of a "capo's" life, elegantly presented in movies like Casino and Goodfellas (before those films turn into the "last act"), is stripped away in favor of a more flatly theatrical tone and presentation. Even with the de-aging effects.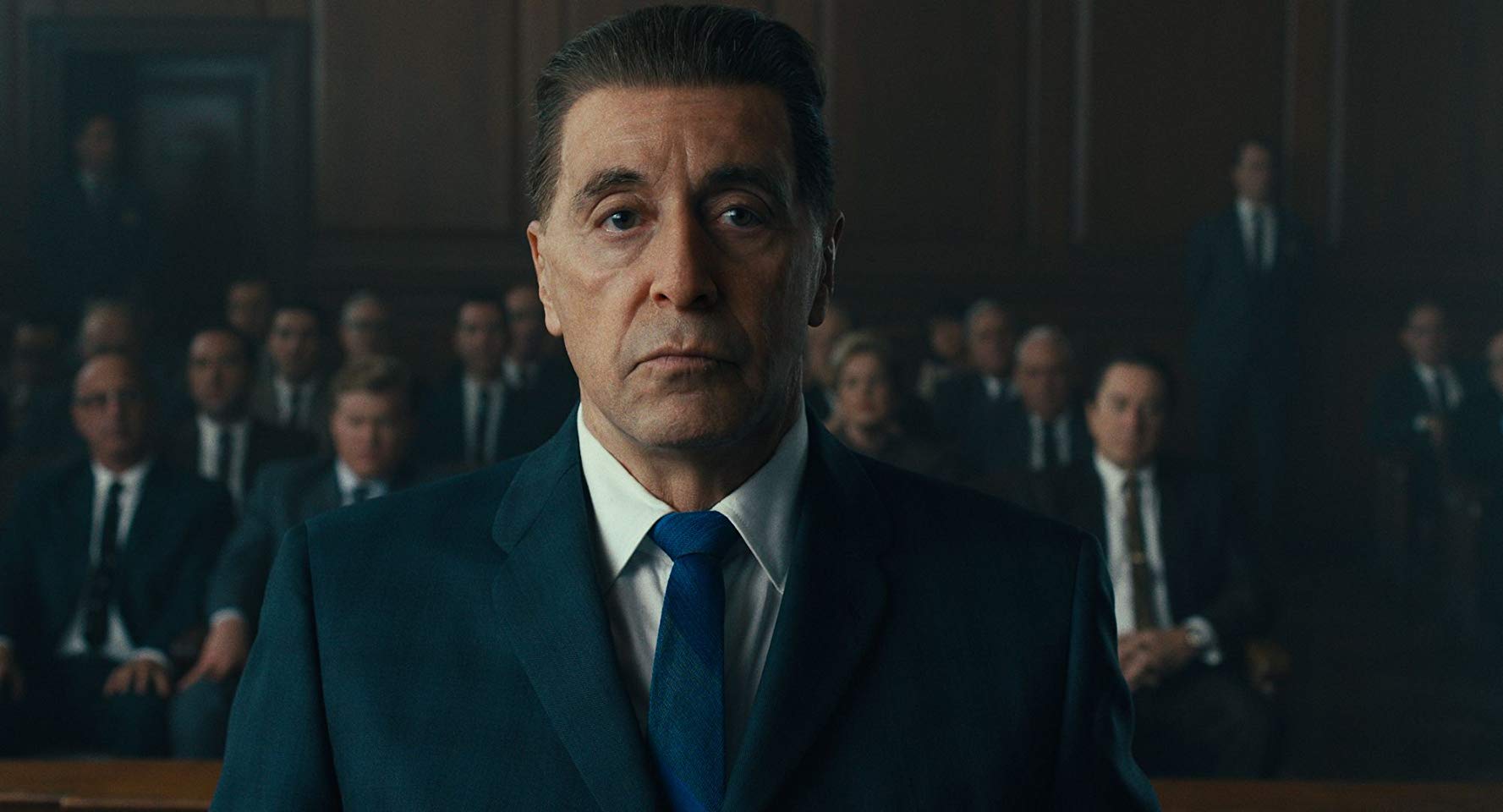 Which to go ahead and talk about, if only to get it out of the way, yes, they are fairly distracting. Especially since the central trio, De Niro, Pesci, and Pacino, all still move like the wizened old men that they are now. Their shoulders and limbs betray the uncanny smoothness of their de-aged faces. At the same time, it stands as a pretty effective contrast between the assisted living-bound "present-day" Frank. He narrates the movie with a canny mix of voice over and fourth wall-breaking addresses straight to camera.
But at the same time, viewers see fairly quickly why Scorsese is employing the trickery. Wielding a scope rarely seen in his canon, Scorsese and screenwriter Steven Zaillian take us through the entirety of Frank's life and life of crime, framed around a road trip Frank is taking with mafia bigwig Russell Bufalino (a shockingly reserved Joe Pesci). As Frank and Russell travel to a wedding, he starts to recount the major "highlights" of his career. He starts with a random encounter with Russell as a younger man and leads to his abandonment in a nursing home.
Everything between speaks to a profoundly hollowed sense of humanity from Frank. He floats from "favor" to "favor" throughout the years, gaining favor with the upper echelon of mob royalty as their most stalwart hired gun. He also gains the eye of Union leader Jimmy Hoffa (the pointedly explosive Al Pacino), to whom he is loaned out to by the family to help settle disputes. But it's all the same to Frank, who says, "it's just like the army. They give you orders, you follow them, and you get rewarded".
As he kills his way to "made" status, his plaintive refusal to take sides between the union and the families starts to eat away at his dignity. This pushes him further and further into conflict with both brewing a perfect storm of tragedy and regret–given a personification in the silent, always watching form of Frank's oldest daughter (the mournful, clear-eyed Anna Paquin), standing over the events of the movie like a Greek chorus.
It is hard to look away from the explicit sadness and almost morbidly acceptive quality of the film. Even through some of the more wryly funny scenes of the film, the realization of finality hangs heavy over the whole runtime. It's set up effectively with one of Scorsese's trademark tracking shots, introducing Frank with a slow walkthrough of his nursing home digs set to a pitch-perfect musical needle-drop. Much like the line I started this piece out with, it's a powerful statement of intent and setting of the bar. The movie spends the remainder of its three-hour time count backing up. A sort of King Lear for the Mob Set. Just with a bit more bells and whistles than you might expect.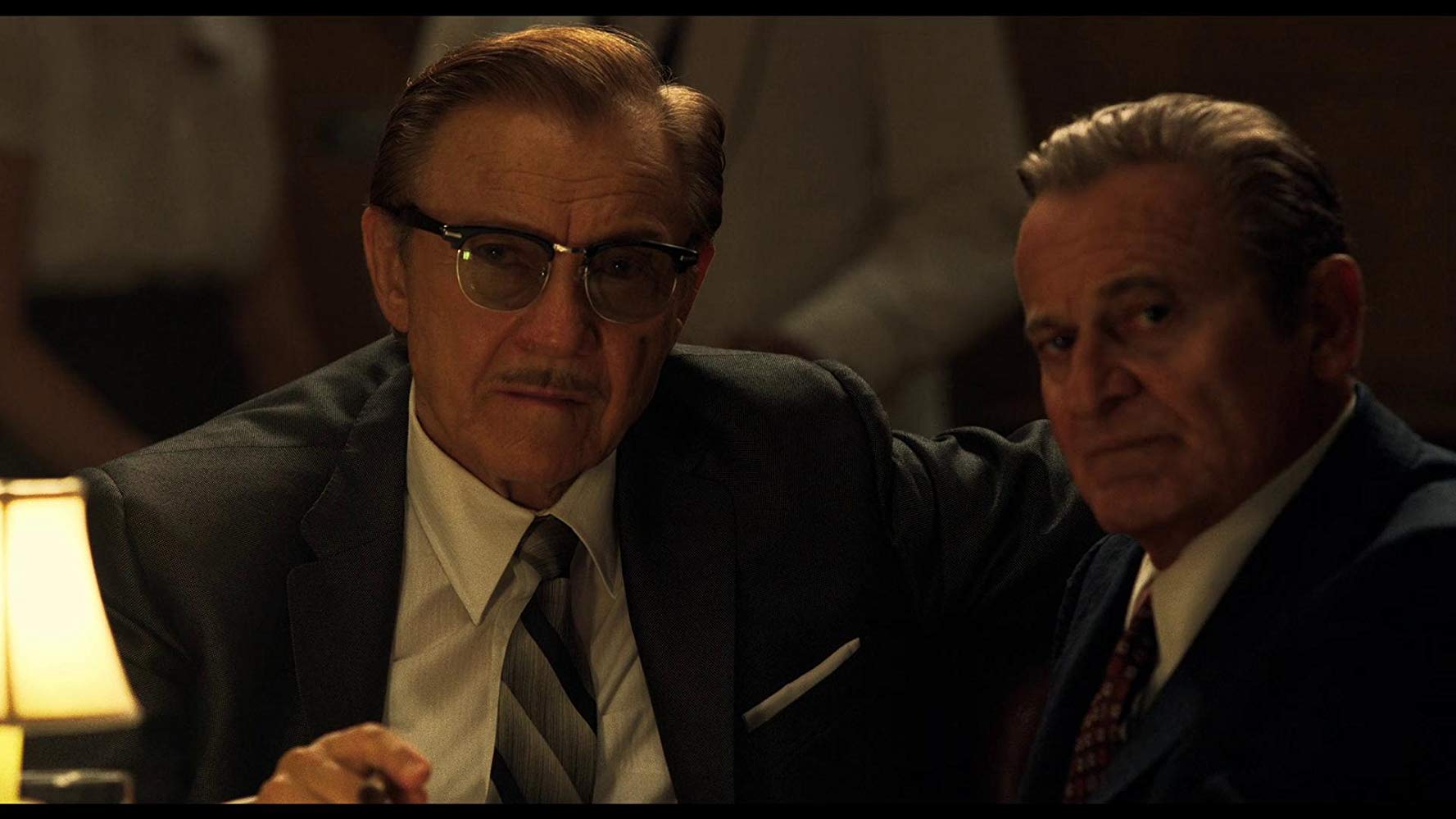 It is always hard to reconcile oneself with death. Even harder to do with one's "legacy." But Martin Scorsese looks like he is handling the looming facts of both in stride if The Irishman is any indication. Gathering his stalwart stable of actors (probably for the final time), Scorsese went and made a whole fucking movie about mortality, duty, and consequences. All wrapped in the tried and true trappings of probably one of the greatest mob legends of all time. Don't let the runtime scare you, readers, The Irishman is well worth the time and effort.
Until next time, be seeing you.