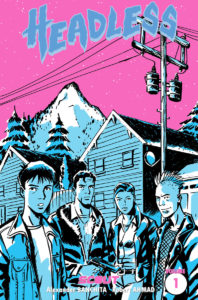 Writer: Alexander Banchitta
Illustrator: Robert Ahmad
Letterer: Fred C. Stresing
Editor: James Pruett
Publisher: Scout Comics
So you know the story of Sleepy Hollow, right? The Salem Witch trials? The history of the Templar Knights? Welcome to Headless, the story of how the Headless Horseman has haunted the town of Salem for centuries, and how the Knights Templar were formed to defend the town from it. Except that the Knights aren't a noble organization anymore. Can rookie cop Rick Winter save his brother from being killed by either side?
Alexander Banchitta has taken familiar elements and woven them together to craft a completely new tale. It is reminiscent of Spawn with its dealing with the devil, but it's much more than that. It focuses on the relationship between two brothers as one tries to save the other from losing his soul. Banchitta also touches on the topic of what fear can make people do. While people may have the best intentions at heart, fear can make them do terrible things. But all the evil stuff like the devil and witches are balanced with a good dose of humor. Banchitta also writes an incredible plot twist. He plants the seeds early on but packs the story with so much action that readers forget about them until the big reveal.
Robert Ahmad's illustrations are beautiful! I love how simplistic the art is with its blue and pink colors. The heavy inks not only help readers understand that the book takes place at night, but also they help create a dark atmosphere. The pages are largely blue, and the contrast with pink serves to highlight objects or actions on the page. The characters have a Bruce Timm-esque style, and they are very expressive with their emotions. The design for the Headless Horseman is just super cool, too.
Overall, it's incredibly compelling, and readers won't be able to put it down. Fans of "The Legend of Sleepy Hollow" and those fascinated with historic events in America like the Salem Witch Trials are sure to enjoy Headless. It's a tale about two brothers trying to survive a centuries-old war between the Headless Horseman and the Knights Templar in the town of Salem. What more could you want?