THE ENGLISH GAME
Starring: Craig Parkinson, Edward Holcroft, Charlotte Hope
Directors: Tim Fywell, Birgitte Staermose
Writers: Gabbie Asher, Richard Barber, Julian Fellows
Studio: Netflix
I know. You're stuck at home, social distancing and such, looking for things to watch. Maybe you like English dramas or sports movies. Or, maybe you're just a big fan of Downtown Abbey. And there it is, on Netflix. Julian Fellows's new show: The English Game. And, of course, you think, yes, this is the miniseries that breaks the monotony. Well, you'd be wrong. Because there's much better dramatic television available than a plodding, hasty rendition of football (soccer) and factory life in industrial England.
Perhaps the least likable thing about The English Game is the lack of dramatic tension. Unlike Downtown Abbey, Fellows gives us very little to care about in the story of a mill town team that defies the odds to play for the FA Cup. It's 1879, and football is still the preserve of teams made up of gentleman. So, it's an underdog story, except it's a story that lacks heart. Absent is the kind of artistry or emotion that makes us care when Darwen squares off against the Old Etonians not once, but twice, in the quarter-finals. Why they play twice is one of the many uninteresting contrivances that pass for plot devices on this show.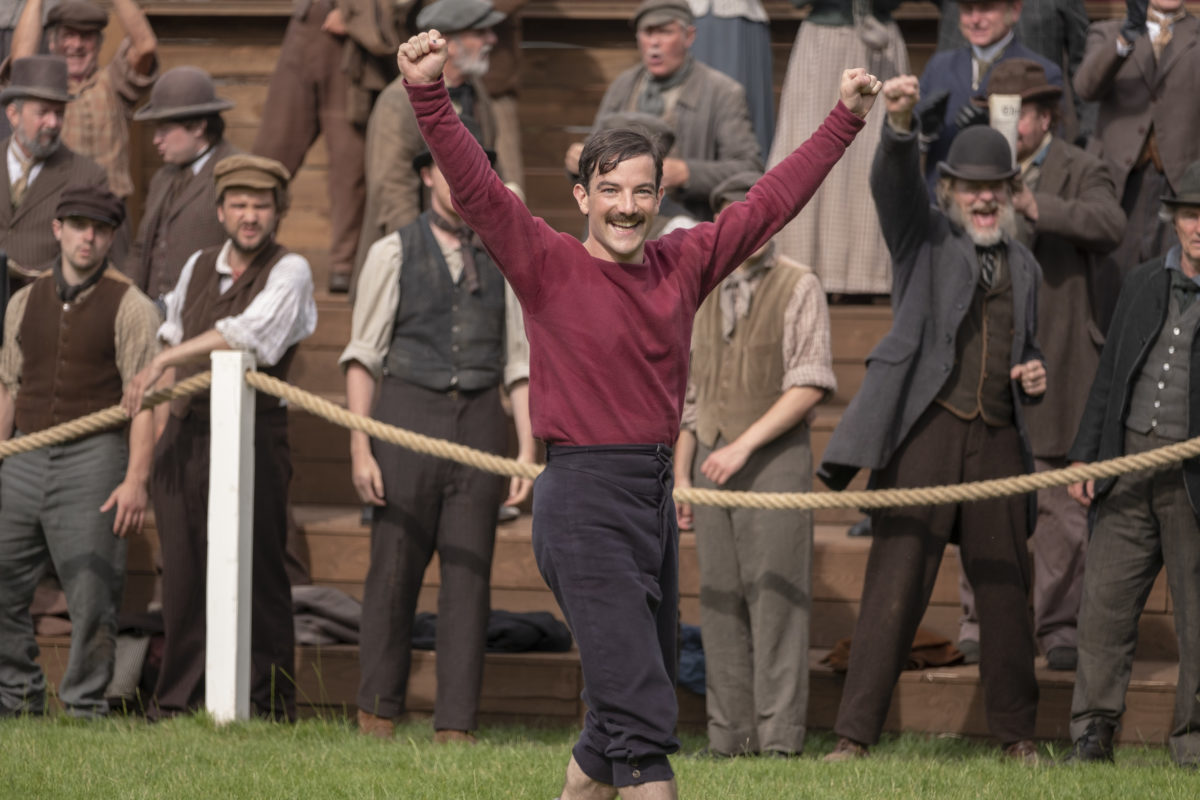 Bland characters compound the problem. The drama turns on Angus Suter, a Scottish ringer secretly paid by mill owner James Walsh (Craig Parkinson) to play for Darwen. Kevin Guthrie plays Suter as quiet and understated. This approach would work but for the fact that the character is our emotional fulcrum. Suter has divided loyalties, whether to his teammates during a strike, the mill owner who hires him, a rival owner who offers him higher pay, or his family who needs that money. There is pathos to this character, though we don't often see or feel it. And the writing doesn't help. We snicker, not cheer when Walsh exhorts of Suter and the team that they give the town "something to feed the soul when nothing else does it in life."
The real problem is that The English Game recycles many of the themes that made Downton Abbey such a hit. Here is yet another take on income inequality, patrician obligation, and the transition to modernity. Relations between men and women again stand at show center through the other main character, Arthur Kinnnaird (Edward Holcroft). Kinnaird, a gentleman who plays for the Old Etonians, struggles to be a supportive husband. His attention to his wife Alma (Charlotte Hope) is endearing but hardly original, especially when we learn that Kinnaird's father was a remote and uncaring parent.
On the upside, fans of the world's most popular sport will appreciate the care and attention given to their favorite pastime. I know little about the sport, so I was pleased to learn a bit about its origins. The writers do an excellent job showing how the democratization of football coincided with the development of modern strategy. And, they drive home just how important sports can be to people with few avenues of opportunity.