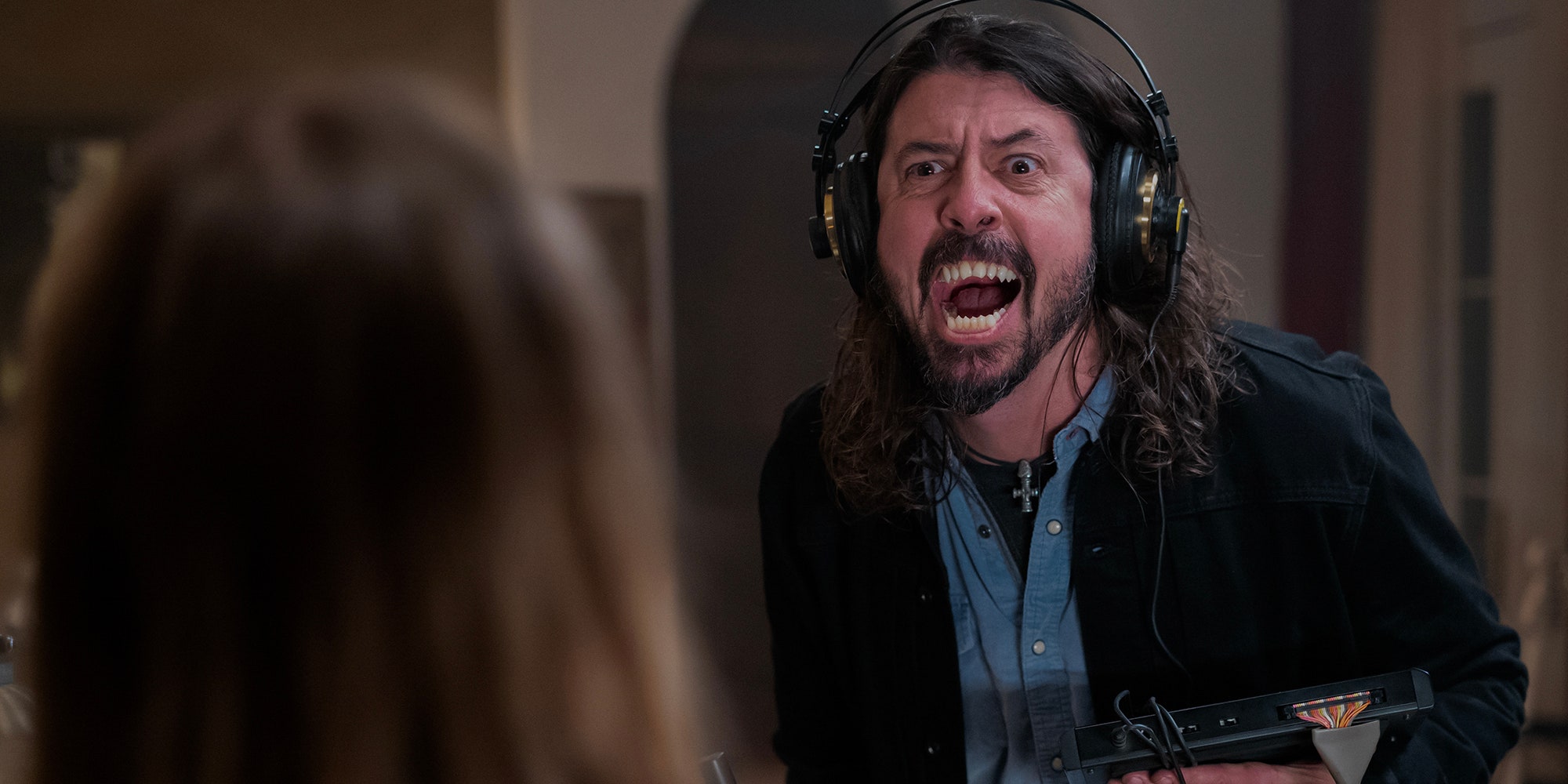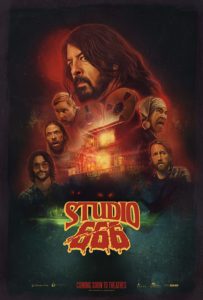 When Dave Grohl, former drummer of Nirvana, teams up with his Foo Fighters bandmates to form the cast of a horror movie, you know the results are going to be worth seeing, regardless of whether you choose to leave a positive or negative review in the end. In Studio 666, rock and roll and the Devil–a timeless duo–once against associate to bring you a gory comedy filled with demon possession, cannibalism, magic, and lots of music.
The movie begins with a scene set in 1993, in which the frontman of the band Dream Widow is murdering the remainder of his bandmates in an Encino mansion. After bashing in the head of a the band's drummer, Skye Willow (Jenna Ortega), the frontman hangs himself. Years later, in 2019, music manager Jeremy Shill (Jeff Garlin) hires the Foo Fighters (Dave Grohl, Taylor Hawkins, Nate Mendel, Pat Smear, Chris Shiflett, and Rami Jaffee) to create a tenth album to help him pay off his debts.
Looking for a place to record and find artistic inspiration, the Foo Fighters go to the same mansion in which Dream Widow met their gruesome end. While struggling to create new music, Grohl, who has become enchanted with the mansion's eerie vibes, wanders into a Satanically-themed basement and becomes possessed by the spirit of Dream Widow's lead singer. From that point onward, it's all mayhem as the band attempts to rescue Dave from himself while braving the terror of the cursed mansion.
While this movie is by no means rewatchable, it was definitely an enjoyable experience. Besides being funny, Studio 666 makes good use of horror tropes. From the demonic items in the basement of a cursed house, to the mysterious neighbor who is not sharing everything they know, to the couple brutally murdered while having sex, the movie hits all the campiest points of the horror genre, which allows it to engage in lots of blood-splatter without taking itself too seriously. Finally, I thought that the acting was surprisingly good for musicians; the band members have believable relationships with each other (most likely because they are playing themselves, but still…).
While the main draw is the band that stars, the movie would likely be no less entertaining to someone who had never heard of the Foo Fighters. As David Bowie once said, "Rock has always been the Devil's music." This marriage of rock, horror, and comedy felt like an appropriate combination and was a fun watch.
Credits
Director: B.J. McDonnell
Screenplay: Jeff Buhler, Rebecca Hughes
Story: Dave Grohl
Starring: Dave Grohl, Taylor Hawkins, Nate Mendel, Pat Smear, Chris Shiflett, Rami Jaffee, Whitney Cummings, Leslie Grossman, Will Forte, Jenna Ortega, Jeff Garlin, Marti Matulis
Distributed by: Open Road Films
Credits (cont)
Production Companies: Roswell Films, Therapy Studios