A missing child. A mysterious beach. An unimaginably horrifying disaster. And in the midst of it all are five friends, each with their own baggage, who set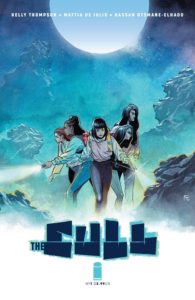 off together to make a short film and end up making a chilling discovery that will challenge everything they know and reveal truths they may not be prepared to face. Also: crab monsters.
In the opening chapter of The Cull, writer Kelly Thompson throws out a number of intriguing mysteries, without ever revealing too much about any single one. The result is a fascinating, ambitious, and only mildly frustrating tale that seems to have something say but is keeping coy about it. As evidenced by her work on Jem and the Holograms and Hawkeye, Thompson writes teenagers well and Cleo and her friends are no exception. Each character just feels real, not a single stereotype or caricature in the bunch. Like I stated before, these folks have baggage, with family issues being near the top of everyone's list. Abuse, trauma, suicide are all themes that factor in to their actions and behavior but are never used to try and define any of them. It's a wise and cautious decision that adds dimension to this motley crew, while still leaving much to be discovered.
The aspiring filmmakers not only sound real but look it as well, thanks to the incredible work of artist Mattia De Iulis. From the grounded, realistic depiction of the cast to the cinematic composition of every panel, the book is pure magic from start to finish. I would almost describe it as photorealistic but with a level of personality and consistency that is hard to achieve. His depiction of the aforementioned crab monsters is both shocking and terrifying, especially within the context of the book's grounded appearance. I would compare it to that chilling moment in Signs, when a family's home video footage reveals the sudden appearance of the alien. It's creepy stuff and looks so damn good.
For all its strengths, the book has a few minor weaknesses. The biggest offender is that it's over far too quickly! All kidding aside, an early scene that introduces the character of Kaite, alludes to her own family struggle but rather than build some type of mystery, it just comes off as vague with dialogue that lacks the authenticity prevalent throughout the rest of the book. It's a minor quibble, easily forgotten once the story gets going. And while it may be too soon to tell what kind of story Thompson and De Iulis are telling here or where The Cull will ultimately lead (or what it even is) but this issue is certainly unlike anything on the shelves and will likely be surprising readers up to the very end. I suggest getting in on the ground floor now!