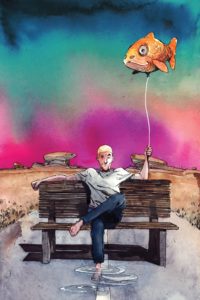 Writer: W. Maxwell Prince
Artist: Tyler Jenkins
Colorist: Hilary Jenkins
Letterer: Andworld Design
Cover Artists: Tyler Jenkins, Hilary Jenkins
Variant Cover Artists: Martin Morazzo with Chris O'Halloran, Christian Ward, Daniel Bayliss
Publisher: Boom! Studios
King of Nowhere #1 drops us into a strange place with perpetual-drunk Denis Saunders as he struggles to separate dream from reality. Denis stumbles into the town of Nowhere, where a six-armed man comes to collect from a talking fish-man and giant iguanas threaten to exterminate life. While Denis initially believes he's dreaming, he might be in for a sharp wake-up call.
W. Maxwell Prince, the mastermind behind Image Comics's Ice Cream Man, delivers yet another genius entry into his bibliography. As we amble through Nowhere with Denis, we get inside his head in (perhaps) more ways than one. His inner-dialogue is filled with nothing but regret and remorse. Why am I always waking up on park benches instead of soft feather-beds? Why did I show up to my uncle's funeral with a black eye? Why am I like this?? And yet, of course, he crosses into the only haven he perceives as safe: the local bar.
Through these very relatable inward struggles, Denis is also trying to discern reality itself. He advises the friendly fish-man he meets in a bar to accept the beat-down that's coming to him; the fish-man is a figment of his imagination and will surely soon fade away regardless of what happens. Except the dream keeps going, the punches keep coming, and Denis has no idea how to get out of Nowhere. Pair that with the stranger at the end of the issue, and Denis's supposed dream world becomes more nightmarish as time goes on.
Perfectly paired with Denis's tripped-out conflict is Tyler and Hilary Jenkins's masterful art. The designs are clear yet take on an otherwordly, Picasso-esque quality, and the blotchy, watercolored palette adds to the blessed fever-dream that is this book.
For a story that includes fish-men and bartenders with upside-down heads (or is it our heads that are upside-down?), this book is overwhelmingly human. The existential struggle is masterfully paired with the all-too-common questions of why we get caught in a vicious cycle of harming ourselves and our loved ones. Through it all, there is a slight glimmer of hope peeking through — possible redemption for Denis's inner demons and escape from Nowhere itself.