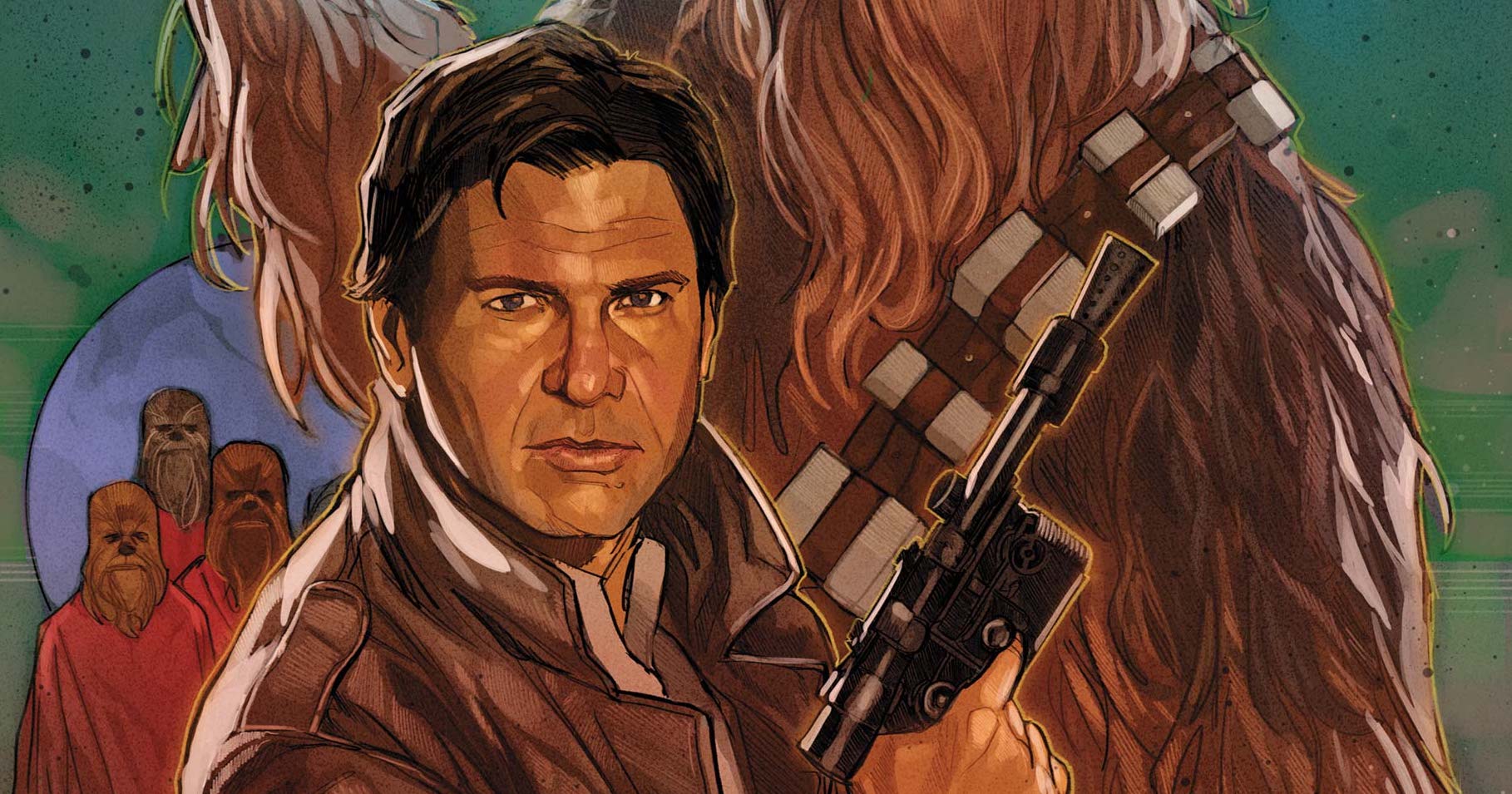 Every Star Wars fan's second-favorite holiday has arrived. It's Life Day, and the galaxy is ready to celebrate. But when you're Han Solo, Life Day is more like Fighting-For-Your-Life Day.
This year, Star Wars commemorates their own made-up holiday with a Marvel special, Star Wars: Life Day #1. The book features stories from writers Cavan Scott, Justina Ireland, Steve Orlando, and Jody Houser, with art by Ivan Fiorelli, Georges Jeanty, Paul Fry, and Kei Zama.
Life Day stories have historically been bad luck for Star Wars. As most fans know, the holiday finds its origin in the infamous made-for-TV train wreck, The Star Wars Holiday Special. For a long time, the Holiday Special and its contents were a Lucasfilm taboo. 
But recently, Lucasfilm has shown some more love to the Holiday Special. The Mandalorian came out swinging with Life Day references and visual Easter eggs in its pilot episode. LEGO even explored Life Day in its own LEGO Star Wars Holiday Special on Disney+. And now, the holiday has its own comic.
As one might expect, this is primarily a feel-good issue. We're not redefining Star Wars canon here. Overall, it's a fun romp with some holiday joy mixed in. The stories span multiple eras of Star Wars lore, from the High Republic to the New Republic, all framed by a classic tale of Han and Chewie in trouble with some gangsters.
That said, it would have been nice to see more originality from this issue. Aside from the Life Day twist, every tale feels like a version of something we've already seen. Nothing stands out as particularly unique in terms of plot, visuals, or character. In a few weeks, this will probably have faded into the noise of other Star Wars stories in my memory.
And yet, it's always lovely to return to Han and Chewie and explore their friendship—to see Han genuinely care, despite his apathetic exterior. The beats are familiar, but they're great beats. That dynamic gives this book a heart.
Without getting into spoilers, the final moments of this issue could have some real galactic consequences. One panel hints at something sinister, something that could tie multiple eras together in a big way. At this point, however, it's hard to say if it's actually setting something up, or if it's just a fun bookend for a holiday adventure.
If you love Star Wars and you're ready for some holiday spirit, lift up your Life Day orb and grab a copy of Star Wars: Life Day #1 at your local shop.
Star Wars: Life Day #1
Credits
Writers: Cavan Scott, Justina Ireland, Jody Houser, Steve Orlando
Pencilers: Kei Zama, Ivan Fiorelli, Paul Fry, Georges Jeanty
Colorists: Ruth Redmond, Alex Sinclair, Chris Sotomayor, Pete Pantazis
Letterer: Ariana Maher
Publisher: Marvel